Duterte hits back at Chelsea Clinton by reminding her of Dad's lewinksy affair and he is right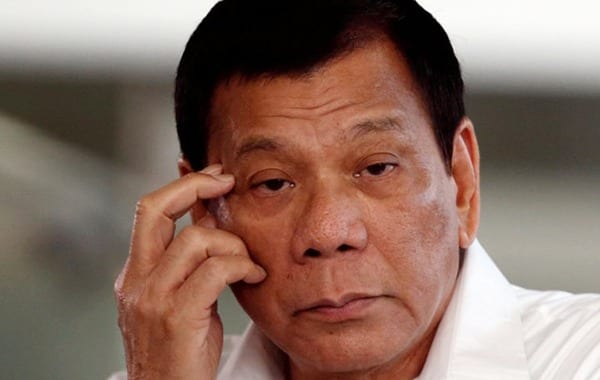 Davao, Philippines • President Rodrigo Duterte returned to his home city of Davao Wednesday to celebrate the 119th anniversary of the Philippine Navy, and used the occasion to attack Chelsea Clinton for criticizing his comments about rape.
"When your father, the president of the United States, was screwing Lewinsky and the girls there in the White House, how did you feel? Did you slam your father?" he asked, in a reference to Monica Lewinsky, the White House intern with whom Bill Clinton had a sexual entanglement.
Clinton had attacked Duterte for saying that he would take responsibility for crimes committed by soldiers under his recently imposed martial law in the southern Philippines, even if they "raped three women."  Over 20 years in Davao, Duterte built a loyal base of support. He's used to employing shock value, and the consequent outrage often rolls off the backs of people here.
"He talks too much, yeah, and sometimes he offends people. He's like that," said Jane Enrile, a 31-year-old transportation logistics worker, of the rape joke, as she headed out for dinner in Davao after the speech. "But he is not anti-women. We know that's not really who he is.Full Story
The joke was in bad taste; in fact in very bad taste and hard to condone. However, we decided to touch base with a few of our Filipino contacts to see what the overall sentiment was there.  The media has a nasty habit of twisting data to illicit a reaction only. It appears that the locals, in general, seem to concur with the statement the women above made.  Duterte enjoys sky-high ratings so, despite this incident, it appears that the Filipino's love this dude.
President Rodrigo Duterte has maintained his "very good" satisfaction rating in the first quarter of 2017, according to the latest survey by Social Weather Stations (SWS). The survey, conducted from March 25 to 28 and first published in the BusinessWorld, showed that Duterte received a +63 net public satisfaction rating, similar to the score he recorded in December last year. Seventy-five percent of respondents said they were satisfied with the President's performance, 12 percent were undecided, and another 12 percent were dissatisfied. Full Story
We are moving towards a political scene where those that speak their minds out are valued more than those that don't as long as certain lines are not crossed. Duterte, in general, seems to know when to open his mouth and when not too; Trump could take a few lessons from this guy as his popularity is still extremely high.
Other articles of interest:
Buy When the Blood in the Streets is flowing Freely  (Sept 13)
Dow 21K Predicted In August 2016 (Sept  9)
Minimum wage hike ignores impact of AI; companies will opt for Robots  (Sept 8)
Should You Be Worried About Inflation Rate In 2017? (Sept 6)
Wage Deflation here to stay: Robots Replacing Workers (Sept 5)
Price of Copper Signalling Inflation or higher Stock Market Prices (Sept 4)
Rate of Inflation not an issue according to Bond Market (Sept 2)
Worst Stock Market Crash of our lifetime; is this a possibility? (Aug 23)
Did the Fed Screw up in raising rates; is inflation even an issue  (Aug 10)
Electric Car Threat To Big Oil Wildly Overstated? (July 28)