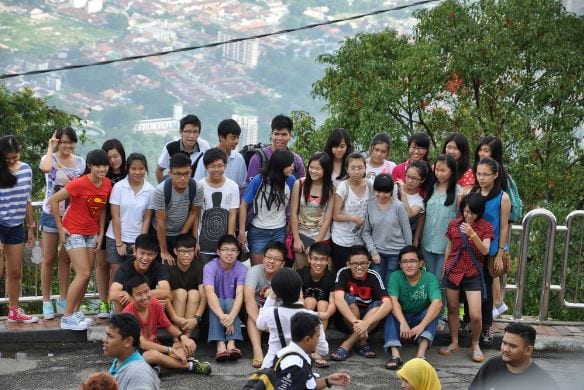 By Tom McGregor, CNTV Commentator
There's much ado about some Chinese neglecting good manners when traveling abroad. The Japanese government had released video footage of the Chinese trampling in Tokyo's public gardens to steal cherry blossoms.
A 15-year-old Chinese teenager had allegedly scratched his name on a temple in Luxor, Egypt and drunken Chinese passengers had attempted to open the emergency door of an aircraft that was in-flight to Thailand.
Such incidents reflect poorly on China's image. The age-old saying, "when in Rome, do as the Romans do," should inspire foreign visitors to respect a host nation's laws and customs.
A tourist going abroad becomes a representative of their native country. When we meet someone new, we often ask, "where are you from?" When a host hears a guest saying, "I'm from China," they are likely to conclude that the visitor acts similar to other Chinese people.
Hence, Chinese tourists should put their best face forward when going abroad.
Encouraging others to act right
China's National Tourism Administration has launched a campaign themed, "Civilized tourists, plus points for the Chinese," to urge Chinese tourists to behave well.
Publicity events with star-studded guests – sports commentator Wei Yidong and singer Liu Dong – were held at the Summer Palace and nine other tourist attractions in Beijing on April 15 with over 10,000 people in attendance.
"Tourists shouldn't forget their behavior when enjoying themselves," Deputy Secretary-General of the Beijing Municipal Government, Xu Zhijun, told China Daily.
China's tourism board plans to educate the public on green tourism and dining etiquette by publishing guidebooks that would be distributed nationwide.
Tourist shopping boosts global economy
Despite widespread criticisms of Chinese tourists, many national governments want to lure in more Chinese visitors to their countries.
Interesting Read: Fiat Currency: silent but deadly weapons of Mass Destruction
The Today news website reports that Australia had recently introduced new visa rules to ease travel restrictions on Chinese tourists. Australian Prime Minister Malcolm Turnbull made the announcement at a startup summit in Shanghai on April 14.
"China is Australia's most valuable tourism market," Turnbull said. "More than one million Chinese visited Australia last year; contributing over A$8.3bn. to our economy."
He added, "The more Chinese come to Australia and Australians go to China, the closer we come together, the better we understand each other."
Canberra has pledged A$40 million for the tourism campaign.
Chinese are not the worst tourists
Although Chinese tourists have received some bad publicity, they are not the "most terrible" globetrotters, according to global surveys. It's Americans who have earned that notoriety.
Triposo had conducted a global poll and asked respondents to vote on the world's worst travelers. Americans had won that distinction, garnering 33 percent of the vote, while 44 percent of Americans supported that claim. Survey participants said Americans are "loud, rude and make terrible fashion choices."
Chinese tourists didn't even rank in the top 3 as world's worst. They came in at 4th place, with the United Kingdom and Russia at 2nd and 3rd respectively. Chinese tourists can rest assured that they are not alone when it comes to bad behavior.
Overcoming long-ingrained bad habits
It's understandable that some Chinese have shown poor judgments when going abroad. The nation's population stands at 1.35 bn. and with a rapidly growing economy, more Chinese are getting wealthy, but they need time to adapt and learn proper manners.
Beijing has made the right decision to encourage proper tourism etiquette for its citizens. More civilized Chinese tourists would mean host countries can enjoy the benefits and cash in on more Chinese spending.
Other Articles of Interest
2 Trillion Mega fund; Saudi's end of oil Era plan wishful thinking (April 16)
Where is Gold headed in 2016; Up, down or sideways (April 13)
Do Investors need to own Gold; The answer might surprise you (April 13)
Data manipulation; The Fraudulent Economic Recovery (April 11)
US an Oligarchy, not a democracy concludes Princeton Study  (April 9)
Russian PAK-50 spectacular Arial Display Puts F-35 to Shame  (April 8)