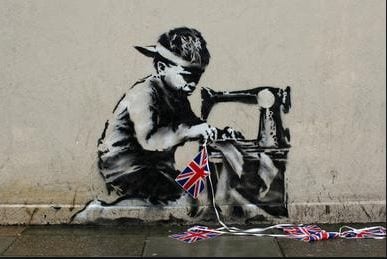 Young Children as young as 10 are being traded as commodities in Britain. They are sold for as little as  £5,250  filthy rotten black market gangs operating from the district of Punjab in India.  As times are so hard, these nefarious cold-blooded traffickers are preying on the children of Nepalese refugees and poor Indian families.
Theresa May called on the National Crime Agency aptly described the situation for it really is a  "truly abhorrent crime." She went on to state that "No child, anywhere in the world, should be taken away from their home and forced to work in slavery.
"That is why we introduced the landmark Modern Slavery Act last year, which included enhanced protections for potential child victims of slavery and sentences up to life imprisonment for those found guilty."
The idea is to supply slaves to wealthy British families; the only way to solve this crime is to put the buyers into Jail for ten years or more after giving them 100 lashes.
This is what one of the low life traffickers had to say:
"Most of the ones who are taken to England are Nepalese. "For the supply of a boy, minimum 500,000 rupees (around £5,250). Then you will have other costs associated with taking him to the UK, but that's your responsibility extra to what you pay us. "Take a Nepalese to England. They are good people. They are good at doing all the housework, and they're very good cooks. No-one is going to come after you."
This is what we meant when we stated we are in the age where morality as most knew it has vanished and where money can buy almost anyone.  These despicable individuals are selling children as slaves. The next case probably will be the revelation of some massive gang that trades in body parts.  The trend seems to be worsening and showing no signs of letting up.
Another disturbing trend is the dramatic rise in Sexual slavery; another equally despicable crime
https://www.youtube.com/watch?v=cmIruKuR9mc
Other Stories of Interest:
2 Trillion Megafund; Saudi's end of Era oil plan wishful thinking (April 16)
Where is Gold headed in 2016; Up, down or sideways (April 13)
Do Investors need to own Gold; The answer might surprise you (April 13)
Fiat Currency: silent but deadly weapons of Mass Destruction (April 12)
Data manipulation; The Fraudulent Economic Recovery (April 11)
The US an Oligarchy, not a democracy concludes Princeton Study  (April 9)