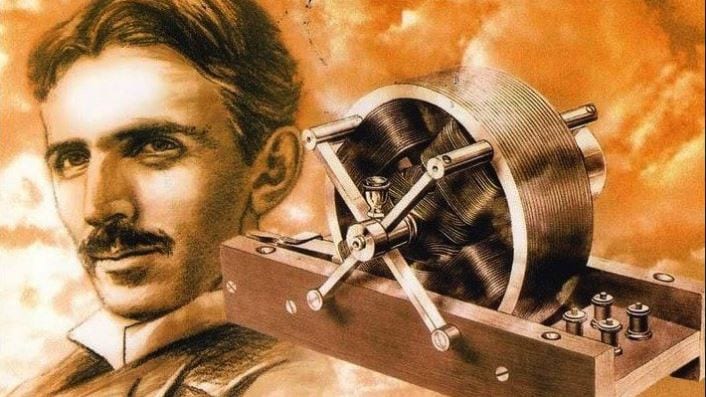 In 2030, the gap between capacity that is added by fossil fuels and renewable energy will widen to as much as 400%.  The trend is in, and it appears that oil will have a hard time trading back to the lofty levels of $140.00.  For the next 12 months, oil is not projected to trade past $60 for any prolonged period of time. Note the cost of batteries continues to drop and at some point, the electric car is going to  become a real threat to the fossil fuel industry.  However, there is something even more interesting and this video reveals how energy could be harvested from electrons to provide the power for all our needs. [color-box color="orange"]
In effect, this is as close to a free energy source as one could get to.  Corporations are going to resist this as a lot of money is going to be lost.[/color-box]
The transition will be slow.  The first move will be to gravitate to renewable energies such as battery powered vehicles, solar power and wind power.  This is what is currently taking place.  By 2040, electric vehicles will account for over 35% of all vehicles sold.
[color-box color="green"]
Game Plan
Electric Carmakers such as  Nissan and Toyota warrant a closer look.  Regarding battery manufacturers, NIPNF (NEC Corp) and Panasonic Corp (PCRFY) are two companies you could take a closer look at.
Other interesting stocks in the alternative energy sector stocks are FSLR, JASO, etc. [/color-box]
Interesting data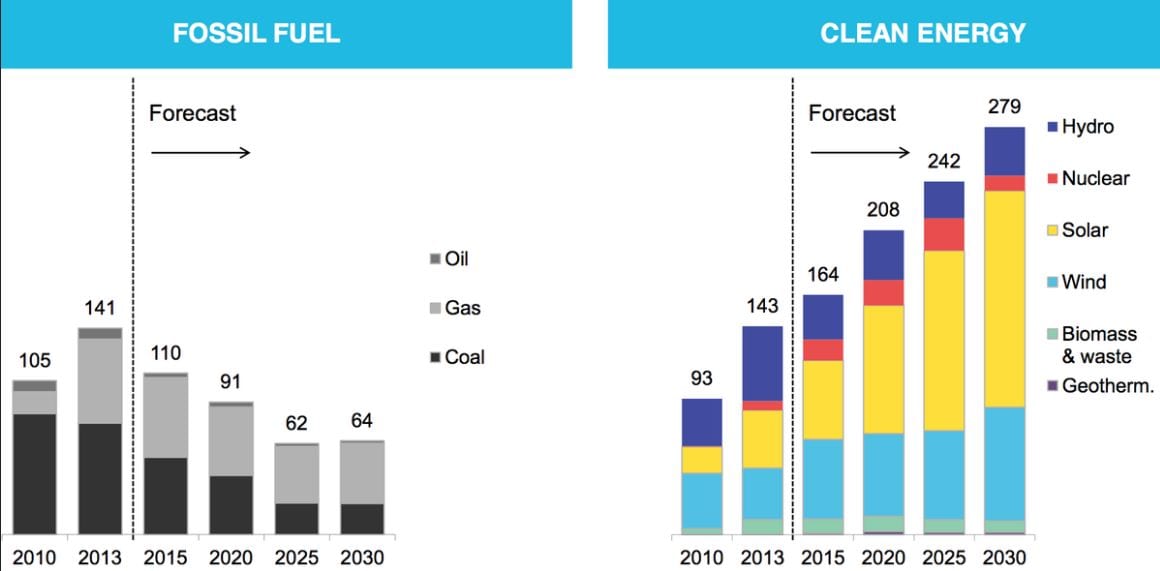 Source www.bloomberg.com
The data above indicates that the race between renewable energy and fossil fuels is over; the inflexion point was hit back in 2013 when 143 gigawatts of renewable energy were added versus 141 gigawatts that came from traditional power plants that burn fossil fuels. If you look at the chart above, the trend is expected to gain momentum in the years to come.   In most cases, the cost of solar energy is on par if not cheaper than grid electricity.  This is perhaps why the Saudi's are panicking and want to destroy competition so that they can push prices back up and try to lock in as much money as they can before they are knocked out of the game.  They are even planning on selling shares in Aramco.
Related Stories:
Global Warming Hoax destroyed by Nobel Laureate  (March 22)
Looting Made Easy; Corporate Share buybacks Keeping Dow Bull Alive  (March 19)
Foreign Governments Dumping Record Amount of US debt   (March 18)
US Congress losing mind over Russian Arms Sales to Iran (March 17)
Russian economy improving; Inflation down over 50% (March 17)
Fed's change of Heart Could trigger strong Rally in 2016  (March 17)