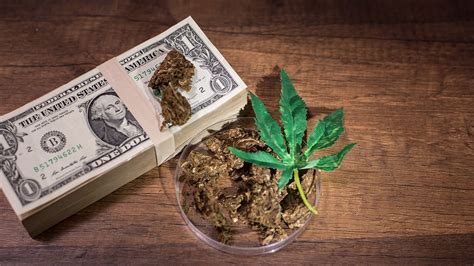 Cannabis Market: Exploring Explosive Growth & Investment Potential
The chart speaks a thousand words, so what can we conclude from this trend? One people like to feel good (or get high), and this trend is unstoppable. So be ready for marijuana joints (literally speaking) with names such as the Bong Café or the Happy Joint to be common in your neighbourhood bar. We are looking at some stocks and will issue 1 or 2 plays, but as this is a very volatile sector, they will be placed under the high-risk portfolios only. However, this a marijuana REIT that looks decent and if we determine it's time to get in, we will issue this play under the Trend Portfolio.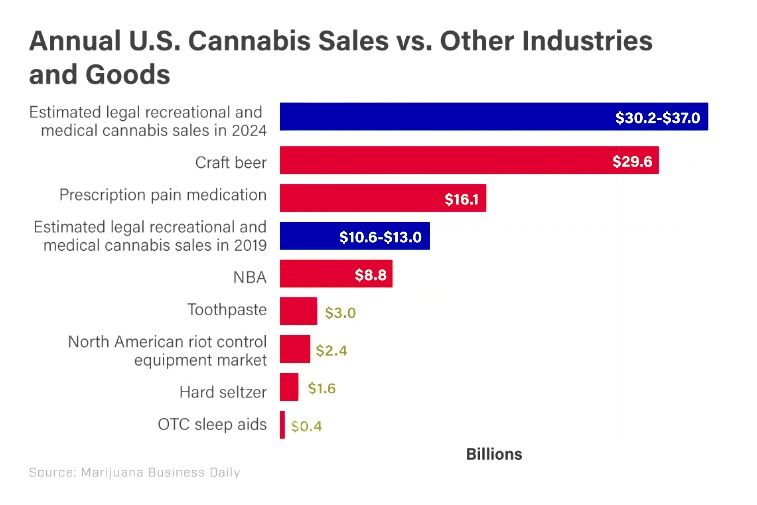 The following articles also validate the Tactical Investor's argument that the cannabis market is set to explode
Scythian Biosciences Corp. (SCYB.V) (SCCYF) is a tiny company with a big secret. It has accomplished an enormous coupe: it's agreed to sell its assets in Jamaica and Latin America to Aphria, the marijuana giant, for $193 million. That's because weed is GLOBAL. It's much, much more than Canada and the US.
The global weed sector could be worth $57 billion in just ten years, mainly focused on the recreational market. But there are better ways to profit from the Green Revolution, ways that the hedge funds and venture capitalists haven't discovered yet. Scythian knows the secrets to making minor marijuana assets into a $193 million investment. It's the only truly global cannabis opportunity spotter, an incubator for marijuana ventures and research worldwide. https://www.prnewswire.com/news-releases/the-global-cannabis-market-is-set-to-explode-846125949.html
Why the Cannabis Market is Primed to Explode
Think the cannabis industry is blowing up? You haven't seen anything yet. Projected to shift from a $13 billion industry this year to as much as a $40 billion market in the coming year, we are now at the cusp of exponential growth that will change the business landscape for good. This article will discuss how cultural and regulatory changes — in concert with a blockchain-based digital payment solution — are about to make this the investment opportunity of a lifetime.
As Danny Moses recently stated on CNBC, "This is the big long. It's the best macroeconomic opportunity I've seen within the US markets in my career." This is the point in US history when the cannabis industry shifts gears into a growth rate that matches market demand. At the center of this economic ripple effect, Alt Thirty Six — a new digital payment solution — is uniquely positioned to unlock that growth. https://thebossmagazine.com/cannabis-industry-growth/
Cannabis Market Set To Explode Over Next Decade
In a recent report, Nielsen projected that the total CBD market in the United States could reach $2.25 billion to $2.75 billion in 2020. Nielsen reported: "The next decade for the hemp-based CBD market has the potential to be a game changer for the traditional CPG (consumer packaged goods) and retail industry."
Nielsen found that while many healthcare providers know the potential health benefits of taking CBD, only about 33% are aware of the laws surrounding hemp and CBD. According to Nielsen, consumers can expect more education about CBD products directed toward the medical community. That's important, as Nielsen found 50% of consumers would try CBD products if recommended by a healthcare professional. That compares to 16% who would do so based on a family member's recommendation, 17% on a friend's recommendation and 15% on the product made by a familiar brand.
https://www.dispensaries.com/blog/cbd-market-set-to-explode-over-next-decade/
Other Articles of Interest
Long-Term Trends: investing is all about identifying the trend
Stock Market Euphoria or Stock Market Insanity
Stock market crash 2020 predictions
US bank stocks and Psychological Ploys in the stock market
US jobless claims No Longer Connected To Stock Market
Easy Money Environment Fosters Price manipulation
How to Become A Better Trader?
Market Timing Strategies: All fluff or?
Define Fiat Money: The USD Is A Great Example
Deflation Economics: The Art of Twisting Data