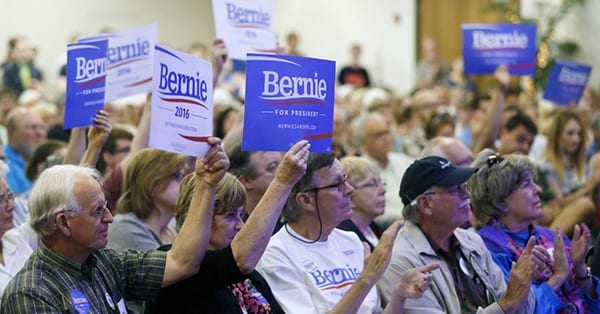 Sanders Voters Helped Trump Become President
In 2016, about 216,000 Michigan, Pennsylvania and Wisconsin voters backed the Vermont senator in the spring and Trump in the fall, according to an analysis of exit polling — well over twice the president's total margin of victory in those states, which were critical to his electoral vote win in the face of a decisive popular vote loss.
The last time we had a lot of Bernie Sanders supporters," Trump said during a Phoenix television interview last month when asked if he thinks he can win over some of Sanders' supporters if Sanders isn't the Democratic nominee in November. "I think if they take it away from him like they did the last time, I really believe you're going to have a very riotous time in the Democrat Party."
That was more than speculation. It's a backup battle plan for the demographic: If they can't win over disappointed Sanders voters, the president and his advisers believe they can at least convince many of them to stay home on Election Day or vote for a third-party candidate rather than support the Democratic nominee.
Sanders voters in 2020 have indicated they are less likely than other voters to back the Democratic nominee should their candidate not win the nomination. In an NBC News exit poll taken on Super Tuesday, 15 percent of Sanders voters said they weren't committed to voting for the Democratic nominee, regardless of who it was, compared to 10 per cent of Biden voters who said the same.
"I think there's no question the establishment, the Democrat establishment, is trying to take it away from Bernie Sanders," Trump told reporters Tuesday after a slew of Democratic officials came out in support of Biden. "There's no question about that in my mind." Full Story
Articles of interest
Worst Stock Market Crash of our lifetime; is this a possibility? (Aug 23)
Did the Fed Screw up in raising rates; is inflation even an issue  (Aug 10)
Electric Car Threat To Big Oil Wildly Overstated? (July 28)
1987 stock market crash: could it happen again? (July 13)
Dow Could Trade to 30K But not before This Happens  (July 11)
Fake news & Weak Economy Can't Stop Stock Market Bull  (July 6)