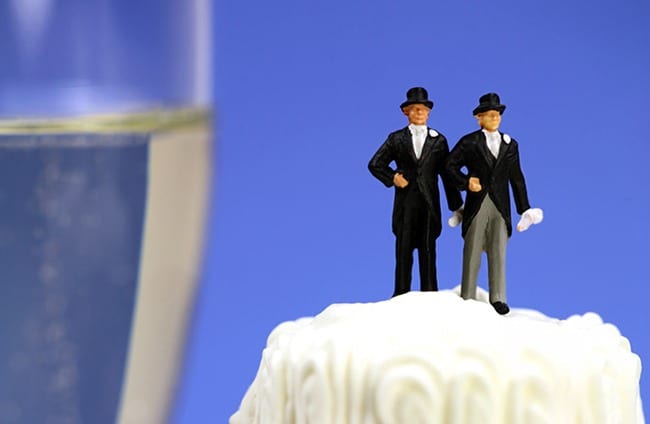 Many stocks are trending upwards while key technical indicators move from the overbought to the oversold ranges. If this took place on the daily charts it could be ignored, but, these developments are taking place in the slow-moving monthly charts, and it suggests that a new trend might be about to take hold. Then you have stocks that trend endlessly in the overbought ranges with no sign of letting up, but the stock continues to trend higher and higher. If this trend takes hold, then a plethora of technical analysts will face the ultimate challenge: "Adapt or die". Stock market Insanity Trend is Gathering Momentum
Bermuda becomes the first jurisdiction in the world to repeal same-sex marriage
Bermuda's governor has signed into law a bill reversing the right of gay couples to marry, despite a supreme court ruling last year authorising same-sex marriage.
Walton Brown, Bermuda's minister of home affairs, said the legislation signed by Governor John Rankin would balance opposition to same-sex marriage on the socially conservative island while complying with European court rulings that ensure recognition and protection for same-sex couples in the territory.
Bermuda's Senate and House of Assembly passed the legislation by wide margins in December and a majority of voters opposed same-sex marriage in a referendum.
"The act is intended to strike a fair balance between two currently irreconcilable groups in Bermuda, by restating that marriage must be between a male and a female while at the same time recognising and protecting the rights of same-sex couples," said Brown, whose ruling Progressive Labour party proposed the repeal. Full Story
https://www.youtube.com/watch?v=s463eO6Eq7s
In June of 2018, Bermuda legalized same-sex marriages again
Well, the ban did not last long, just a few short months before, the order was reversed.
It is the second time in just over a year that the high court has ruled in favor of same-sex marriage. In May 2017, Bermuda's Supreme Court ruled that defining marriage as a union between a man and a woman discriminates against same-sex couples.
But Bermuda's parliament sought to reverse the court's 2017 ruling by passing a law called the Domestic Partnership Act, which again restricted marriage to unions between men and women.
The Supreme Court's decision on Wednesday threw out the provisions of the law that effectively banned same-sex couples from getting married.
OUTBermuda hailed Wednesday's Supreme Court ruling as a "historic decision."

"Our hearts and hopes are full, thanks to this historic decision by our Supreme Court and its recognition that all Bermuda families matter," OUTBermuda said in a press release. "Equality under the law is our birthright, and we begin by making every marriage equal. Full Story
Now for something different; Stock Market crash Myths
Other Stories of Interest
Is this the end for Bitcoin or is this a buying opportunity? (Jan 24)
Stock Market Insanity Trend is Gathering Momentum   (Jan 10)
Is value investing Dead   (Jan 9)
Irrational markets and Foolish Investor: perfect recipe for disaster   (Jan 5)
Stock market Crash Myths and Realities  (Jan 3)
Bull-Bear Markets & Arrogance   (Jan 1)
Will The Stock Market Crash In 2018  (Dec 11)
Has US Dollar Finally Hit Bottom    (Dec 6)
BitCoin Has Done What Precious Metals Never Could  (Dec 4)
Experts Making Stock Market Crash Forecasts usually know nothing  (Nov 17)
1987 stock market crash anniversary discussions- nothing but rubbish ( Oct 24)