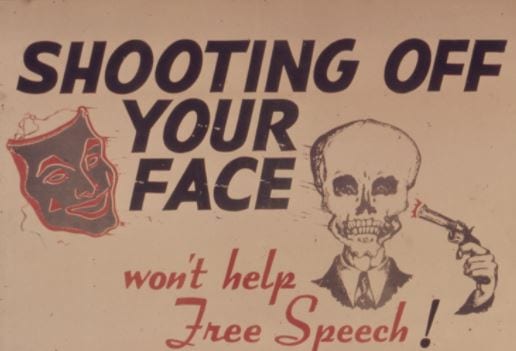 Freedom of speech is being attacked mercilessly
And relentlessly we might add under the guise of protecting the masses. The problem is that a few individuals are being allowed to overrule to force their views on the populace.  Are college kids so brainwashed that they are willing to give up their freedom of speech rights?  Well, decide for yourself after reading this article and watching the video below.
"LIBERALISM is white supremacy!" shouted the students, as their hapless speaker—Claire Gastañaga of the American Civil Liberties Union (ACLU)—looked on. The protesters at the College of William and Mary, the alma mater of Thomas Jefferson, went further still. "The revolution will not uphold the constitution" they chanted on September 27th. "Nazis don't deserve free speech". The ACLU's decision to defend the free-speech rights of white nationalists in Charlottesville, Virginia prompted the students' ire. Because of it, Ms Gastañaga was unable to speak, and the event, called "Students and the First Amendment", was cancelled.  Full Story
Are College Campuses promoting a leftist agenda?
On college campuses, violence and brute force are silencing speakers who challenge left-wing campus orthodoxies. These totalitarian outbreaks have been met with listless denunciations by college presidents, followed by . . . virtually nothing. As of mid-May, the only discipline imposed for 2017's mass attacks on free speech at UC Berkeley, Middlebury, and Claremont McKenna College was a letter of reprimand inserted—sometimes only temporarily—into the files of several dozen Middlebury students, accompanied by a brief period of probation. Previous outbreaks of narcissistic incivility, such as the screaming-girl fit at Yale and the assaults on attendees of Yale's Buckley program, were discreetly ignored by college administrators.
Meanwhile, the professoriate unapologetically defends censorship and violence. After the February 1 riot in Berkeley to prevent Milo Yiannapoulos from speaking, Déborah Blocker, associate professor of French at UC Berkeley, praised the rioters. They were "very well-organized and very efficient," Blocker reported admiringly to her fellow professors. "They attacked property but they attacked it very sparingly, destroying just enough University property to obtain the cancellation order for the MY event and making sure no one in the crowd got hurt" (emphasis in original). (In fact, perceived Milo and Donald Trump supporters were sucker-punched and maced; businesses downtown were torched and vandalized.) Full Story
Freedom of Speech is our God Given Right or is it?
The video illustrates how liberals have swung so far to the left that they forgot what being leftist is all about. Today, the concept of leftism is that if you disagree with them you are automatically pushed into the Alt-right category.  This is insane at best and retarded at worst.
Other Stories of Interest
Investor Sentiment Does not Support Stock Market Crash 2018 Outlook (Dec 11)
Weak Economy Not Enough To Stop Most Hated Stock Market Bull (Oct 24)
Fed States Inflation Is Not An Issue     (Oct 14)
Retail Sector In Death Trend; Restaurants not far behind  (Oct 14)
Fake Polls and Fake News On The Rise; Benefit From This Data  (Oct 13)
Fiat Money is Behind Every Financial Crisis  (Oct 12)
Crowd Sentiment Stating Stock Market Not Ready to Crash (Oct 9)
Masses Think Fiat Is Real Money and That's The Problem  (Oct 9)
One Statistic illustrates US Economic Recovery is Not Real  (Oct 6)
Robots that can grill and assemble 400 burgers an hour (Sept 7)
Banks only purpose is to lie and Fleece the Populace (Jul 12)
Amazon's Purchase of Whole Foods will Transform Grocery (Jul 10)