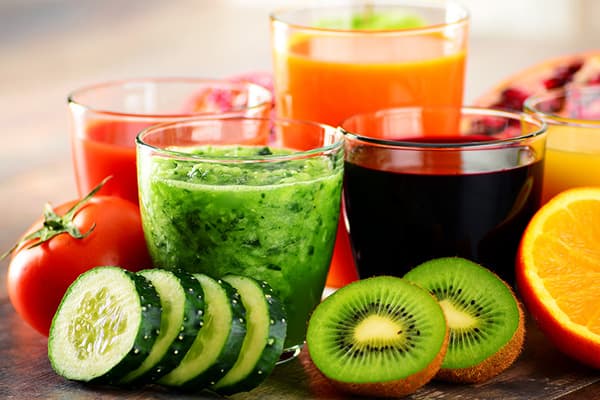 Editor: Draco Cooper | Tactical Investor[color-box color="green"]
5 Best Detox Diet For You
LEMONADE CLEANSE
Lemon contains ascorbic acid, assisting in the cleansing process. Known also as the staple beverage of Stanley Burroughs' Master Cleanse, this detox drink is easy to make. Mix 2 tablespoons of freshly squeezed lemon juice, 2 tablespoons of pure maple syrup and 1/10 teaspoon of cayenne pepper in 8 ounces of purified water. Proponents of the Master Cleanse recommend you drink 6-8 glasses of this lemonade drink and eat nothing each day of your cleanse. Despite its popularity, nutritionists warn against the lack of essential nutrients in this drink.
GREEN DETOX DRINK
This vegetable detox drink is made up primarily of green vegetables, providing an effective natural body cleanse of the digestive system.
In her book, The Raw Food Detox Diet: The Five-Step Plan for Vibrant Health and Maximum Weight Loss, certified clinical nutritionist Natalia Rose discusses the importance of vegetables at length. For this detox drink, you will need:
DETOX DANDELION TEA
According to classical homoeopathic practitioner Sonya McLeod, B.A., D.C.H., dandelions are a great source of vitamin A, potassium, iron, and calcium. According to McLeod, dandelion detox tea is a diuretic that will eliminate bodily toxins through your liver and kidneys. She recommends brewing 6 tablespoons of 1-year-old dried dandelion root and 12 tablespoons of fresh dandelion leaves in 4 cups of purified, boiling water. Other recipes call for simply adding 2 teaspoons of crushed dandelion leaves to a cup of boiling water and allowing it to brew for about 10 minutes.
FRESH CRANBERRY JUICE
According to Mayo Clinic, there is some evidence to suggest that drinking cranberry juice may help prevent urinary tract infections and ulcers in healthy individuals. Cranberry juice also contains vitamin C, manganese and antioxidants. Though not advocated by any authoritative body, cranberry juice has become a popular detox drink, and according to Mayo Clinic, two 16-oz. glasses of full-strength juice can be safely consumed on a daily basis by healthy adults. To make this detox drink, dilute one part cranberry juice in four parts water. Then, add 1 tablespoon each of apple pectin and psyllium fiber to stimulate gentle intestinal elimination.
FRUIT DETOX DRINK
Because fruit is high in fiber and packed with essential vitamins and minerals, it's a wonderful natural detox for the body. This recipe incorporates fruit, along with flax oil and lecithin, to provide essential fatty acids while you detox.  Full Story
Best Detox Diet For You
"One of the best ways to reboot your diet is to rethink your fruits and vegetables. Both fruits and vegetables provide fibre, vitamins, minerals and phytonutrients (natural plant chemicals that help fight and prevent disease)," Toby Amidor, MS, RD, author of "Smart Meal Prep for Beginners," says. Most Americans aren't anywhere close to meeting their needs. (90 per cent fall short of vegetable recommendations and 85 per cent aren't meeting their fruit quota.) To help you boost your intake and your overall health, Amidor offers these suggestions: "Add sliced strawberries to your oatmeal at breakfast, opt for a vegetable salad topped with lean protein at lunch, and fill half your dinner plate with a steamed vegetable medley. And don't forget snacks! Enjoy sliced carrots, celery and jicama with hummus or top your Greek yoghurt with sliced strawberries."
To reboot your diet and reset your gut, remember to eat the three P's: prunes, pulses and pears.
Best detox diet: Start with your gut
Many people are drawn to cleanses to reset their GI system, but there's no evidence that the cleanses and detoxes you typically read about have any benefit. Instead of trying to flush out toxins, take measures to boost your gut health so it can do its job well. "A healthy gut is important for almost every aspect of wellness — from boosting your mood to helping you sleep, from weight management to preventing chronic diseases, the list goes on and on. To reboot your diet and reset your gut, remember to eat the three P's: prunes, pulses and pears," says Patricia Bannan, MS, RDN, nutrition and healthy cooking expert. Full Story
Other articles of interest
Stock Market Bull destined to charge higher or is it time to bail out  (Jan 13, 2017)
Feds Interest Rate stance equates to Rubbish-Economic recovery is illusory  (Dec 24)
Stock Market Bulls, Stock Market fools-Market Crash next or is this just an Illusion  (Dec 21)
Trump Effect Rally-Useless Dow Theory and Stock Market Crash  (Dec 17)
Gold fools-dollar bulls and the long-term outlook for both Markets (Dec 9)
Inflation the Silent Killer Tax that's destroying Middle-Class America (Dec 5)
Dominant Stock Market Trends under President Trump (Nov 22)
Bears State Crude Oil Destined to Crash-Utter Rubbish (Nov 18)
50 Trillion in Cash illustrates Mass Anxiety-Dow Industrials will soar not Crash  (Nov 16)
Trump's victory Does not Sink Global Markets Proving Experts are Jackasses (Nov 10)
Trump-The New Stock Market vix Factor (Nov 6)
Crude Oil Market-Higher prices or Market Crash (Oct 28)
American's fear the Stock Market-Understanding Market Sentiment key to winning  (Oct 24)
Foreign banks Dump whopping 356 billion in US Debt  (Oct 20)