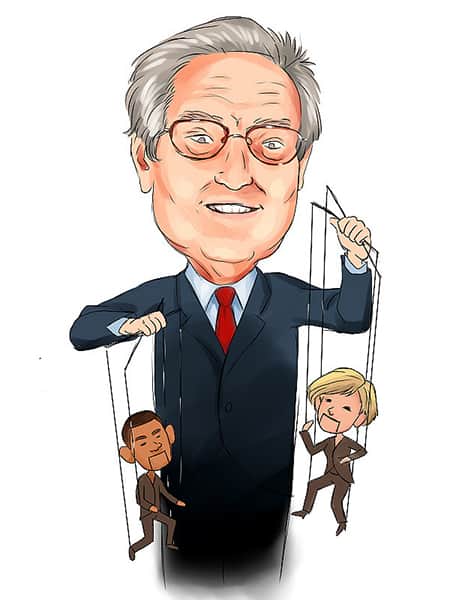 Editor: Johnathan Meyers| Tactical Investor
Many top Republicans are financially backed by Soros
It isn't just the Democrats that are working in lockstep with billionaire villain George Soros. According to congressional contribution records, a stunning number of establishment Republicans are also on the Soros dole, including big names like Republican House Speaker Paul Ryan, as well as former Republican presidential candidates Marco Rubio, Jeb Bush, John Kasich, and many others who you might not expect.
Records indicate that failed Republican presidential candidate John Kasich, who aggressively fought the campaign of now-President Donald Trump, received a whopping $202,700 from one of Soros' many political action organizations. As it turns out, Soros was one of Kasich's top campaign funders, unbeknownst to most of his supporters.
Republican House Speaker Paul Ryan, who has likewise fought tooth and nail to maintain the status quo, reportedly took in more than $10,000 from Soros Fund Managemen
Other GOP congressional recipients of Soros cash include:
Sen. Lindsey Graham (R-S.C.): $3,500
Jeb Bush (R): $2,700
Sen. Marco Rubio (R-Fla.): $2,700
Rep. Joe Heck (R-Nev.): $2,700
Rep. John Boehner (R-Ohio): $2,600
Sen. John McCain (R-Ariz.): $2,500
Rep. Ed Royce (R-Calif.): $2,500
Rep. Carlos Curbelo (R-Fla.): $1,000
Sen. Charles Grassley (R-Iowa): $1,000
Sen. Ron Johnson (R-Wis.): $1,000
Rep. Cathy McMorris Rodgers (R-Wash.): $1,000
Rep. Dan Donovan (R-N.Y.): $300  Full Story
Soros Funded Many Republicans
In total, executives with the Soros-founded company pushed $36,800 into the coffers of these GOP candidates just this past cycle. That does not include Super PACs or campaign committees, which saw tens of thousands of dollars more. While these numbers for Republicans pale in comparison to the millions upon millions poured into Democratic groups, causes, and candidates, it is significant that Soros executives are making a play inside the GOP. Perhaps even more significant is the type of Republican they aim to prop up: pro-amnesty, pro-open borders on trade, and generally speaking anti-Trump. A pattern emerges when looking at the policies of the Republicans that these Soros Fund Management executives support financially.
The biggest recipient of Soros-connected cash in the GOP was none other than House Speaker Paul Ryan, who repeatedly attempted to undermine Trump over the course of the election. According to the records available online, the Soros firm's workers gave $10,800 to Ryan. Included in that are two separate May 2, 2016, donations from David Rogers, a then-employee of Soros Fund Management who lives in New York City. Rogers left the Soros Fund Management firm right around that time. Full Story
Other stories of interest
Stock Market Bull destined to charge higher or is it time to bail out  (Jan 13, 2017)
Feds Interest Rate stance equates to Rubbish-Economic recovery is illusory  (Dec 24)
Stock Market Bulls, Stock Market fools-Market Crash next or is this just an Illusion  (Dec 21)
Trump Effect Rally-Useless Dow Theory and Stock Market Crash  (Dec 17)
Gold fools-dollar bulls and the long-term outlook for both Markets (Dec 9)
Inflation the Silent Killer Tax that's destroying Middle-Class America (Dec 5)
Dominant Stock Market Trends under President Trump (Nov 22)
Bears State Crude Oil Destined to Crash-Utter Rubbish (Nov 18)
50 Trillion in Cash illustrates Mass Anxiety-Dow Industrials will soar not Crash  (Nov 16)
Trump's victory Does not Sink Global Markets Proving Experts are Jackasses (Nov 10)
Trump-The New Stock Market vix Factor (Nov 6)
Crude Oil Market-Higher prices or Market Crash (Oct 28)
American's fear the Stock Market-Understanding Market Sentiment key to winning  (Oct 24)