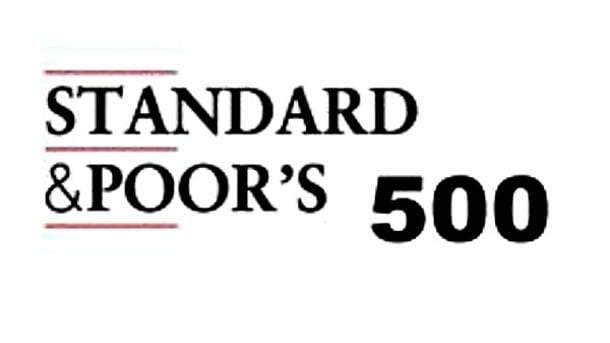 Editor: Vlad Rothstein | Tactical Investor
Something random to consider first
Before we get to the article at hand many might ask why we cover political and health issues when our main focus in the stock markets and the financial arena.  Identifying the problem is over 80% of the solution and this is why most people don't know what to do because they don't really understand the problem. Now you know why we are the only financial website that covers such a wide array of topics that on the surface appear to be unrelated but are in fact, deeply interwoven.  Mass psychology is a very powerful tool and if employed correctly can help you spot the grotesque levels of manipulation the masses are subjected to. We strongly suggest that you view or read or view Plato's allegory of the cave.  You might also find the following article to be of interest:
The stock market crash story is getting boring and annoying to a large degree. Since 2009, there has been a constant drumbeat of the market is going to crash stories. In 2009, many experts felt that the market had rallied too strongly and that it needed to pull back strongly before moving higher up.  They were calling for 15%-20% correction. Ten years later and most of them are still waiting for this so-called strong correction or crash. A stock market crash is a possibility but the possibility is not the same thing as certainty, and this is what seems to elude most of the naysayers. One day they will get it right as even a broken clock is correct twice a day.  In the interim waiting for this stock market crash has cost these experts a fortune, both in lost capital gains and actual booked losses if they shorted this market. Worst Stock Market Crash of our lifetime; is this a possibility?
Over fixating on Technical Analysis; instead, focus on investor sentiment
A chart level that most investors thought would never be tested again in 2018 is shaping up as its best hope after U.S. stocks staged their worst back-to-back declines since October. It's 2,532.69 on the S&P 500, the intraday bottom touched on Feb. 9, and until Monday the lowest trading level of the year. It was briefly breached in the last 15 minutes before the index finished at 2,546, down 54 points to the lowest level since October 2017. The Dow Jones Industrial Average plunged 508 points, and the Russell 2000 ended 21 per cent below its August record.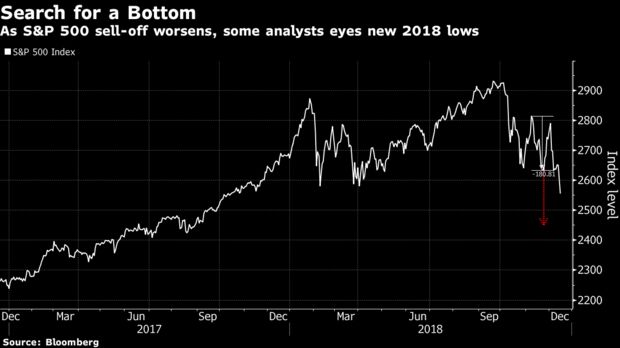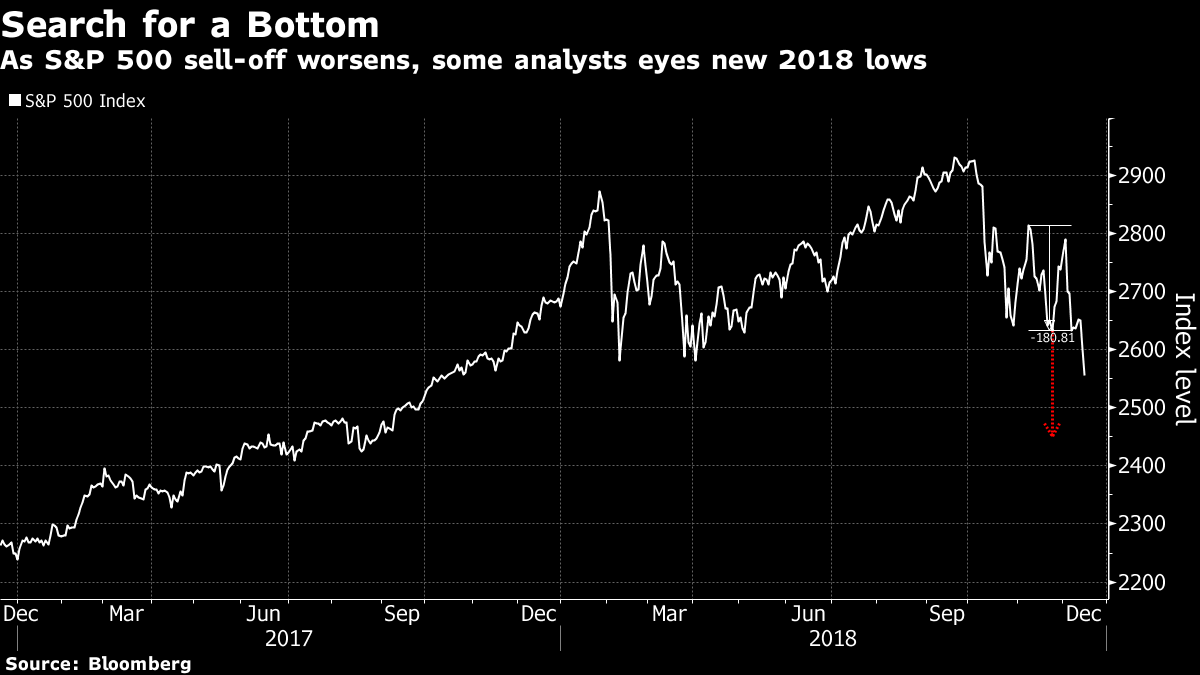 To Russ Visch at BMO Capital Markets, it was just a matter of time before the February support caved in. One after another, past floors have given way as the sell-off deepened. Since the rout started in October, the index has fallen below its averages of the past 50 and 200 days. The latest breakdown came last week at 2,630, a level that had served as a cushion twice in the last two months. The April intraday low cratered Monday.
Visch says more pain is likely, citing a technical model called "measured move" that says, essentially, that downtrends get worse once a bounce fails.
"A move to 2,445 makes a lot of sense to us," Visch wrote in a note to clients. "A close below the early 2018 lows will likely cause the 'rush for the exits' which brings the heavily negative, one-sided bearish climactic action that's been missing so far."   Bloomberg
Conclusion
Experts talk big when things appear to be going their way; their biggest shortcoming is that they never learn from their past mistakes.  One area stands out the most; there is not one expert that can prove that a stock market crash is not a great buying opportunity from a long term perspective. To date, every stock market crash has provided investors with a once in a lifetime opportunity of buying low and selling very high in the years that follow.
Articles of Interest:
Rate of Inflation not an issue according to Bond Market (Sept 2)
Worst Stock Market Crash of our lifetime; is this a possibility? (Aug 23)
Did the Fed Screw up in raising rates; is inflation even an issue  (Aug 10)
Electric Car Threat To Big Oil Wildly Overstated? (July 28)
1987 stock market crash: could it happen again? (July 13)
Dow Could Trade to 30K But not before This Happens  (July 11)
Fake news & Weak Economy Can't Stop Stock Market Bull  (July 6)