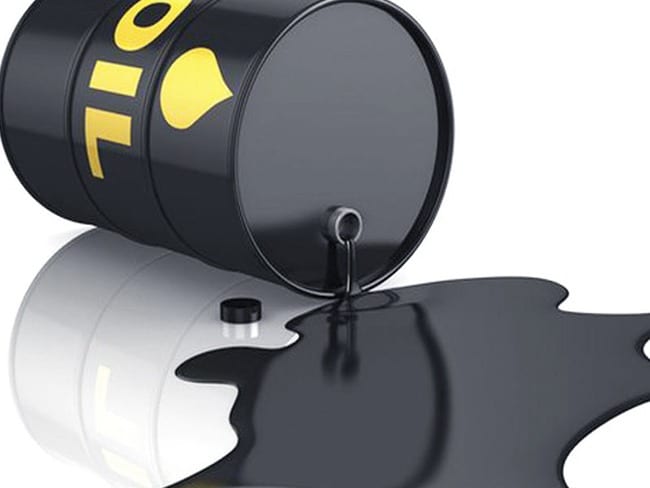 Stock Market Tips: Is it Time To Get Into Oil Tanker Stock?
While oil continues to drop, one sector connected to the oil market is doing rather well. It is the oil tanker sector, and while oil is trading at 11-year lows, many stocks are already posting double-digit gains over the past 12 months. This sector looks appealing both from the Contrarian and Mass psychology perspective for the following reasons
The masses are ignoring it; in fact, one could state that most of them dislike this sector. The best time to get into a sector is when the masses despise or are blatantly ignoring a sector.
The average Joe assumes that the tanker sector will suffer if oil drops. While this was true during the first part of the oil market collapse, the two markets have parted ways.
Take a look at the following chart, it shows that most of the stocks in this sector have performed rather well over the past few months. We purposely included one laggard to illustrate that not all stocks are created equal. One should focus on the leaders during the first part of the breakout stage. When the rally is mature, one can divert attention to the laggards as they will eventually catch up with the pack.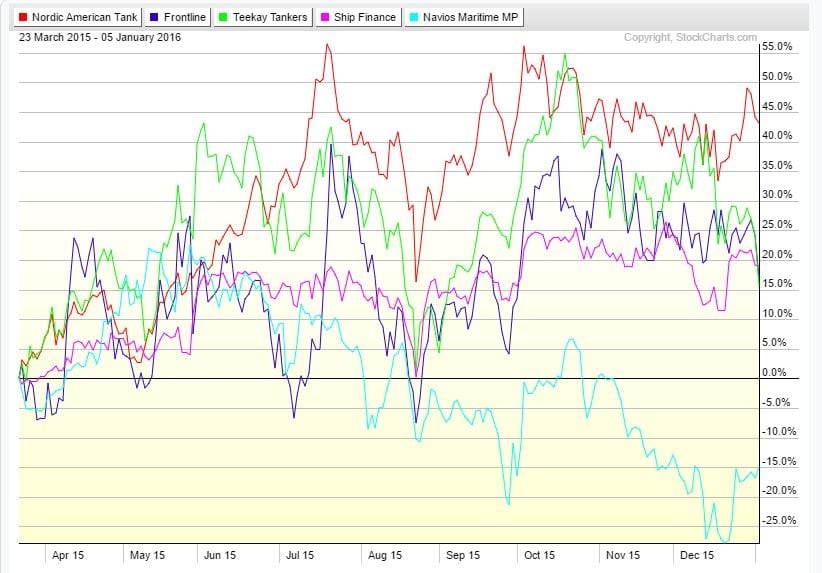 Must Read: Share buybacks Wall Street scam
Stock Market Tips: Factors that bode well for oil Tankers
Time Charter Rates for very large crude carriers (VLCC) have soared over the past 12 months, in fact, from a low of roughly 34,000 per day, they have surged to almost $50,000 per day.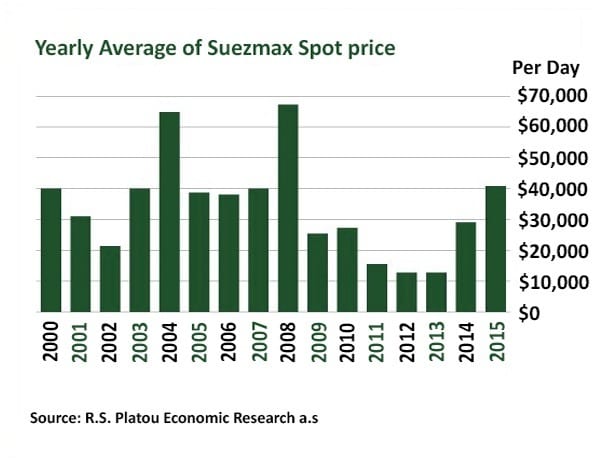 Oil producers all over the world continue to pump oil at record rates. In fact, Russia set a new record last year despite ultra-low oil prices. It pumped 081 million metric tons in 2015, 40% more than in 2014. Iran's oil will soon hit the markets, which could put even more pressure on the already weak market; this is good business for oil tanker stocks, as a lot of this oil will have to be stored in storage. The fact that rates have surged by almost 45% from a year ago indicates that the industry now has some pricing power, and it looks like this trend could continue going forward. Rates are still below their 2008 peak but are a long way off their 2012-2013 lows.
A group of stocks in this sector have broken out, indicating that this is not an isolated event. Of the five stocks we listed, 4 are showing healthy gains and the most substantial stock in the sector today is Nordic American Tankers (NAT). Frontline (FRO) and Ship Finance International (SFL) are two other strong players in the sector.
Must Read: Chinese Markets short term mess
Game Plan
The markets are letting out some steam now, and many of the stocks in this sector are trading in the overbought ranges, so let them let out some steam before jumping in. A good play in this sector is Nordic American Tankers (NAT), as the company prefers to operate in the spot market instead of using the long-term charter market. It's break-even rate is below $12,000 per day, and with rates currently as high as $50,000 a day, it is poised to do well. In the 3rd quarter, its daily charter rates averaged $35,000 per day, 200% above its break-even rates. To improve efficiency and operating costs, it operates only one type of ship, the Suezmax, which holds up to 1 million barrels of oil.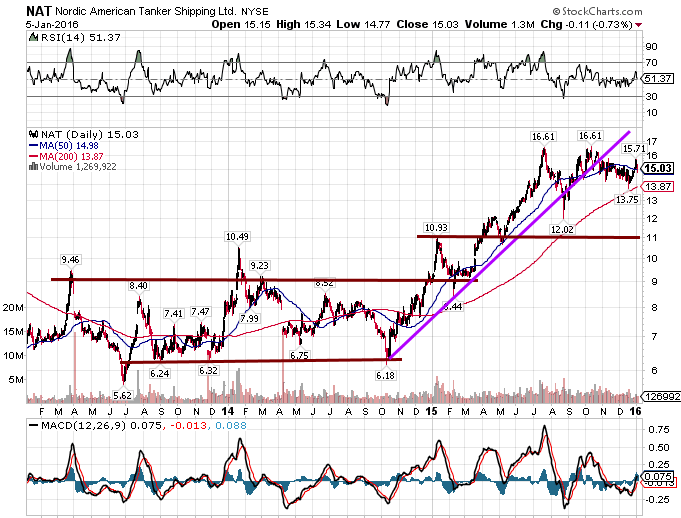 The markets are letting out some well-deserved steam, and as the stock is currently overbought, a nice pullback would make for a tremendous longer-term entry point.  One such entry point falls in the $10.50-$11.00 range.
Conclusion
The oil tanker sector is not being followed actively; the crowd is ignoring it, and this is usually the best time for the astute investor to plan an entry. Mass psychology states that you should be happy when the crowd is wary and wary when they are so glad.
Investing in the energy sector has been an exercise in futility in 2015 for the most part, but there appears to be a bright spot. We would wait for the oil tanker sector to pull back before committing any new money to this sector.  The current market pullback should provide investors with lovely entry points in some of the top-performing stocks in this sector.
Let us act on what we have since we have not what we wish.
Cardinal J. Newman
Other Articles of Interest
Dollar to Ruble: Russia Surplus Increasing Due To Sanctions (Dec 25)
Size Of Russian Economy: On A PPP Basis It's Ranked At Number 5  (Dec 8)
End Of Bull Market: Masses Worry Higher Rates Will Kill This Bull   (Nov 28)
Is The Bull Market Over? Mass Sentiment States It's Not(Nov 27)
Canadian pension plan shell game
Netherlands to Ban Gasoline-Powered Cars
Dow Jones Industrial Average Today: Is It Set To Crash