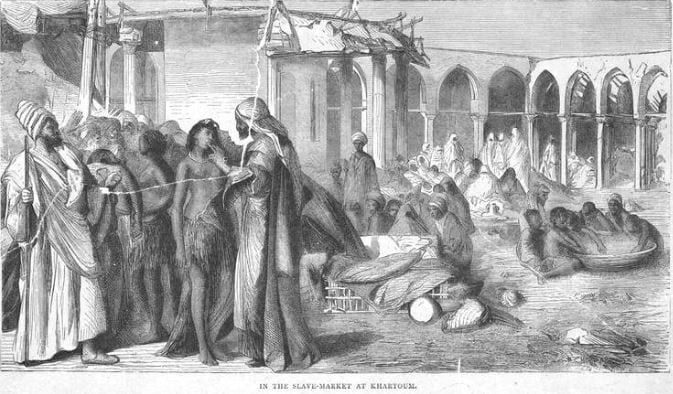 Sex Slavery and the ISIS factor
he slave market opened at night. We could hear the commotion downstairs where militants were registering and organising, and when the first man entered the room, all the girls started screaming. It was like the scene of an explosion. We moaned as though wounded, doubling over and vomiting on the floor, but none of it stopped the militants. They paced around the room, staring at us, while we screamed and begged. They gravitated toward the most beautiful girls first, asking, "How old are you?" and examining their hair and mouths. "They are virgins, right?" they asked a guard, who nodded and said, "Of course!" like a shopkeeper taking pride in his product. Now the militants touched us anywhere they wanted, running their hands over our breasts and our legs, as if we were animals.
"Calm down!" militants kept shouting at us. "Be quiet!" But their orders only made us scream louder. If it was inevitable that a militant would take me, I wouldn't make it easy for him. I howled and screamed, slapping away hands that reached out to grope me. Other girls were doing the same, curling their bodies into balls on the floor or throwing themselves across their sisters and friends to try to protect them.
While I lay there, another militant stopped in front of us. He was a high-ranking militant named Salwan who had come with another girl, another young Yazidi from Hardan, who he planned to drop off at the house while he shopped for her replacement. "Stand up," he said. When I didn't, he kicked me. "You! The girl with the pink jacket! I said, stand up!" Full Story
Sex Slavery: Buying Women as if they are cattle
One man even reportedly complained about the slaves, saying: "That one has big breasts. But I want a Yazidi with blue eyes and pale skin. Those are the best apparently. I am willing to pay the price."  The horrified teenager also describes how the brutes tortured her, abused her, chained her to leave her hanging in the scorching heat and even forced her to drink water riddled with mice. She said the blood-thirsty militants even tried to "forcefully" convert them to Islam and "threatened to torture us with electricity." She said: "These men are not human. They only think of death and they take drugs constantly. They seek vengeance against everyone and "They say that one day Islamic State will rule over the whole world." Full Story
Escape From ISIS But Now Sucked Into Baghdad Sex Scene
Nadia was living in 
Sinjar, northern Iraq
, in 2014 when ISIS rounded up thousands of women and girls like her from the Yazidi ethnic minority and forced them into sexual slavery. But she says she managed to escape, fleeing with her family through scattered hills to an IDP camp in Iraqi Kurdistan. CNN is not using Nadia's real name out of concerns for her safety.
Still, she was haunted by the fate of others who were not as lucky. She said she started sending money to a man she believed was a trusted friend, who she had met while on the run from ISIS and who said he was coordinating humanitarian aid for other Yazidis. Encouraged by their conversations and propelled by her desire to help, she began organizing demonstrations at the camp, demanding the release of Yazidi women.
Nadia was shocked. The friend she had trusted all along — with her money and with her fears — had sold her into sexual slavery.
"I started fighting … I started hitting them. They both beat me hard," she said. She says they sedated her with an injection and everything went black.
When she came to, she said she was surrounded by empty bottles and dirty plates, naked and in pain from having been raped by multiple men. She says she thought it was as many as 10, judging by the mess they left behind. "I lost my life, I was destroyed," she said. "Three months they would torture me like this, every day." Full Story
Other stories of interest