[color-box color="yellow"]
Out of all our proprietary indices (look at the image below), this is the only one that has been trading off its highs for such a long time. In fact, it is dangerously close to testing its lows.  Interestingly enough the peaks correspond very nicely with the bottoming and topping action in the Shanghai index.  One could view the current pattern through a bearish lens, but if you look closely you will notice that from July of 2010, it has been putting in higher lows, and this is a very bullish development. [/color-box]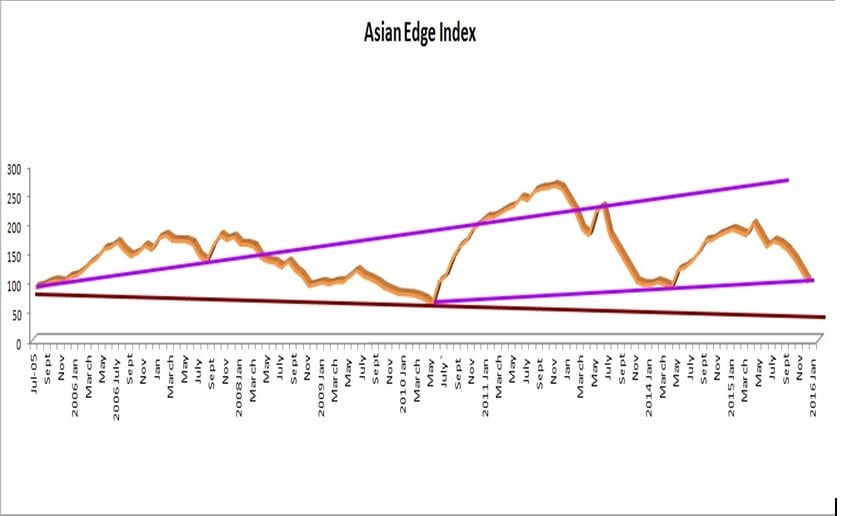 The current action is reflective of what is taking place in Asia right now, especially China.  The Chinese are trying to move from an export-based economy to a consumer based economy, and they are also trying to implement new changes.  One of which is to make big government companies understands that there is no such thing as too big to fail and that they cannot expect to receive loans forever if they fail to deliver results.  Hence, in the short term the markets in Asia will experience very volatile moves. However, from a long-term perspective, the outlook continues to improve.  We expect this index to soar eventually to new highs and continue to put in new highs for years to come.
[color-box color="orange"]For now this index is informing us that while there will be some good short term opportunities in Asia, the outlook over the short term favours more downside action.  Expect volatility in the Short term,  as the Chinese markets are in the process of putting in a long term bottom.  Pay attention to how strong companies hold up during corrections. Generally, stronger companies tend to suffer less during strong market corrections and tend to fare better than the overall market.  These are the companies you want to get into for when the market starts to move up, they will roar. Some companies warranting closer a look at BABA, CHL, HNP, QIHU, SOHU, etc.  [/color-box]
Other related Articles:
Green Peace Co-founder believes Climate Change is a colossal scam  (March 22)
U.S Superpower End Game: Russia & China on Gold buying Spree  (March 11)
Saving for retirement: Invest in stocks & retire rich  (March 9)
China powering ahead with supply-side reforms (March 8)
Stock Bull Market over; Mob Psychology disagrees  (March 2)
Beliefs Dangerous to long-term financial success  (March 1)
Can China attract Foreign Talent via Issuing extra Green Cards  (F