Proprietary Index: China's Promising Long-Term Outlook
Updated Dec 2022
Out of all our proprietary indices (see the image below), this is the only one that has been trading off its highs for a long time. It is dangerously close to testing its lows.  Interestingly enough, the peaks correspond very nicely with the bottoming and topping action in the Shanghai index.  One could view the current pattern through a bearish lens, but if you look closely, you will notice that from July of 2010, it has been putting in higher lows, a very bullish development.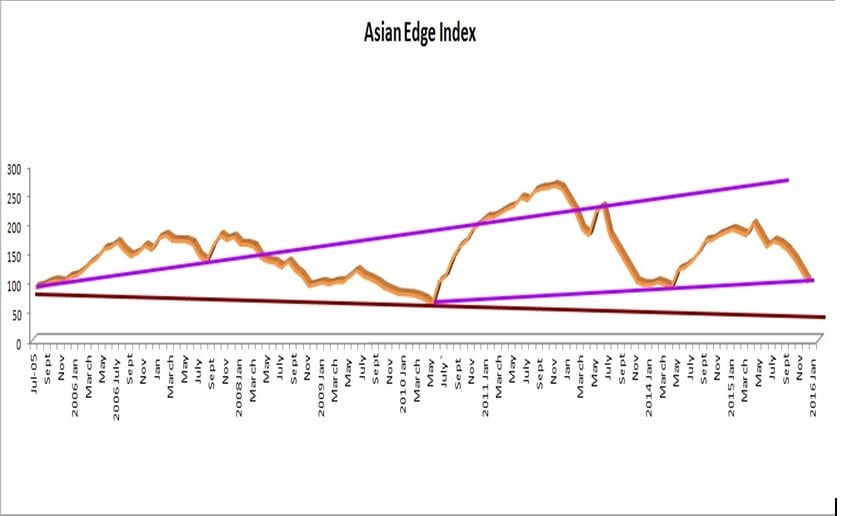 Navigating Market Volatility: The Asian Investment Landscape
The current market fluctuations reflect the ongoing economic transformation in Asia, particularly in China. The Chinese government is shifting focus from an export-oriented economy to a consumer-driven one while implementing crucial changes. These include instilling the understanding among large state-owned enterprises that there is no "too big to fail" safety net and that they cannot rely on endless loans without delivering results. This transition phase leads to short-term volatility in Asian markets, but the long-term outlook remains increasingly positive. Ultimately, the index is expected to reach new heights and continue its upward trajectory for years.
 Short-term Volatility and Long-term Opportunities
The index indicates potential downside action in the short term, reflecting the volatility as Chinese markets establish a long-term bottom. During this period, it's crucial to observe how strong companies withstand market corrections. Typically, resilient companies suffer less during significant market downturns and outperform the overall market. These companies offer attractive investment opportunities when the market begins to recover, as they are poised to surge. Some examples worth considering include BABA, CHL, HNP, PDD and VIPS. By carefully monitoring market trends and focusing on strong performers, investors can navigate the short-term volatility and capitalize on long-term growth opportunities in the Asian investment landscape.
Other Related Articles
Green Peace Co-founder believes Climate Change is a colossal scam  (March 22)
U.S Superpower End Game: Russia & China on Gold buying Spree  (March 11)
Saving for retirement: Invest in stocks & retire rich  (March 9)
China powering ahead with supply-side reforms (March 8)
Stock Bull Market over; Mob Psychology disagrees  (March 2)
Beliefs Dangerous to long-term financial success  (March 1)
Can China attract Foreign Talent via Issuing extra Green Cards  (F