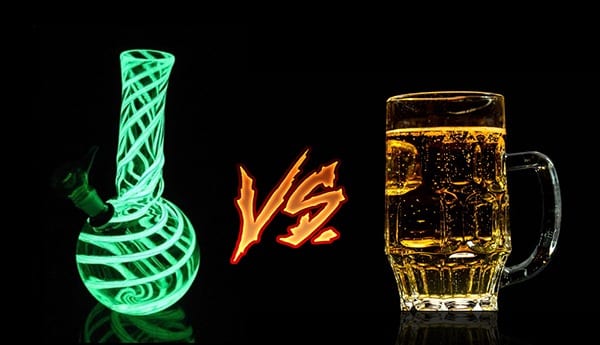 Editor: Draco Copper | Tactical Investor
Millennials Prefer Pot to Beer
Jena, a 27-year-old business-operations employee based in Chicago, has consumed alcohol socially for nearly a decade. In recent months, however, she's concluded it's not worth the calories or hangovers.
She switched to cannabis products, and now she smokes marijuana once or twice a week and eats gummy candies with cannabidiol, also known as CBD, a chemical component of marijuana that's legal and doesn't intoxicate users.
"I realized that I get zero enjoyment out of drinking, and it costs me more money than weed does," said Jena, who asked that MarketWatch omit her last name because recreational marijuana is not legal where she lives.
The street price for marijuana in Chicago is $18 per gram, and the average beer at a bar is $6. Jena said she used to spend $30 to $50 on alcohol in a night, several nights a week, and now spends less than $30 on marijuana a month. Full Story
Millennials Prefer Pot
Millennials are far from a sober generation. A large percentage of millennials still drink alcohol on a regular basis, but opt for craft beer and wine instead. In 2015, millennials drank 159.6 million cases of wine, and craft beer has been a staple of the generation.
When compared to baby boomers and Generation X, however, millennials are far less interested in alcohol. Especially domestic, mass-produced lagers like Budweiser and Coors.
"Millennials drink far less alcohol than past generations, an annual national survey of 50,000 adolescents and young adults in America from the Monitoring the Future Study found. The share of college students who drink alcohol daily fell from 4.3% in 2016 to 2.2% in 2017, a drop of more than four percentage points from the 6.5% of college students who used alcohol daily in 1980." 
There have always been shifts in priorities from generation to generation, but the legalization of cannabis has presented an alluring shift that aligns with millennial values. According to a ten-year study by the University of Connecticut and Georgia State University, purchases of wine and beer decreased by 15% in counties with legal cannabis. Full Story
Articles of interest
Worst Stock Market Crash of our lifetime; is this a possibility? (Aug 23)
Did the Fed Screw up in raising rates; is inflation even an issue  (Aug 10)
Electric Car Threat To Big Oil Wildly Overstated? (July 28)
1987 stock market crash: could it happen again? (July 13)
Dow Could Trade to 30K But not before This Happens  (July 11)
Fake news & Weak Economy Can't Stop Stock Market Bull  (July 6)