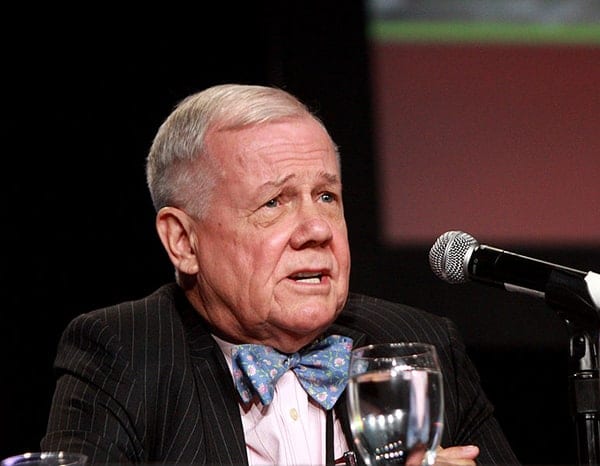 Editor: Philip Ragner | Tactical Investor
The Worst Economic Problems In Your Lifetime
Rogers said: "Get prepared because we are going to have the worst economic problems we have had in your lifetime or my lifetime and when that happens a lot of people are going to disappear.
"In 2008 Bear Stearns disappeared, Bear Stearns had been around over 90 years. Lehman Brothers disappeared. Lehman Brothers had been around over 150 years. A long, long time, a long glorious history, they have been through wars, depression, civil war, they have been through everything and yet they disappear.
"So the next time around it is going to be worse than anything we have seen and a lot of institutions, people, companies, certainly governments and maybe even countries are going to disappear. I hope you get very worried."
A turning point for the next financial crisis could be a trade war between US President Donald Trump and China, Mexico, Japan or Korea, which he forecast would lead to disaster. On his first day of office, Trump said he would impose 45% tariffs against China.
"History is very clear that trade wars always lead to problems, often to disaster, sometimes even to real war, a shooting war.  Full Story
A year later Jim Rogers Is singing the same song
Jim Rogers, 75, says the next bear market in stocks will be more catastrophic than any other market downturn that he's lived through.
The veteran investor says that's because even more debt has accumulated in the global economy since the financial crisis, especially in the U.S. While Rogers isn't saying that stocks are poised to enter bear territory now — or making any claim to know when they will — he says he's not surprised that U.S. equities resumed their selloff Thursday and he expects the rout to continue.
"When we have a bear market again, and we are going to have a bear market again, it will be the worst in our lifetime," Rogers, the chairman of Rogers Holdings Inc., said in a phone interview. "Debt is everywhere, and it's much, much higher now."
The plunge in equity markets resumed Thursday, as the S&P 500 Index sank 3.8 per cent, taking its rout since a Jan. 26 records past 10 per cent and meeting the accepted definition of a correction. The Dow Jones Industrial Average plunged more than 1,000 points, while the losses continued in early Asian trading Friday as the Nikkei 225 Stock Average dropped as much as 3.5 per cent.
"Jim has been talking about severe corrections since I started in business over 30 years ago," said Alibaba Group Holding Ltd. President Mike Evans, a former Goldman Sachs Group Inc. banker. "So I'm sure he'll be right at some point." Full Story
Other Stories of Interest
Stock Market Crash 2017-reality or all Hype  (Feb 16)
Gold Market Finally ready to breakout? Possibly it's putting in a very interesting pattern  (Jan 30, 2017)
Stock Market Bull destined to charge higher or is it time to bail out  (Jan 13, 2017)
Feds Interest Rate stance equates to Rubbish-Economic recovery is illusory  (Dec 24)
Stock Market Bulls, Stock Market fools-Market Crash next or is this just an Illusion  (Dec 21)
Trump Effect Rally-Useless Dow Theory and Stock Market Crash  (Dec 17)
Gold fools-dollar bulls and the long-term outlook for both Markets (Dec 9)
Inflation the Silent Killer Tax that's destroying Middle-Class America (Dec 5)