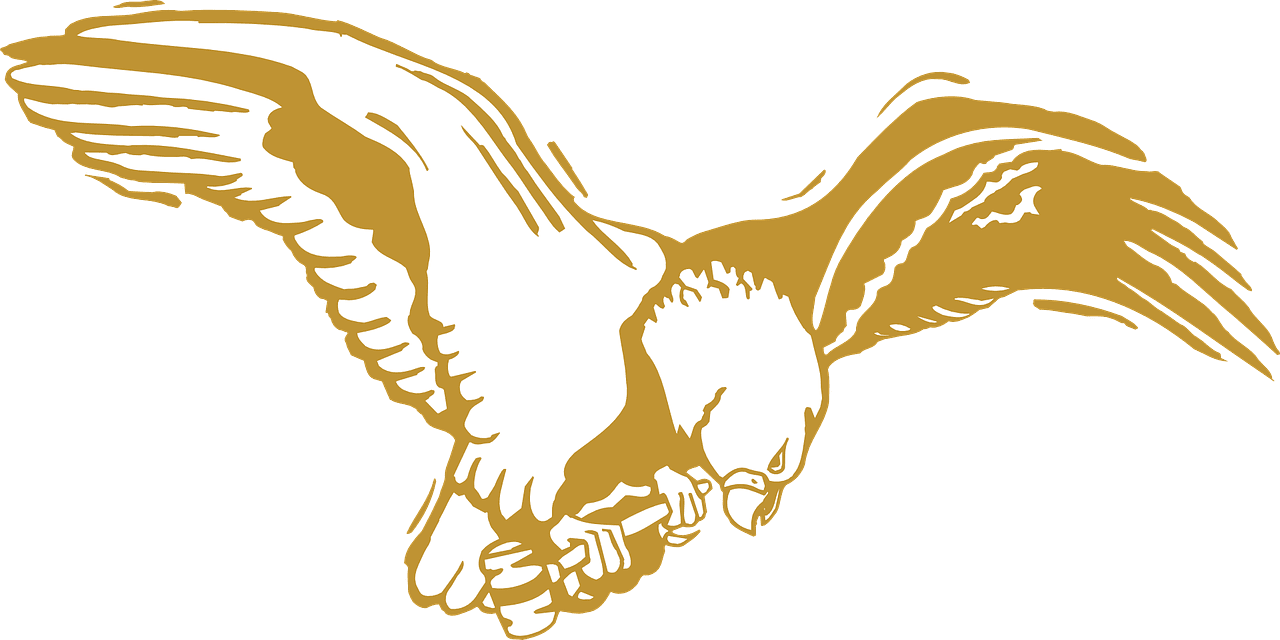 Originally published 11/15/2003
Gold Price Target
We before into Gold's price target, take a look at the chart below. If you look at it nothing much happened in the price of this stock from 95-96. And then you had an approximately 500 % rise which is hard to see but if you look closely you will notice it from 50 cents to a high of about 2.50 in early 1996, by August 1996 it had given up a huge portion of these gains. The stock was trading around  96 cents, by December of 1996 it had virtually given up all the gains it was now at 64 cents. And then till about the end of 1997 it traded in this range to a high of 1.80, it never got back to the high it set in 1996 ( most TA specialists would have said this failure to take out the high was bad news and told you to dump this stock), you can bet most people bailed out and said this stock was dead, it had made lower highs and it was going to hell.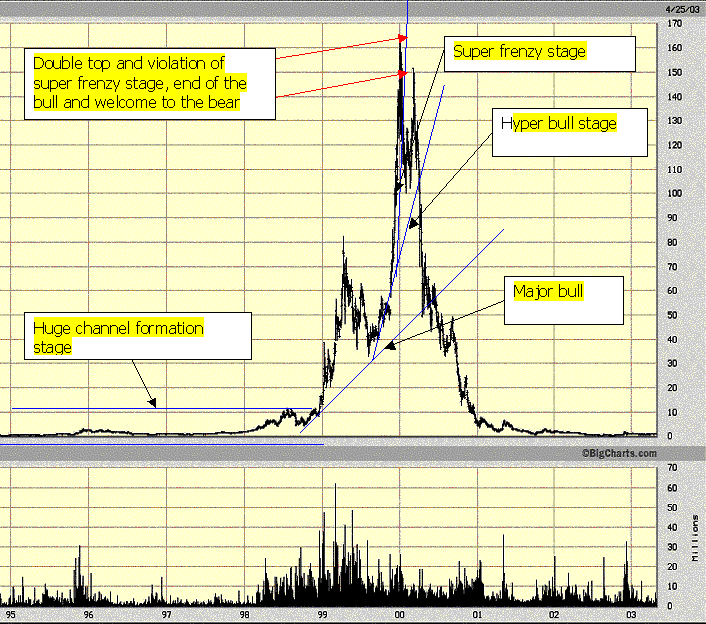 Before Into Gold Price Target, let's continue with this story
Then after over one year of sideways action, it finally started to move in 1998, and it went from 1.50 in Dec of 1997 to a high of about10.90 in August of 1998.  And then once again pain was felt it dropped 50% and set a low of 5 dollars in April of 1998 after which it proceeded to blast off and did not stop till august of 1999 when it set a  high of 71 dollars. It then proceeded to pull back in a gut-wrenching 50% correction to about 37 dollars in June 1999, from there we proceeded to set a lower high in July at 63 and then had another pull back and set a lower low of 35 on August 1999.
Most Technical Analysts would have seen this as a confirmation that we were going Down but exactly the opposite happened we never looked back again we entered the super hyper bull stage and made a high of 162 on 1/04/2000 and when we started to fall all the Penguins started coming out screaming it was time to buy, buy, buy on the dip even when the major uptrend was clearly violated in 2000 a few days after the high was set.
And then another confirmation was given when we made a much lower high on 135 on March 2000 and still the same individuals that thought this stock was dead in 96, 97, 98 and even in 99 were now pounding the table that you should buy on the dip and looked what happened every time you bought on the Dip you just kept losing the desire to follow the crowd is huge and the crowd is always wrong and so are the penguins who claim to be expert Analysts.
The choice is quite clear
A few subscribers have left and I expected that because many people look for fast and quick gains not realizing that anything that comes fast is not a really a big gain but a small gain when one looks at the big picture.  You could have made 500% and bailed out in this stock on its first run up and you would have probably been very happy with yourself.   Now some advisor you hired told you to hold and you would have been mad or even thought about cancelling your subscription or firing the advisor that told you to hold onto the position longer.
But when you sat back and looked at what you lost, you must have cried silently to the wee hours of the morning because you just gave up over 101,212% of gains, from its  low of about 16 cents to its high of 162 (granted most people did not or would not have gotten into this stock this early), but you could have bought it around 1.50-1.62(since it traded in this range for over a year) which was not too hard to do you would have made 10,000% now ask yourself this question did you really win, suddenly that 500% looks pretty pathetic doesn't it.
Only two kinds of individuals made it in this market
The ones that bought and held to the very end and also remember very important sold at the right time ( total percentage of this
individuals range from 2-5%, closer to 2%%)
And the market timers who timed the ups and downs of the markets (total percentage here is in the 0.5-2% range, I would suspect 1% would be more accurate of those that timed it well)
Now let's look at where at the second stock
Ladies and Gentlemen: we are just in the channel formation stage, if you bail out now you will cry for a very long time and bitterly a few years down the line, when these prices are never seen, remember many gold stocks went up over 500% from their lows and many of them have given a huge percentage of those gains back, just as the previous stock did when it first broke out and then again and again, but the main thing was that the main trend was still up as is the case with gold, the main trend line is still up. On the second stock, we are just at the beginning of the huge channel formation stage, we have not even begun the major bull market move, then we have the hyper bull and then the frenzied stage.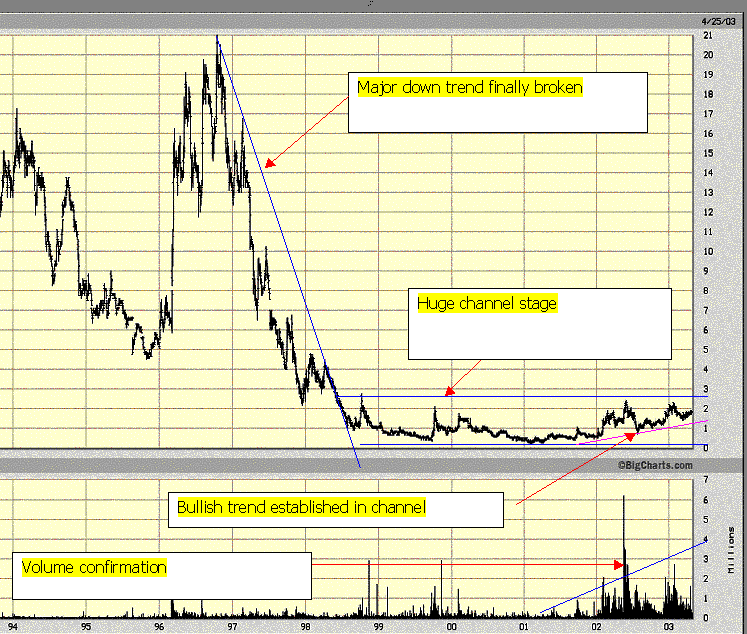 For your records, the first stock was CMGI  and the second stock in GSS ( a gold stock)
The only problem with the Gold market is that it's 100 times if not more manipulated than the internet market ever was. So it needs a bit more scrutiny and analysis than the dot-com era ever required. In addition, the GOLD  market will have one more stage the mass fear and panic stage. The choice is simple, listen to the penguins who are telling you to bail out now, and buy everything else or turn a deaf year to them, and look the charts they don't lie( long term charts) the trend will always be your friend, don't forget that.
Other Articles of Interest
SON OF "A DAY LATE and A DOLLAR SHORT"(Oct 5)
MARKET MANIPULATION(Aug 28)
The Coming Religious Wars (Aug 14)
FUN WITH FIAT(June 9)
Charts And Commentary (May 3)
A Day Late and A Dollar Short (April 15)
Who REALLY owns the Federal Reserve? (April 2)
The ethics and psychology of bear market investing(March 19)
The art of clipping coinage (Feb 18)
Inflations has some benefits. True or False? (Jan 21)
The Dawn of the Female warrior  (Jan 6)