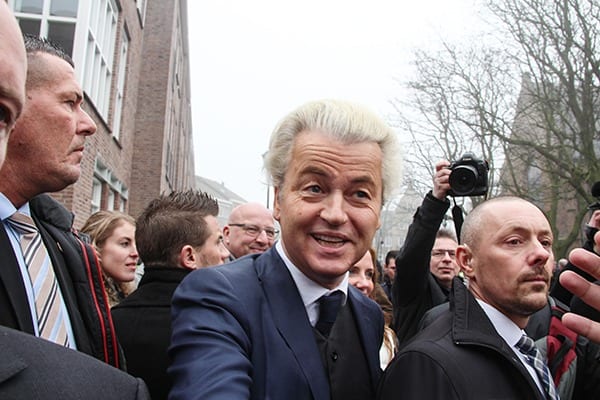 Editor: Vladimir Bajic | Tactical Investor
Dutch politician Geert Wilders
The Dutch populist leader Geert Wilders sparked outrage on Saturday when he launched his election campaign with a stinging attack on the country's Moroccan population. The anti-immigration MP called them "scum" and said he wanted to make the Netherlands "ours again".
Wilders, 53, was surrounded by police and security guards when he made his remarks during a walkabout in his party's stronghold of Spijkenisse, part of an ethnically diverse industrial area just south of Rotterdam.
"The Moroccan scum in Holland … once again not all are scum … but there is a lot of Moroccan scum in Holland who make the streets unsafe, mostly young people … and that should change," he told journalists as he attempted to take a stroll in a market.
Wilders, who has lived in hiding since the 2004 murder by an Islamist of Dutch filmmaker Theo van Gogh, is hoping a global upsurge in populism will propel him to power in the parliamentary election. His campaign pledges include a ban on Muslim immigration, shuttering all mosques and leaving the European Union. Full Story
Dutch politician Geert Wilders calling Moroccans scum video
Other Articles of interest
Could Trump's economic Policies Propel Hated Stock Market Bull Higher (Feb 27)
Stock Market Crashes-Is Panic Warranted (Feb 25)
Stock Market Crash 2017 Video -reality or All Hype (Feb 19)
Stock Market Crash 2017-reality or all Hype  (Feb 16)
Gold Market Finally ready to breakout video-Very Interesting Pattern (Feb 2)
Gold Market Finally ready to breakout? Possibly it's putting in a very interesting pattern  (Jan 30)
Will the stock Market Bull Continue to Trend higher or crash video  (Jan 18)
Stock Market Bull destined to charge higher or is it time to bail out  (Jan 13)
Feds Interest Rate Stance equates to Rubbish-Video article (Dec 27)
Feds Interest Rate stance equates to Rubbish-Economic recovery is illusory  (Dec 24)
Stock Market Bulls-Stock Market fools-Market Crash next video? (Dec 22)
Stock Market Bulls, Stock Market fools-Market Crash next or is this just an Illusion  (Dec 21)
Trump Effect Rally-Useless Dow Theory and Stock Market Crash  (Dec 17)
Gold fools-dollar bulls and the long-term outlook for both Markets (Dec 9)