Copper Stocks: To Buy Or Not To Buy
Updated March 2023
When updating articles, we post the current view at the beginning and provide historical views as reference points, allowing readers to determine our predictions' accuracy.
Doctor Copper is a term used to refer to the metal's ability to predict economic trends. As such, copper has long been viewed as a reliable barometer for global financial health. Copper's importance extends beyond its industrial use as it is also a valuable indicator for the broader markets.
Currently, copper is trading in the extremely oversold ranges, with signs of a potential reversal. While the trend is not positive yet, at best it is neutral. Individuals willing to take on some risk can consider plays in the sector, such as SCCO and FXC, or going long via COPX (Global X Copper Miners ETF) and JJC. However, it is important to tread with caution as copper is far from getting out of its coma.
The Value of Following Doctor Copper in Investing


Looking at historical charts, one can see how effectively the ruse of rallying and then breaking down the market has worked over the years. However, other factors, such as power outages, extremely bad weather, planned cuts by many of the largest mines in the world, and strikes, could potentially push the market into a deficit earlier than many experts assert, paving the way for price gains much earlier than expected.
When copper is cheap, and the sentiment is negative, history has shown that it is often an opportunity to buy. The crowd is currently negative, so an opportunity may be in the air. However, waiting for strong signals that a bottom is in or close at hand is important. A monthly close above $2.50 would serve as the first strong bullish confirmation that copper is getting ready to mount a sustainable rally. Until then, looking at sectors ready to start trending upward would be best, such as the biotech sector.
Conclusion
In 2022, copper prices attained record highs, indicating that the global economy was not in dire straits. Instead, it was a consequence of poor political decisions made by world leaders, with the policies of the United States serving as a prime example. Despite a brief setback, copper remained steady and surged beyond the 4.50 mark, revealing that issues with inflation and supply were merely symptoms of bad policies.
Consequently, copper is gaining momentum and is poised to trade past 4.50. However, this also implies that the market will be range-bound for years, presenting a challenge for long-term investors who concentrate on indices. Nevertheless, this provides an excellent opportunity for traders who can use market psychology and technical analysis to their advantage.
Leading economic indicators are essential for trading as they provide valuable insights into the future state of the economy, enabling traders to make informed decisions. In summary, traders who can effectively use these tools have the potential to benefit from the current copper market and make a killing. It is worth noting that updating articles and including historical perspectives is vital to provide readers with the ability to determine the accuracy of predictions.
Copper Stocks Outlook:  August & Nov 2019 Update
The next bullish MACD crossover will most likely lead to a decisive breakout. If the current pattern strengthens or remains unchanged, copper should be trading north of 4.20 within the next 9-12 months and possibly as high as 5.10.
These two leading economic indicators were dead for a long time, but they are now issuing bullish signals, and this indicates that our original upside targets of 30K might be too conservative. However, before we start issuing higher targets, let's see how the Dow reacts when it gets to 29K.  market Update Aug 2019

The MACDs on the monthly chart of copper are dangerously close to experiencing a bullish crossover, and as copper held up fairly well during the last consolidation, the next upward move is likely to be explosive. In other words, two leading economic indicators will soon validate this bull market, and it will be very interesting to see if the hypothesis above comes to pass. What we can say is that we are in for some very interesting times ahead.  Market Update Nov 10, 2019 
Copper Stocks Update May 2019
The pattern in the copper market is quite bullish here, and the same applies to Copper Stocks; copper could easily trade north of 3.20.  Copper is one of the leading economic indicators, and for now, it is stated that the economic outlook remains bullish. The current correction/consolidation represents a buying opportunity if the economic outlook is optimistic.
A monthly close above 2.90 will pave the way for a test of the 3.20 range with an overshoot as high as 3.60. One should look to purchase copper stocks when copper trades above 2.90
Historical Outlook July 2015
We will not go into a detailed analysis here as the picture is relatively straightforward. The trend indicator is neutral.  All this data suggests that the bottom could fall out if Copper does not hold above the level stated below.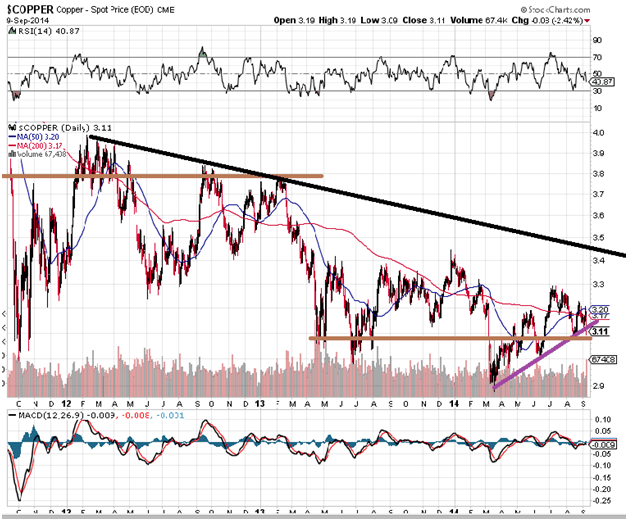 Copper dropped and tested its recent lows after trading as high as 320. If it does not close below 309,  a double bottom formation will take hold. A double-bottom formation is quite bullish, and if it holds, copper should be able to test the 330 range and possibly trade as high as 340 before correcting.  Is the Copper Stock Market Price at a make or breakpoint? If copper fails to hold above 309, then new lows are virtually guaranteed.
Originally published on Jun 14, 2015, and consistently updated over the years, with the latest update in March 2023.
 Compelling Piece Worth Delving Into