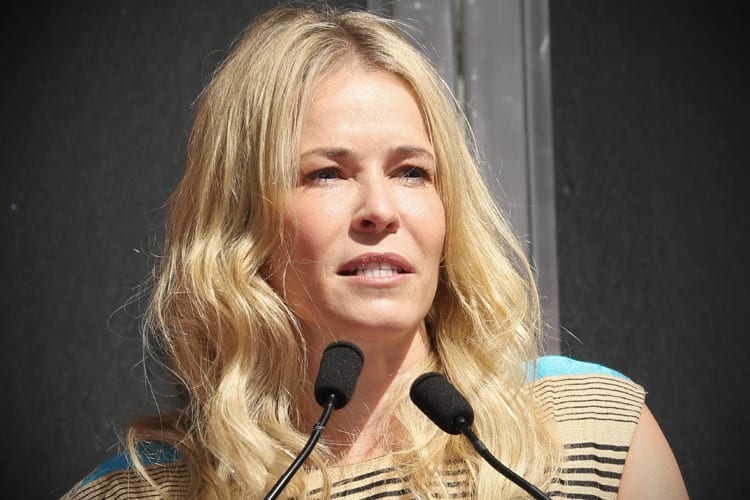 Chelsea Handler Poses Topless to drive more votes
Regardless of who she might be stumping for, in this case, for the Democrats, this kind of behaviour is insane. What kind of role figure is this jackass trying to be? If you want people to vote there should be some dialogue about the benefits of voting etc, not a strip show. If stripping  worked then all fundraising campaigns would be conducted in  strip clubs
Handler took to Instagram rocking nothing more than a pair of black lace underwear, and covering her chest with her arm while standing around in a sizeable dressing room.
"You have to vote, like your life depends on it. Vote!" a mostly nude Handler playfully intoned, before detailing her upcoming engagements stumping for Democratic California congressional candidates Katie Porter and Gil Cisneros.
"Like so many across the country, the past presidential election and the countless events that have unfolded since have galvanized me," she wrote on Twitter at the time. "From the national level down to the grassroots, it's clear our decisions at the ballot box next year will mark a defining moment for our nation." Full Story
The comments from Yahoo users are priceless
Thank you for reminding me to vote, Chelsea. Of course, I'm voting for Republicans.
If that what it takes to get people to vote democrat she needs to get photoshop and try again.
This reminds me of seeing homeless people holding signs that read "Will do anything for money"…I guess nowadays "they" would do anything to get the votes!
Why would anyone think this display will result in more women voting and voting for Democrats? I just can't imagine the Yahoo headline if this had been a Republican woman!
What has this got to do with voting? Attention seeker.
I'll vote if she covers up….. please!!! For the love of God!!!!
Can't unsee that! I feel used. Where's my safe space?
Sure, I'll vote. I vote for her to keep her top on.
I was going to vote Democrat, but she just convinced me otherwise
I'm using one of those old car cigarette lighters to burn my eyes out after looking at that mess. It's warming up and should be ready in about thirty seconds.
I was about to say she looked fabulous then I saw she is only 43. I really thought she was mid-50s.
Other stories of interest