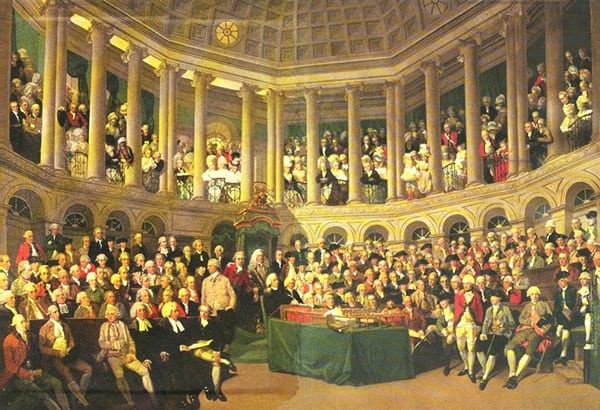 Editor: Johnathan Meyers | Tactical Investor
UK election: Conservatives win landslide, triggering path to Brexit
UK election: Conservatives win landslide, triggering path to BrexitLONDON — The United Kingdom has cleared the path to leave the European Union early next year after Boris Johnson's Conservative Party won a huge victory in the country's closely watched general election.
Britain went to the polls for the third time in five years Thursday to determine who the public wants to resolve the stalemate over Brexit.
While early polling suggested the Conservatives would win a narrow majority, in the end, the result was decisive.
(MORE: As Brexit deadline moves once again, many left wondering what comes next: Analysis)
The Conservative Party won 365 seats, giving them a majority in Parliament of 80 — the largest majority they have secured since 1987, when Margaret Thatcher was prime minister.
The opposition Labour Party, meanwhile, only won 203 seats — their worst electoral performance since 1935.The victory is a clear vindication for Brexit champion Johnson, who will remain as prime minister. The election will have significant implications for Brexit, U.S.-U.K. relations and the issue of Scottish independence.
The result indicates Johnson's Conservatives will have enough lawmakers to pass through his Brexit deal, which would have the country leave the EU by Jan. 31, 2020. Full Story
British PM wins landslide final battle in House of Commons to trigger EU exit
LONDON – The parliamentary bill empowering the British government to begin the formal process of leaving the European Union completed its passage Wednesday night in the House of Commons.
Prime Minister Theresa May's government succeeded in crossing the final crucial hurdle with 494 votes to 122 — a majority of 372.
May sat in the chamber alongside her Brexit ministers as the historic result was announced by deputy speaker Lindsay Hoyle.
It now goes to the unelected House of Lords for further scrutiny before being sent to Queen Elizabeth for royal assent.
Scottish Nationalist MP Alex Salmond criticized the process and accused the government of railroading the legislation through parliament in a "disgraceful fashion.
He said this was the first time a bill of great constitutional importance had been passed in this day since the Defense of the Realm Bill prior to World War One in 1914.
Having won Wednesday night in the Commons, where a string of amendments were defeated, it almost guarantees that May will be on course to tell Brussels within weeks to start the EU exit process.
May's government only introduced the briefly worded bill into parliament last week, determined to see it fast-tracked through the parliamentary process.
It has meant members of parliament (MPs) sitting until midnight on some occasions to complete a series of debates. Full Story
Other Articles of Interest
Far right parties gaining momentum worldwide (Feb 25)
Fear equates to Stock Market Buying Opportunity (Feb 25)
Great books on life and Investing: Short, sweet & simple  (Feb 25)
Observer's perspective on Religion-Short & Sweet  (Feb 24)
Why do financial services flood subscribers with unnecessary emails ( Feb 10)
Modi's party unfairly targets Bollywood Star Khan for criticising them ( Feb 10)
Brain dead expert states Millennials should prepare for Dow 50K ( Feb 10)
Worldwide IQ scores dropping but Stupidity rising rapidly ( Feb 10)
Radical Pakistani Anjem Choudary locked up in U.K for supporting ISIS ( Feb 10)
China Warns America against Allowing Taiwanese President into country ( Feb 10)
America's 21st Century Energy Story ( Feb 10)
Alt Right movement gaining momentum across Europe & America  ( Feb 9)
Observer Vs regular perspective regarding Russia's alleged hacking of US elections  (Jan 25)