Smart Investors: TQQQ Stock Price Forecast
Updated Aug 2023
We will analyze this topic within the context of the historical events of 2020. This historical perspective serves as evidence of our actions and, more importantly, illustrates the importance of learning from history to avoid repeating past mistakes. The key lesson in the world of stock markets is that stock market crashes present buying opportunities. This principle has been at the core of our message here at Tactical Investor since our establishment in 2003.
Let's begin by examining the investment objective of this leveraged fund.
This ProShares ETF, designed for leverage, aims to achieve returns three times that of its underlying benchmark over a single day, measured from one NAV calculation to the next. However, due to the compounding nature of daily returns, holding the fund for periods exceeding one day can yield returns significantly different from the target. ProShares' returns over time frames other than a single day may also deviate in magnitude and possibly direction from the benchmark's returns for the same period. These effects tend to be more pronounced in funds with larger multiples or those inversely tied to volatile benchmarks. Therefore, it's advisable for investors to regularly monitor their holdings, potentially even on a daily basis. For comprehensive information on calculating returns and the associated risks, investors should refer to the prospectus. proshares.com
TQQQ Stock Price Forecast

The observed pattern here is quite intriguing. It typically involves surges to new highs when the MACD indicators are trading in overbought territories (which aren't displayed in the chart above). Afterwards, there's a retracement followed by an attempt to retest previous highs before experiencing a more substantial pullback. If this pattern (highlighted with "if") repeats itself, then after testing its highs, we can anticipate a pullback to the 63 to 66 range, possibly even dipping as low as the 54 range.
However, it's essential to consider that, unlike the significant pullback that occurred between May 2018 and December 2018, TQQQ is currently trading in the extremely oversold territory on the monthly charts (as depicted below). Consequently, under normal circumstances, the intensity of the pullback would likely fall into the mild to medium categories. On the other hand, there's a possibility that TQQQ might shed its excess weight in one substantial move. Regardless of the outcome, the crucial factor is that our indicators need to retreat from the overbought ranges on the weekly charts.
We will be closely monitoring TQQQ and several other leveraged ETFs as we plan to replace a significant portion, if not all, of the plays in the Moderate to High-risk portfolio's secondary candidate category with closely monitored leveraged ETFs. As previously mentioned, the strategy will revolve around playing intermediate timelines by closely following the developments on the weekly charts. In essence, we will utilize the weekly charts as our guide for entering and exiting these leveraged plays.
This is another trend that subscribers should pay attention to; this bull market is unusual in that, it's being powered by B.S. As we stated from the onset of this bull; hot money is the only factor that is keeping this bull alive. Market Update Jan 19, 2020
TQQQ TOP Holdings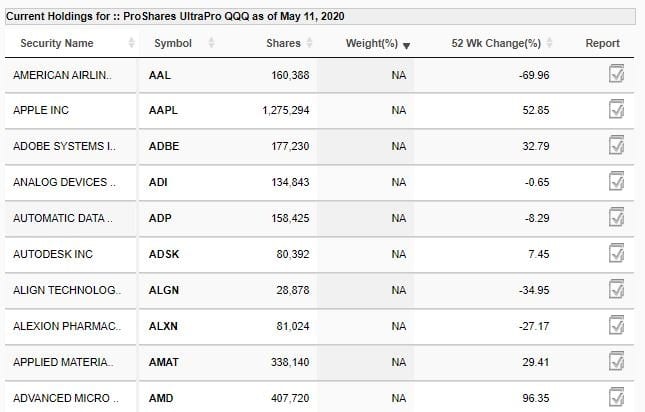 The image above displays the top 10 holdings of this leveraged fund. With AI and technology poised to remain dominant themes for the foreseeable future, investors who prefer not to invest in individual stocks and are willing to take on more risk might find strong pullbacks as an opportunity to enter this ETF. However, for risk-averse investors, the non-leveraged QQQ version, which shares the same holdings as TQQQ, can be a suitable alternative to consider.
Other articles of interest: