The "devalue or die" currency wars are picking up steam; Japan's central bankers are not alone when it comes to taking rates into negative territory. A host of European nations have joined the devalue or die war; imagine having to pay the banks to keep your hard earned money. The worst being that the banks will lend this money out and earn interest on it; they will win on both sides.  The worst hit group is going to be retired individuals on fixed income; they are being hit on both ends of the spectrum; cost of living expenses are rising and income earned is dropping.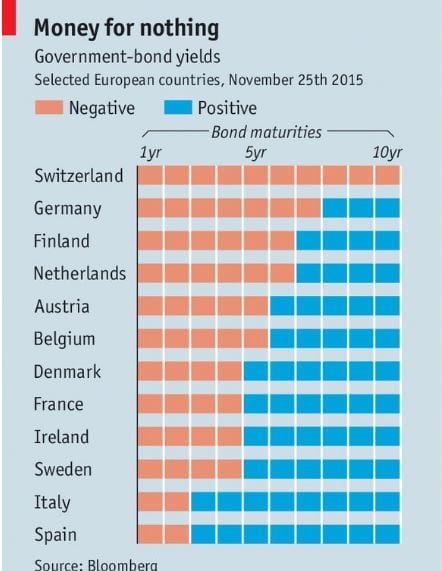 How to play this game
Central bankers will continue to flood the markets with hot money, and hot money has the effect of propelling the markets higher.  Individuals on fixed income need to stop chasing yields and instead start investing in strong stocks.  They should view pullbacks as buying opportunities; strong pullbacks I should be used to open up positions in companies with high growth rates. Some examples are AMZN, FIZZ, TAST, HRL, HAS, COST, etc.
The Fed will join the negative interest rate party sooner or later. The bond market has rallied in the face of an interest rate hike. In fact, it is trading at new highs as we speak.  This is a signal that the Fed's hands are tied and that sooner or later it will have to join the "negative interest rate club". In this race to the bottom, resistance is futile.
Additional Suggestions
Learn how to invest in the markets and make sure you don't end up at the mercy of some Corporation  or government controlled social security.  Subscribe to our free newsletter to keep abreast of the latest developments; we cover everything from the financial markets to the World's food supplies. Mass Psychology knows no limits, utilised properly it can spot trends in any market, and you can learn how to protect yourself and benefit from these new trends.  Lastly, live one to two levels below your means and put this money to work in the stock market. One thing to remember is that disaster is the code word for opportunity.
Other articles of Interest:
Financial Markets Gripped by Panic & masses stampeding  (Feb 23)
Interest rate wars-Fed stuck between a hard place and a grenade  (Feb 23)
Mob Psychology: Market Crash of 2016 buying opportunity (Feb 21)
People's QE: Central bankers forcing public to speculate (Feb 18)
Currency wars explode: Negative interest rate wars start (Feb 15)
Medvedev states Merkel's immigrant policy quite simply stupid (Feb 12)