Russian President Vladimir Putin has expressed a desire to repair ties with the European Union, insisting he does not want to divide the 28-nation bloc. Putin travels to Austria in a first EU trip since his re-election.
In an interview that aired on the eve of his visit to Austria on Tuesday, Putin denied any Russian scheme to weaken the European Union by lending support to Eurosceptic and populist movements.
"On the contrary, we have to expand our cooperation with the EU," the Russian president told Austrian public broadcaster ORF.
Putin said that Russia needed a strong EU because of its trade links with the bloc.
"We do not pursue the objective of dividing anything or anyone in the EU," he said.
"We are fare more interested in the EU being united and flourishing because the EU is our most important trade and economic partner," Putin added.
The Russian president is traveling to a EU country for the first time since his re-election in March. The Austria trip is also his first to a Western European country since last July.
Putin was expected to hold talks with government and business leaders in Vienna on Tuesday. The trip marks 50 years since the two countries' energy giants Gazprom and OMV signed a gas supply deal.
Russia and the EU clash over a number of issues, including the conflicts in Ukraine and Syria. The EU imposed sanctions on Moscow over its support to pro-Russian separatists in Ukraine and annexation of Crimea.
More:Putin complains that probe around Trump hurting U.S.-Russian relations
More: Former Russian spy Sergei Skripal discharged from hospital after poisoning
The poisoning of former Russian double agent Sergei Skripal and his daughter in Britain further strained the EU-Russia ties. London blamed Moscow for targeting the duo with a nerve agent, a charge Russia denies.
Unlike many other European countries, Austria's right-wing government did not expel Russian diplomats following Skripal's poisoning.
Austrian Chancellor Sebastian Kurz, whom Putin meets in Vienna on Tuesday, is in the favor of lifting EU sanctions against Russia if there is progress on the Ukraine dispute.
Austria says it wants to act as a bridge between Russia and the EU.
Source: Vladimir Putin says Russia does not want to split the European Union
Putin says Russia will not cede Crimea under any circumstances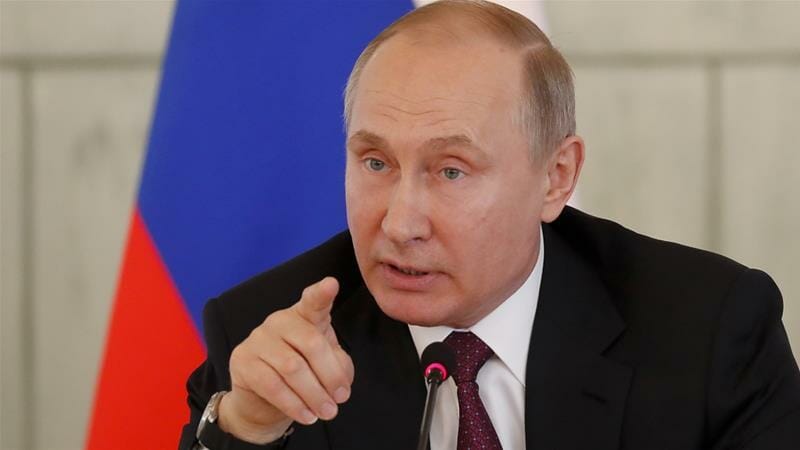 Putin reiterated, "Crimea gained independence not as a result of the invasion of Russian troops, but through the will of the people of Crimea expressed in an open referendum"
VIENNA, June 4. /TASS/. Russian President Vladimir Putin said that Russia would not cede Crimea to Ukraine under any circumstances. At the same time, he said in an interview with Austria's ORF broadcasting corporation in the run-up to his visit to Austria.
"When an unconstitutional armed coup happened in Ukraine, power was seized by force, our army was legally in Crimea, our military base was there under an agreement," Putin said. He drew attention to the fact that the "Russian army was always present in Crimea."
"The first thing we did was to increase our contingent to protect our Armed Forces there, our military facilities, where, as we have seen, various assaults and encroachments were in preparation. That is how it all began," Putin said. "Our servicemen were always there. As I said before – they were there; they did not participate in anything," he said.
"However, when the spiral of unconstitutional actions in Ukraine began twisting, when people in Crimea thought they were in danger when nationalists were sent there by trains, started blocking buses and road transport, people wanted to protect themselves," Putin said. "This is how everything began; the process started in the parliament of Crimea to determine its independence from Ukraine," he added. The president noted that the UN Charter does not prohibit these actions, but on the contrary, "the right of nations to self-determination is explicitly stated" there.
"At this point, our Armed Forces, which did not even exceed the base's number under the agreement … ensured independent free elections – the will of people living in Crimea," Putin said. He noted, "The decision to hold this referendum was made by the Crimean parliament, which was elected in full compliance with the Constitution and the laws of Ukraine before the events."
"Therefore, there was nothing illegal", the Russian president said.