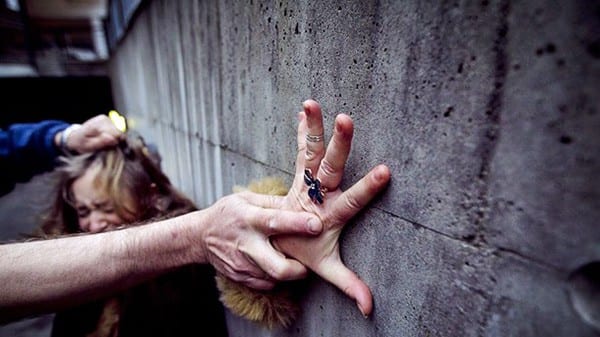 Editor: Draco Copper | Tactical Investor
Sex Slave in Hookah Cafe
After a pair of Syrian men were taken in as refugees, liberal volunteers helped them open their own business — a Middle Eastern hookah shop. However, as soon as authorities came to inspect the suspicious business, they discovered a stomach-churning surprise in the shop's basement.
Just when we thought it couldn't get any worse, Europe's beacon of liberal policy has been afflicted with yet another shocking crime that's rocked the nation. Sweden, now considered the "rape capital of the West" due to their inexhaustible resettlement of migrants, has once again watched as their leftist agenda produces another victim of multiculturalism — and it regrettably proves what we've predicted about the refugee crisis.
Fria Tider reports that after Swedish police raided a hookah cafe managed by 2 Syrian Muslim refugees, 28-year-old Khaled Azez Hegrs and 23-year-old Tareq Bakkar, they discovered a kidnapped Swedish woman chained in the shop's basement. The brutalized victim was being kept as their own personal sex slave and had been repeatedly raped and tortured by at least 7 Arab Muslim men.  Full Story
Most convicted attackers In Sweden foreign-born?
He pointed out that the number of reported rapes in Sweden was far higher, so no conclusions could be drawn on the role of immigrants in sexual attacks.
Is Malmo the 'rape capital' of Europe?
When Sweden took in its highest number of asylum seekers in 2015, the number of reported rapes declined by 12%. At the height of the migration crisis, some 160,000 migrants arrived there – more per capita than any other EU country.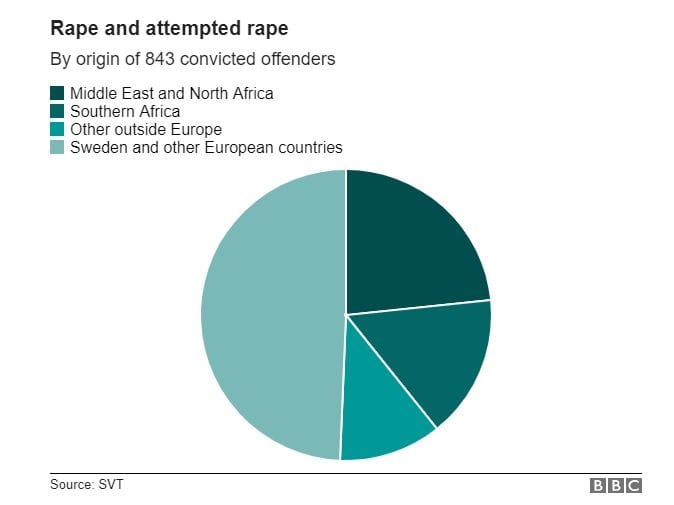 A former police officer born in Afghanistan told the programme that some young Afghans who had come to Sweden in recent years had views that differed significantly from Sweden's idea of sexual equality.
Responding to the report on Wednesday, key figures in both the populist Sweden Democrats (SD) and the centre-right Moderates said foreigners convicted of rape should be deported.
The latest opinion poll on Wednesday suggests the populist party's support has dipped in recent weeks to just over 19% in the polls, but it is still on course for its best performance yet. The Social Democrats are leading the polls while the Moderates are just ahead of the anti-immigration SD.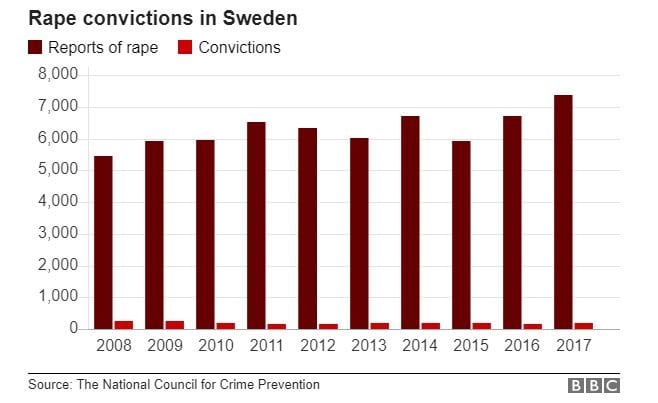 In May, Sweden changed its laws, to make sex without consent rape. Until then prosecutors had to prove that violence had been used or the victim had been exploited in a vulnerable condition. Full Story
Other articles of interest
Stock Market Bull destined to charge higher or is it time to bail out  (Jan 13, 2017)
Feds Interest Rate stance equates to Rubbish-Economic recovery is illusory  (Dec 24)
Stock Market Bulls, Stock Market fools-Market Crash next or is this just an Illusion  (Dec 21)
Trump Effect Rally-Useless Dow Theory and Stock Market Crash  (Dec 17)
Gold fools-dollar bulls and the long-term outlook for both Markets (Dec 9)
Inflation the Silent Killer Tax that's destroying Middle-Class America (Dec 5)
Dominant Stock Market Trends under President Trump (Nov 22)
Bears State Crude Oil Destined to Crash-Utter Rubbish (Nov 18)
50 Trillion in Cash illustrates Mass Anxiety-Dow Industrials will soar not Crash  (Nov 16)
Trump's victory Does not Sink Global Markets Proving Experts are Jackasses (Nov 10)
Trump-The New Stock Market vix Factor (Nov 6)
Crude Oil Market-Higher prices or Market Crash (Oct 28)
American's fear the Stock Market-Understanding Market Sentiment key to winning  (Oct 24)
Foreign banks Dump whopping 356 billion in US Debt  (Oct 20)
Corporate Americas Share buyback Binge only force Keeping Stock Market Bull Alive (Oct 13)
Stock Market Earnings Recession Nothing to Fear-Market Still Trending higher (Oct 7)
Fed Directly limiting Market Downside Action-Expect Stock Market rally not Crash (Oct 6)