Navigating the Tech Giants: Unveiling Apple Stock Predictions for Investors
August 2020 
Before predicting  Apple's stock price, let's look at what the company does.
Apple is renowned for its extensive range of consumer electronic devices, spanning smartphones (iPhone), tablets (iPad), PCs (Mac), smartwatches (Apple Watch), and TV boxes (Apple TV). The iPhone contributes significantly to Apple's overall revenue. Alongside its hardware offerings, Apple provides diverse services, such as Apple Music, iCloud, Apple Care, Apple TV+, Apple Arcade, Apple Card, and Apple Pay. The seamless integration of hardware, software, and services is a hallmark of Apple's approach. The company distributes its products through online platforms, company-owned stores, and third-party retailers. While approximately 40% of Apple's revenue comes from the Americas, the remaining portion is generated internationally. Morning star
Strategic Purchases
Apple Inc. has acquired Voysis, an AI startup from Dublin, Ireland. Voysis focused on improving digital voice assistants in online shopping apps by enhancing their natural language understanding. Their technology allowed more accurate responses to voice commands, narrowing search results based on specific shopping phrases and budgets. The system utilised Wavenets, an AI method for creating human-like computer speech. The acquisition allows Apple to enhance Siri's natural language understanding and offer the Voysis platform to developers. This aligns with Apple's strategy of acquiring AI startups to strengthen their AI capabilities. Full Story
Apple's EPS trends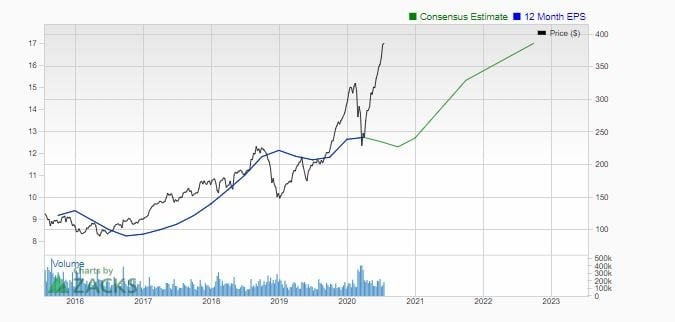 AAPL's EPS is projected to trend upwards, which bodes well for this stock, as the technical pattern is still very bullish.  The Nasdaq is also in a solid uptrend and could potentially test the 15 to 18K ranges within the next two years.  If this comes to pass, APPLE stock price could quickly surge past 690 and possibly as high as 750 within the next 24 months.
Apple Stock Predictions For 2020 and Beyond

A monthly close above 300 will soar to the 360-390 range with a possible overshoot to the 450 range. After that, it should pull back and test the 330 ranges, building a base for the next move to the 600 ranges. All sharp Pullback should be viewed through a bullish lens
Other articles of interest:
BIIB stock Price: Is it time to buy
Stock market crashes timelines
Dow theory no longer relevant-Better Alternative exists
In 1929 the stock market crashed because of
Fear mongers are parasites that profit from your fear   (27 April)
Plain evidence that financial experts know even less than Jackasses (26 April)