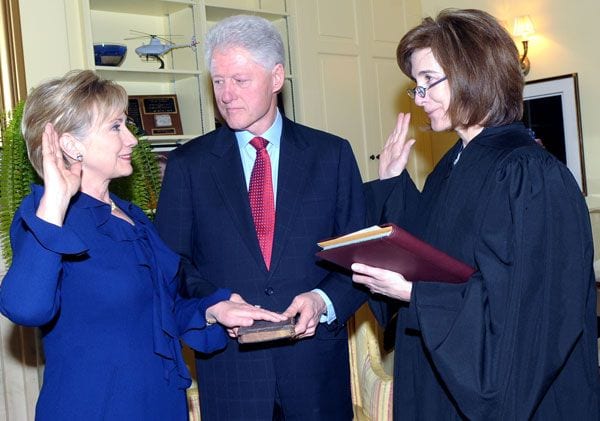 Editor: Vladimir Bajic | Tactical Investor
Hillary's Naughty Secrets
This is one of the top stories for the week. It could prove to be of interest to you, so we are posting an excerpt of it below, and then we will continue with the main story.
The media is going to continue to weaponise the news. Be prepared for fantasy claims regarding Brexit, the trade war with China, and any other factor that can be spun.   Ridiculous claims that make no sense will be used to try to push the fear factor higher; once again the best solution is to just ignore what the media is pushing and focus on the trend.
The "silver lining" is that fear of the unknown increases the "uncertainty factor" and in doing so breathes even more life into this bull market.
Until the Masses embrace this bull, this mad bull is unlikely to die.  The logical path based on the news is to panic, the illogical path is to ignore. Logic works when it's based on reality, but fear is not based on reality, it's based on a perception of what "could" happen. If you start to fantasize over what could, would, and should happen, one cannot focus on the trend.  Ignore the noise and focus on the trend.  Trending Now News Equates To Garbage; It's All Talk & No Action
Since stepping down as Secretary of State, fifteen months ago, Hillary Clinton has kept a calculated distance from the press and the public. She has been working on a memoir about her years at the State Department, "Hard Choices," to be published in early June; making occasional speeches, often for a fee said to exceed two hundred thousand dollars; and talking with close advisers about a possible second Presidential run. Despite the absence of a story, the media can't stop discussing her.
The mainstream press recycles talking points concerning her hypothetical campaign while casting about desperately for something new: Will Chelsea's pregnancy and the prospect of becoming a grandmother mean that Clinton will be less likely to run? Would she support Marjorie Margolies, the Democrat vying to represent Pennsylvania's Thirteenth Congressional District, who also happens to be Chelsea's mother-in-law? (She did, but Margolies lost.) When the Washington Post asked eleven Democratic activists in Iowa which of four prominent Democrats they would invite to a dinner party, why did only one choose her?
Meanwhile, Clinton's old nemesis the "vast right-wing conspiracy" has begun declaring her not only politically but also clinically moribund. "Whispers are persisting, whispers," Rush Limbaugh said, in anything but a whisper, several months ago on his radio program. "There's a whisper campaign, folks, that Mrs. Full Story
Other Stories of Interest
Despite Investor Angst Most hated stock market keeps trending higher (July 30)
False Information, Mass Psychology & this Hated Stock Market Bull (July 29)
Zero Percent Mortgage Debuts setting next stage for Stock Market Bull  (July 27)
Long Term Stock Market Bears Always Lose  (July 27)
Information overkill & trading markets utilising Mass Psychology  (July 27)
Simple Common Sense Fix Ends Student Debt Problem (July 27)
Tactical Investor Anxiety Index; Best Market Sentiment Gauge  (July 26)
Brexit Hidden Theme Continuation of Currency War Game (July 26)
Stock Market Bears Smashed Jan & Feb 2016 as Predicted (July 25)
Another reason this bull market will not buckle soon (July 22)
Americans favour Coffee over Financial Freedom (July 13)
What Economic Recovery; 62% of Americans don't even have 1000 in savings (July 12)
Why everyone should own some Gold & Silver Bullion  (June 12)
1st World Corporate America & Third World Regular America (27 May)