Venezuelans sell sex in Colombia to survive
ON SATURDAY night in Parque Poblado in Medellín, young people gather to drink, smoke and chat. Barbara and her cousin Sophia have more serious business: they hope to make enough money from selling sex to live decently after fleeing Venezuela, where survival is a struggle.
Barbara, who is 27, prefers her former occupation as the owner of a nail and hair business in Caracas, Venezuela's capital. But polish and shampoo are as hard to find as food and medicine, and so she has come to Medellín. In an hour a sex worker can make the equivalent of a month's minimum wage in Venezuela. Colombian pesos "are worth something", unlike Venezuela's debauched currency, the bolívar, Barbara says. "At least here one can eat breakfast and lunch."
Some 4,500 Venezuelan prostitutes are thought to be working in Colombia; the trade is legal in both countries. But until recently they were often rounded up by police and deported back to Venezuela by the busload. That changed in April, when Colombia's constitutional court ruled that Venezuelan sex workers are entitled to work visas. Mass deportations violate international human-rights law, it said. "One should weigh up the reasons they decided to come to Colombia…and the specific situation they would face in Venezuela were they to be returned," said the ruling.
Decriminalising sex work is the only way to protect women – and New Zealand has proved that it works?
Sex work laws are a topic of hot debate in several parts of the world, including the UK. Even policy experts in this area can't agree on the best way to protect sex workers' rights. While some advocate the criminalisation of clients, sex worker-led organisations disagree; they say banning the purchasing of sex places sex workers in even more danger. Instead, they are calling for the decriminalisation of sex work – an approach which has been in place in New Zealand since 2003.
Myths abound regarding New Zealand's model, including unsubstantiated claims that the sex industry has expanded, with pimps emboldened in the wake of the new law, and that sex trafficking is rife. So what do we really know about New Zealand's policy of decriminalisation?
The passing of the Prostitution Reform Act followed years of work by New Zealand's sex-worker organisation, the New Zealand Prostitutes Collective. Its purpose was to minimise harm, and so the law change not only removed legislation that criminalised sex work, but also afforded new rights to sex workers.
Decriminalisation in New Zealand differs from legalised regimes, such as that in Germany, since it focuses on empowering sex workers themselves, rather than the state, to have greater control over their work.
Child sex tourism and exploitation are on the rise. Companies can help fight it!
As night falls in Cartagena de Indias, Colombia, the city's colourful environment transforms into a playground after dark. Among the lively scenes of restaurants, bars, dance floors, music, and all night parties, one of the city's darkest secrets is hidden: its proliferating sex tourism industry.
All along the historic wall of the city, prostitutes wait patiently in their usual spots, traffickers make deals in night alleys, and locals will say you can buy anything or anyone if you can pay for it. These transactions often involve sex with minors.
Sex tourism is increasing worldwide but its rise has been particularly high in Latin American countries. Tourism destinations such as Rio in Brazil, Cancun in Mexico, and beaches in Dominican Republic, Costa Rica, Guatemala and Honduras are often attractive to tourists not only for their climate, nature and culture but also for their cheap and easy access to sex. Major sports events, bachelor parties, business conferences, forums and other events involving mostly men are regularly associated with a demand for sexual services.
While the legislation on prostitution varies from one country to the other, the growing demand for sexual services has propelled a sex industry that operates largely in the shadows and uses coercive methods to force people into prostitution. Victims are mostly women and children, while indigenous people, migrants and LGBT individuals are particularly vulnerable. The conditions of poverty, discrimination, violence, low levels of education, illegal immigration, and lack of law enforcement in these countries allow traffickers to operate and expand their businesses.
100 Countries and Their Prostitution Policies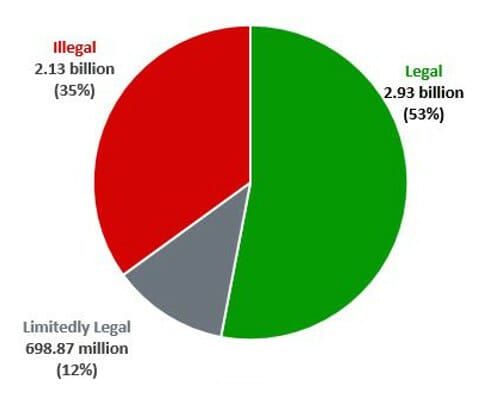 This page details the prostitution policies in 100 countries. These countries were chosen in order to be inclusive of major religions, geographical regions, and policies towards prostitution. Whenever possible, we have included government documents regarding prostitution such as laws, court decisions, employment information, etc. under the name of the country. Population data are taken from the CIA's World Factbook2017.
While reasonable efforts have been made to assure the accuracy of the data provided, do not rely on this information without first checking the latest official edition of the applicable law.