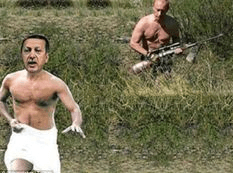 Editor: Vladimir Bajic | Tactical Investor[color-box color="gray"]
The video and article provide the reader with compelling information. If you decide you find the excerpt to be interesting then click the link at the end of the excerpt to access the full article.
The real issue is that there are college students that don' want to work and want to go to the best colleges money can buy, and the parents are encouraging this. What happened to the day you went to the college you could afford, and you worked to pay for all of it or, at least, helped your parents.  The problem lies with the parents and the kids; the parents are encouraging this asinine behaviour.  Today's generation believe that they are entitled to the best of the best without having to work for it.  
College Graduates that are drowning in debt, but still refuse to give up on luxuries is a perfect example of this principle in action. Instead of tightening their belts, they continue to add to the debt and then cry wolf when everything starts to fall apart. What made the baby boomers great and all those that came to the U.S decades ago? Everyone worked hard; there were no handouts, today's generation's wants the best of the best, but most of them do not want to work hard to achieve their goals. Student Debt Crisis Overblown & Due to Stupidity
[/color-box]
Other Stories of Interest:
Investor Anxiety; Rocket Fuel for Unloved Stock Market Bull (Aug 6)
Most Unloved Stock Market Bull Destined To Roar Higher (Aug 5)
Student Debt Crisis Overblown & Due to Stupidity  (Aug 4)
Despite Investor Angst Most hated stock market keeps trending higher (July 30)
False Information, Mass Psychology & this Hated Stock Market Bull (July 29)
Zero Percent Mortgage Debuts setting next stage for Stock Market Bull  (July 27)
Long Term Stock Market Bears Always Lose  (July 27)
Information overkill & trading markets utilising Mass Psychology  (July 27)
Simple Common Sense Fix Ends Student Debt Problem (July 27)
Tactical Investor Anxiety Index; Best Market Sentiment Gauge  (July 26)
Brexit Hidden Theme Continuation of Currency War Game (July 26)
Stock Market Bears Smashed Jan & Feb 2016 as Predicted (July 25)
Another reason this bull market will not buckle soon (July 22)