Editor: Draco Copper | Tactical Investor
Media Lies About Trump He Is Still Faring Well
With a robust U.S. economy, polls show that President Donald Trump's approval ratings are on the upswing, even as a majority of Americans still disapprove of his 14-month White House tenure.
A pair of polls this week — by CNN and the Associated Press-NORC Center for Public Affairs Research — both say that 42 per cent of Americans approve of his performance as president, the highest figures the news organizations have recorded in months. CNN says 54 per cent of voters disapprove of Trump's handling of the presidency, while AP says 58 per cent feel that way.
Real Clear Politics' national average of several polls shows a similar result, a 53-42 negative rating for Trump.
Trump's approval ratings, through the first months of his four-year term, have been the lowest among modern U.S. presidents recorded during seven decades of polling. But CNN noted that Trump's current standing is only marginally lower than that recorded for President Ronald Reagan in the early 1980s and President Barack Obama in 2010 in the earliest stages of their two-term presidencies. Full Story
Despite Barrage of Attacks, Trump's Approval Ratings Still High
Pornstar Stormy Daniels has been a bludgeon used by the networks against Trump, and CNN has turned itself into the Stormy Daniels Network. Michael Avenatti, her attorney, appeared 59 times in less than two months on CNN, averaging more than once a day, according to the Media Research Center. MSNBC, not to be outdone, featured Avenatti eight times in four days. Other outlets, though not so crazed as CNN and MSNBC, all have had substantial Stormy Daniels coverage.
However, despite the barrage of attacks, Trump's approval rating has been steadily rising.
The Rasmussen Daily Presidential Tracking Poll on May 8 showed that 47 per cent of likely voters approved of Trump's job performance, just besting President Barack Obama's rating (46 percent) at the same time in his first term. In a SurveyMonkey poll of registered voters ending on May 2, Trump garnered 47 percent support. The Reuters/Ipsos Core Political poll released May 4 found that 49 percent of registered voters approved of Trump.
The aggregated approval ratings of Trump's job performance are also on the rise. Real Clear Politics' average approval rating of Trump as of May 8 was 43.2 percent, comparable to the 44.3 percent reported by FiveThirtyEight, a Democratic-leaning polling site.
Media Lies About Trump: the Economy is on the Upswing?
While the broad economy continues to improve, the impact of bigger paychecks, felt by many American workers, serves as a more direct and powerful reminder that Trump's tax reform is working. According to Americans for Tax Reform, a nonprofit advocacy group, nearly 4 million Americans have received bonuses and pay raises, thanks to Trump's tax cut. Some companies are investing in worker training and educational programs, while others are choosing to beef up employees' retirement benefits. The pay increases due to the tax cut have likely boosted support for Trump.
The failure of the Russia investigation has likely also contributed to Trump's rising popularity. Robert Mueller and his team of Democrats spent a year and millions of dollars looking for evidence that Trump colluded with Russia to win the 2016 election. They found zilch.
To declare Trump innocent is not an option for Mueller. He needs something, anything, to nail Trump, hence his interest in Stormy Daniels—and Daniels was one of the topics motivating the raid on Trump's lawyer, The New York Times reported. But the alleged affair took place long before Trump ran for office and has absolutely nothing to do with Mueller's mandate.
No wonder a plethora of polls found Americans' views of Mueller have soured since the beginning of the year. For many voters, especially Republicans, Mueller is slowly but surely turning himself into the poster boy of government overreach and prosecutorial misconduct, and along the way, cementing Trump's status as the victim of a witch hunt. Full Story
Trump is the most unpopular president at the 1-year mark
Approval, disapproval and net approval ratings of presidents since 1945 after 364 days in office, according to the FiveThirtyEight aggregate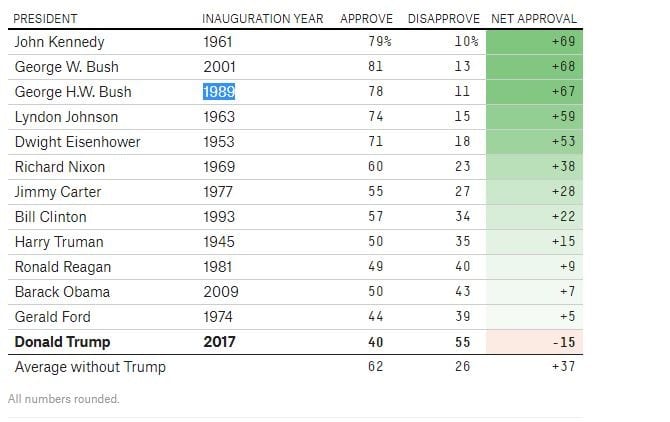 Now, you might ask, "Why hasn't Trump's job approval rating dropped more?" After all, a lot what's coming out of the White House is negative (at least if you judge it by the news coverage).
For one, there are factors exerting upward pressures on Trump's rating — important ones. The economy, for example, is doing quite well by most measures. In fact, it's notable that Trump is as unpopular in this economic environment.
Secondly, presidents' approval ratings tend to revert toward 50 per cent over the long term. Given that Trump started his term with an approval rating that was below 50 per cent, there might be a natural force pulling his rating up. The two presidents who had approval ratings below 50 per cent halfway through their first year in office (Ford and Bill Clinton) each saw at least 9-point increases by the end of that year. Meanwhile, the presidents who had an approval rating of 50 per cent or higher halfway through their first year in office suffered, on average, a 1 point decline. Those with an approval rating of 60 per cent or higher halfway through their first year in office suffered, on average, a decline of 4 points. Full Story
Trump boasts after approval rating soar, says it's higher than 'Cheatin' Obama'
The president's approval rating has been on the upswing since late May, surging 5 percentage points in just three weeks.
Another positive finding for the Trump White House is that satisfaction among Americans regarding the direction of the country is also up and has reached a 12-year high.
In comparison, Trump barely trails former President Barack Obama in support during the same point in his presidency, with the 44th president receiving a 47 percent job approval rating in June of 2010. However, Trump is tied with former Republican President Ronald Reagan, who sat at 45 percent in mid-June of his second year in office, according to Gallup.
Trump's increase in support comes on the heels of his historic summit with North Korean leader Kim Jong Un. While the president has faced criticism about the outcome of the meeting, the issues have proved to be a positive one with Trump's base.
A Reuters poll found last week that over half of Americans approve of how he's handled North Korea, even while only a quarter think the summit will prove successful by resulting in the denuclearization of the Korean peninsula. Full Story
Other Articles of Interest
Good Time To Buy IBM or Should You Wait? (Mar 15)
Is the Bitcoin Bull Market dead or just taking a breather? (Mar 8)
Is this the end for Bitcoin or is this a buying opportunity? (Jan 24)
Stock Market Insanity Trend is Gathering Momentum   (Jan 10)
Is value investing Dead   (Jan 9)
Irrational markets and Foolish Investor: perfect recipe for disaster   (Jan 5)
Stock market Crash Myths and Realities  (Jan 3)
Bull-Bear Markets & Arrogance   (Jan 1)
Will The Stock Market Crash In 2018  (Dec 11)
Has US Dollar Finally Hit Bottom    (Dec 6)
BitCoin Has Done What Precious Metals Never Could  (Dec 4)
Experts Making Stock Market Crash Forecasts usually know nothing  (Nov 17)
1987 stock market crash anniversary discussions- nothing but rubbish ( Oct 24)
Dow 22K Predicted In July 2017; Next Target Dow 30k? (Oct 15)
Anxiety and Greed Index Don't Support Stock Market Crash  (Oct 14)
Fed States Inflation is not an issue?  (Oct 13)