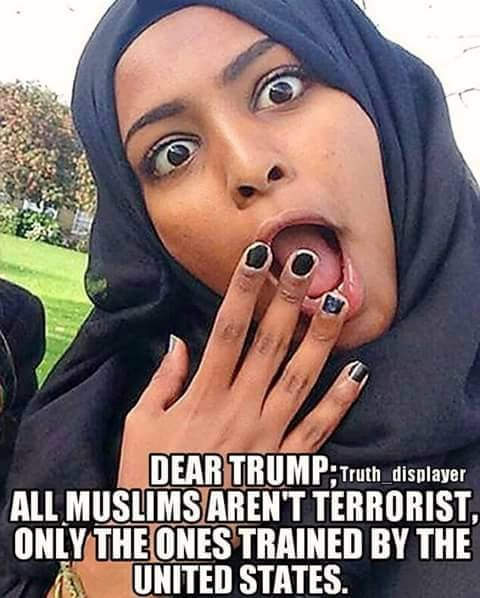 The threat of radical Islam
Late last month, the Manchester bombing left 22 dead and 59 injured. Over the weekend, another 7 were killed and 48 injured in London by a truck and knife attack.
It was yet another example of Muslim terrorists killing people. President Trump in his tweets over the last couple days has pushed against the London mayor's claim that there is "no reason to be alarmed" and the need for "extreme vetting" of those from seven high-risk countries.
Let's be clear, the vast majority of Muslims live their lives in peace and are great neighbours. But that can't take away from radical Muslims being overwhelmingly responsible for long-term violence that has been occurring around the world.
Bombs, like the Manchester attack, are much more commonly used in terror attacks outside of the United States. Between 2014 and 2015 there were 1,761 terrorist bombings around the world that claimed the lives of at least 4 people. Full Story
The threat of radical Islam
Radical Muslims and Islamic organizations in America take advantage of our legal system and are waging a "Stealth Jihad" within our borders. Their aim is to transform America into an Islamic nation. They have already infiltrated the highest levels of our government, the media, our military, both major political parties, public schools, universities, financial institutions and the cultural elite. Despite overwhelming evidence to the contrary, political leaders still claim "Islam is a religion of peace." Our national leaders refuse to identify Radical Islam as the enemy. Political correctness has paralyzed our government's ability to deal with these threats. That is why the Thomas More Law Center has been at the forefront of legal battle against this internal threat. Full Story
Other Articles of Interest
Trump Movement gathering momentum-Far right Party leading in Dutch Polls (Dec 20)
German Defense minister Insults Saudia Arabia-Refuses to wear Hijab  (Dec 20)
Muslim group outraged over meme posted on Allen West's FB page-Nobody cares   (Dec 20)
Wilders found Guilty of speaking out against Islam WTF Happened to freedom of speech  (Dec 20)
1400 shocking years of Islam in five minutes-Radical Muslims hate this video  (Dec 18)
Where is Islam Illegal-Growing list of nations banning Islam?  (Dec 18)
Slovakia Toughens Church Registration Rules to Bar Islam (Dec 18)
Double Crossing Merkel states she will deport 100K migrants-get rid of her (Dec 18)
Saudi Author Turki Al Hamad Our Youth Are Brainwashed- Must stop ISIS Ideology at the roots (Dec 18)
High-income individuals will embrace Robot Sex states Expert (Dec 17)
Sextortion- hackers new game plan to fleece silly men using hot women as bait (Dec 17)
Two Stocks Set to Soar in 2017-Trump Administration (Dec 10)
Mainstream Media Totally Corrupt-evidence is overwhelming  (Nov 19)
The Myth Of The Jewish Genome as Biblical as Dracula (Nov 19)
Dollar Destruction-Liberal Agenda & Marxifcation of America (Nov 19)
Alternative Opinions-Information Mainstream media dares not discuss (Nov 18)