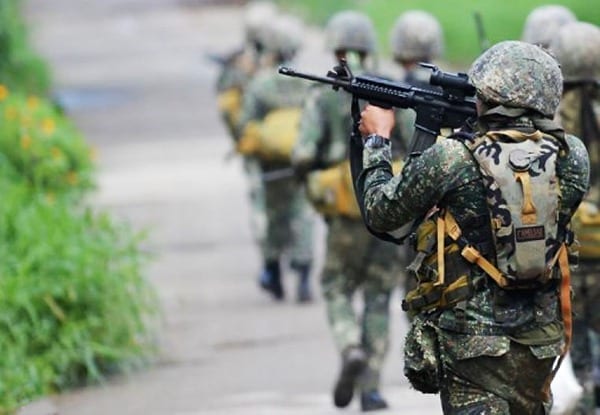 Philippine authorities on Tuesday warned Islamist militants occupying parts of a southern city to surrender or die, as attack helicopters pounded the gunmen's strongholds where up to 2,000 residents were feared trapped. More than 100 people have been confirmed killed in the conflict, which began last week when gunmen waving black flags of the Islamic State (IS) group rampaged through the mostly Muslim-populated city of Marawi.
President Rodrigo Duterte declared martial law across the entire southern region of Mindanao, home to roughly 20 million people, in response to the crisis as he warned that local militant groups were uniting behind IS and becoming a major security threat.
But the militants, initially estimated by the nation's defence chief to number just 100, withstood eight days of intense air assaults and street-to-street combat, prompting the government's threats on Tuesday.
"We call on the remaining terrorists to surrender while there is an opportunity," military spokesman Brigadier-General Restituto Padilla said.
"For the terrorists, not surrendering will mean their sure death."
Padilla also told AFP the surrender call was aimed at limiting the loss of more lives and property. Full story
Not even a month has passed since we stated the trend had turned against Radical Muslims and this story is yet another confirmation that this trend is gaining traction at an incredibly fast pace. Radical Muslims are going to face so much heat that they will be no place left for them to run. What will make their lives even worse is that the moderate or what we prefer to call "regular Muslims" are going to start turning on them?  Moderate Muslims want the same things everyone else wants.  They want to provide a better life for their families and live in peace; this might be hard for many to believe, but most normal Muslims do not harbour secret desires to blow themselves up or kill other individuals. 
Other articles of interest:
Buy When the Blood in the Streets is flowing Freely  (Sept 13)
Dow 21K Predicted In August 2016 (Sept  9)
Minimum wage hike ignores impact of AI; companies will opt for Robots  (Sept 8)
Should You Be Worried About Inflation Rate In 2017? (Sept 6)
Wage Deflation here to stay: Robots Replacing Workers (Sept 5)
Price of Copper Signalling Inflation or higher Stock Market Prices (Sept 4)
Rate of Inflation not an issue according to Bond Market (Sept 2)
Worst Stock Market Crash of our lifetime; is this a possibility? (Aug 23)
Did the Fed Screw up in raising rates; is inflation even an issue  (Aug 10)
Electric Car Threat To Big Oil Wildly Overstated? (July 28)
1987 stock market crash: could it happen again? (July 13)