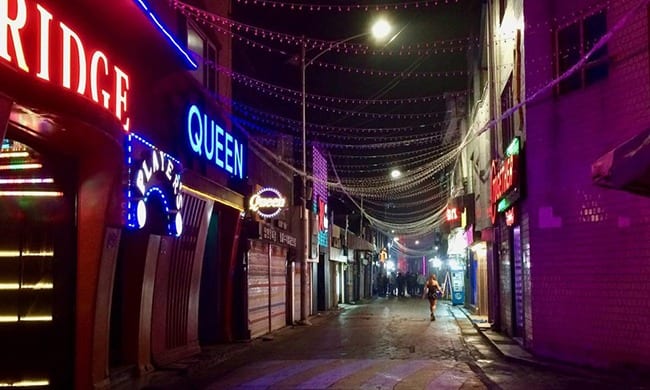 Editor: Johnathan Meyers | Tactical Investor
Sex Workers
Seoul, South Korea – The 1980s was a peak time for Cheongyangni 588, a thriving red-light district in Seoul's east.
It housed more than 200 shops and 500 sex workers. Historians labelled it the biggest and most popular red-light area in South Korea's capital.
All shops, bar one, have shut down. The padlocks on the doors, shattered windows, rubbish bags dumped on the streets and the eerie silence adds to the change – the area went from buzzing and bustling to desolate and barren
"There used to be so many shops and so many customers. Now, there are hardly any. We open late and close early," Ann (named changed to protect identity), the sole sex worker in the shop, told Al Jazeera as she continued to look past the windows for any approaching customers.
"Urban development is pushing out red-light districts, which are often located on valuable real estate," said Jang Se-hee, president of the national sex workers union HanTeo. Read more
Sex Workers In Korea
"The growing trend to liberalize and promote openness in sex doesn't condone or justify its commercialization," Justice Kim Chang-jong wrote in the court's majority ruling, which found that the 2004 antiprostitution law, under which prostitutes and their clients can be fined and imprisoned for up to a year, did not violate the South Korean Constitution. Justice Kim's opinion was endorsed by five other justices.
But the court was more divided than in past rulings upholding the ban. Three of its nine justices fiercely criticized what they called a government crackdown on women driven to prostitution by desperate circumstances. One dissenting justice, Cho Yong-ho, called the choice of those women "a matter of survival."
"The majority view insists that prostitution should not be protected by law because it harms human dignity," Justice Cho wrote in his dissent. "But nothing harms human dignity more than a threat to survival."
Last year, the Constitutional Court
Struck down a decades-old law making adultery punishable by up to two years in prison, a landmark ruling that analysts said reflected changing social attitudes toward sex in this still largely conservative country.
An aggressive campaign against the sex trade followed, and some prostitutes fought back. In 2012, Kim Jeong-mi, a Seoul prostitute, filed the challenge that the court rejected Thursday. There had been previous challenges to the law, all unsuccessful, but Ms Kim's drew considerable attention because it was the first one brought by a prostitute. Read more
The pimps and prostitutes of Yeongdeungpo start the day as if preparing for a siege, stocking their brothels with flammable liquid and gas containers. Large, red-lettered signs warn police that they're willing to die to protect their livelihoods.
"We can turn on the gas and light the flames," said a 47-year-old pimp who would only give her surname Sohn. "We know that we don't have much chance of winning … but we're ready to die fighting."
Rallies by sex workers against police crackdowns crop up occasionally in South Korea, but the protests in Yeongdeungpo — which have drawn hundreds of other prostitutes, pimps and supporters — have been unusual in their size, organization and fury.
The district's 40 to 50 prostitutes describe their fight in life-and-death terms. At a recent protest, about 20 topless women covered in body and face paint doused themselves in flammable liquid and had to be restrained from setting themselves on fire. Read more
Other Articles of Interest
Good Time To Buy IBM or Should You Wait? (Mar 15)
Is the Bitcoin Bull Market dead or just taking a breather? (Mar 8)
Is this the end for Bitcoin or is this a buying opportunity? (Jan 24)
Stock Market Insanity Trend is Gathering Momentum   (Jan 10)
Is value investing Dead   (Jan 9)
Irrational markets and Foolish Investor: perfect recipe for disaster   (Jan 5)
Stock market Crash Myths and Realities  (Jan 3)
Bull-Bear Markets & Arrogance   (Jan 1)
Will The Stock Market Crash In 2018  (Dec 11)
Has US Dollar Finally Hit Bottom    (Dec 6)
BitCoin Has Done What Precious Metals Never Could  (Dec 4)
Experts Making Stock Market Crash Forecasts usually know nothing  (Nov 17)
1987 stock market crash anniversary discussions- nothing but rubbish ( Oct 24)
Dow 22K Predicted In July 2017; Next Target Dow 30k? (Oct 15)
Anxiety and Greed Index Don't Support Stock Market Crash  (Oct 14)