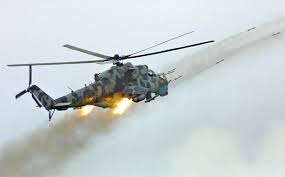 Russian air strikes hit CIA-trained rebels, commander says
BEIRUT (Reuters) – Two Russian air strikes in Syria on Thursday hit a training camp operated by rebel group that received military training from the U.S. Central Intelligence Agency (CIA) in Qatar and Saudi Arabia, its commander said. Hassan Haj Ali, head of the Liwa Suqour al-Jabal rebel group, told Reuters the camp in Idlib province was struck by around 20 missiles in two separate sorties.
https://www.youtube.com/watch?v=RNv_1WNZABM
Haj Ali, a Syrian army captain who defected after the uprising against President Bashar al-Assad, said some of the guards of the facility were slightly wounded in the attack."Russia is challenging everyone and saying there is no alternative to Bashar," Haj Ali said. He said the Russian jets had been identified by members of his group who once served as Syrian air force pilots.His group counts itself as part of the "Free Syrian Army", which was set up by Syrian army defectors after the eruption of the uprising. The FSA today is a loose alliance of rebel groups without a centralized command and control structure. Full Story
For months, we bomb Syria and no civilian casualties are reported. Russia just starts to bomb, and casualties are reported immediately and who is reporting this, the rebels themselves.  Russia has moved swiftly and formed an alliance with Iran, and Iraq; China is also throwing its weight behind this partnership. The world will now see that our government did nothing to eliminate these rebels.  Furthermore, we are there illegally as like it or not Assad is still the president of the country and the US government has no right pushing him out just because they don't like him.  As it stands most Americans hate Congress and yet those parasites remain in command, and the next election will bring no relief. Things are going to spiral out of control very fast, and the house of Saud is going to experience a lot of pain in the near future.  Russia is going to attack every rebel group, and that includes the cut throats the CIA is training
Woman's Arrest at Gynecologist's Could Deter Immigrants From Seeking Healthcare
On September 3, Blanca Borrego of Houston went for a scheduled appointment to see her gynecologist at the Memorial Hermann Northeast Women's Healthcare clinic. She had two of her children with her.Borrego has visited the same gynecologist a year ago with abdominal pain, where the doctor determined it was caused by a cyst. She was now going back to visit her gynecologist for her routine exam. After a three-hour wait, she was finally taken back to an exam room, where she was met by deputies from the Harris County Sheriff's office, who arrested Borrego, an undocumented immigrant who overstayed her visa 12 years ago. Full Story
The clash of cultures or the clash of civilizations we spoke off is picking up in intensity;  the resistance and aggression will be much stronger in Europe.  This will not end well, but there is no way to stop it. Negative energies have been building up for a while, and the volcano of rage is almost ready to erupt.
Other articles of interest: