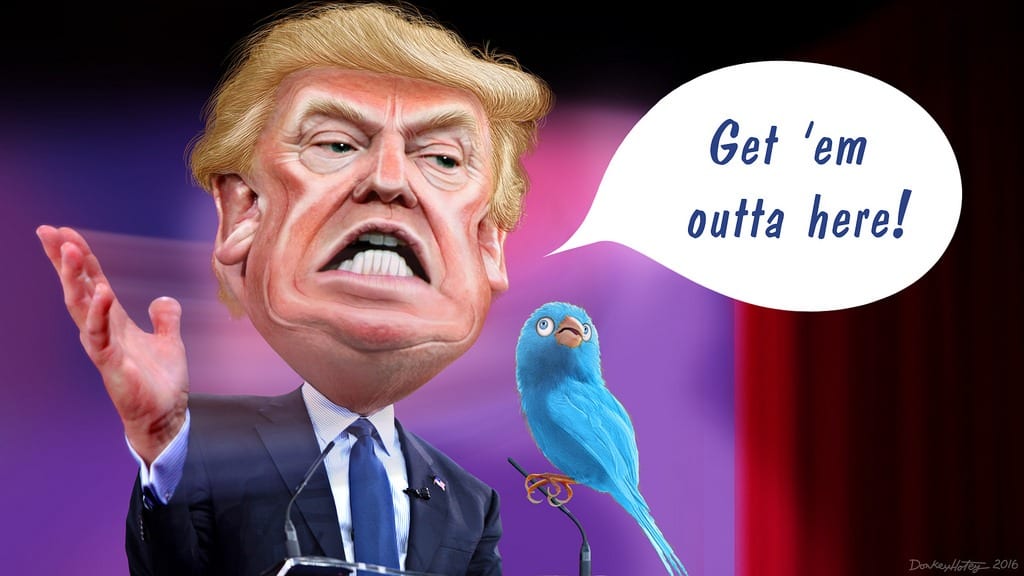 Mainstream Media lying like it's going out of fashion
Donald Trump is polling at about two-thirds support in real polls compromised of real people, while Hillary Clinton's support is waning. When people are allowed to vote anonymously, Trump surges to 64% support, while Clinton drops to 36%, we've now seen in the Zip question and answer app. As reported by Govtslaves.info:
A smartphone app developer says his data suggests challenger Donald Trump will be the victor. "Based on the stats we see, he looks strong," says Ric Militi, co-founder of San Diego-based Crazy Raccoons, maker of the Zip question and answer app. His app poses questions and polls responses based on an average of 100,000 daily users. "I go with Trump, based on what we see."
The results from the Zip app show Trump at 64% and Clinton at 36%, far different from what we see from the rigged, lying mainstream media which is 100% in the bag for Clinton. Full Story
Damaging video could potentially sway a lot of voters
https://www.youtube.com/watch?v=IogbTRX0Hdc
Mainstream media is bought and paid for; there is not an ounce of decency or freedom left and no normal minded being can trust the rubbish they push out under the guise of news.  Many might like Trump but that is no reason to purposely twist, lie and distort data to support a candidate that should have been jailed years ago.  Mainstream Media does not even try to hide their bias when it comes to Trump.  However, Hillary's lead  evaporating as fast as gasoline spilled on hot highway after the 2nd debate and now according to the Rasmussen Reports  Trump has knocked Hillary out and taken the lead
The latest Rasmussen Reports national telephone and online survey of Likely U.S. Voters shows Trump with 43% support to Clinton's 41%. That's unchanged from yesterday. Libertarian candidate Gary Johnson picks up six percent (6%) of vote, and Green Party nominee Jill Stein has two percent (2%) backing. Four percent (4%) like another candidate, and five percent (5%) are undecided. (To see survey question wording, click here.)
Clinton held a seven-point lead on Monday – 45% to 38% – following the airing of an 11-year-old video showing Trump making graphic sexual remarks about women. But as voters began responding to Sunday night's debate, her lead dropped to five points on Tuesday and four points on Wednesday. Trump edged ahead yesterday.
 Other Articles of Interest
Wikileaks Timeline of Hillarys lies-Illustrates Media lying through its teeth (Oct 15)
President Duterte tells Obama to go to hell and rightly so  (Oct 12)
Even Corrupt Saudi King declines to Meet Obama; very telling indeed  (Oct 6)
World Leaders losing respect for Obama-Even Filipino President curses Obama (Oct 6)
Barrack Gumbo Obama Thrown to the Curb by China; Putin Embraced (Oct 6)
Solar Storms heading for earth-could disrupt life as you know it (Oct 4)
Rise of China and the Fall of America  (Oct 3)
Use dynamic trading systems and not mechanical stock market trading systems unless you love losing (Oct2)
Clinton's rape & sexual Assault History exposed (Oct 1)
Religious Wars Are Escalating: the real reason will shock you  (Sept 30)