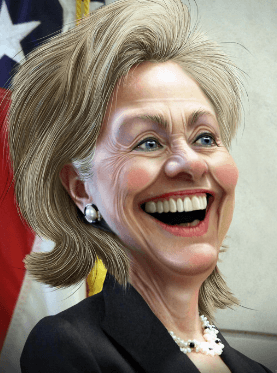 Editor: Vladimir Bajic | Tactical Investor
On Fraud, Lies & Corruption Hillary Trumps Trump
Chicago times on Hillary Clinton's Corruption
Ever since Watergate, the mantra of all major corruption investigations has been to "follow the money." Well, Americans of all political stripes should be outraged by the fact that both Democrats and Republicans in Washington are up to their eyeballs in Kremlin cash. Russian money found its way into the pockets of not only Trump advisers like Paul Manafort and Rick Gates — who were recently indicted by special counsel Robert Mueller—but also Democratic power lobbyist Tony Podesta, Bill Clinton and the Clinton Foundation.
This should suggest to objective observers that Russia was using its money to influence both sides in order to advance the Kremlin's interests. And it means that any full and impartial investigation of Russia's efforts to influence our political process needs to follow the Russian money flowing into the coffers of the Clintons, their foundation and their top associates.
The New York Times reported in 2015 that "shortly after the Russians announced their intention to acquire a majority stake in Uranium One, [former President Bill] Clinton received $500,000 for a Moscow speech from a Russian investment bank with links to the Kremlin that was promoting Uranium One stock." In total, $145 million went to the Clinton Foundation from interests linked to Uranium One, which was acquired by the Russian government nuclear agency Rosatum. Full Story
Investors.com on Hillary Clinton's Corruption
Former FBI Deputy Director Andrew McCabe may be the worst off. In addition to possible charges for lying under oath for denying that he leaked information to the Wall Street Journal (in large part dfto answer swirling rumors in the journalistic community), it's alleged that he ordered FBI agents working on the Clinton Foundation investigation to stand down.
Now, evidence suggests he told the FBI's Washington field office to also "stand down" from its investigation of Clinton's private-email server. That investigation followed a New York Times piece that appeared in 2015, detailing Hillary Clinton's possible illegal use of an unsecured, home-brew email server for her official business as secretary of state. It appears to be a clear violation of the law.
"Multiple former FBI officials, along with a Congressional official, say that while there may have been internal squabbling over the FBI's investigation into the Clinton Foundation at the time, there was allegedly another 'stand-down' order by McCabe regarding the opening of the investigation into Hillary Clinton's use of her private email for official government business," wrote independent journalist Sarah Carter.  Full Story
Latimes on Hillary Clinton's Corruption
The FBI is investigating whether the Clinton Foundation accepted donations in exchange for political favors while Hillary Clinton was secretary of State, two people familiar with the probe confirmed Friday. The revelation comes as President Trump and congressional Republicans have been urging the Justice Department to look into corruption allegations involving the foundation.
It is unclear when or why the probe began, but the sources told the Associated Press it has been ongoing for several months, with prosecutors and FBI agents taking the lead from their offices in Little Rock, Ark., where the foundation has offices. The people were not authorized to discuss the investigation publicly and spoke on condition of anonymity. The Hill newspaper first reported the probe.
Critics have accused the Clinton family of using the foundation to enrich themselves and give donors special access to the State Department when Hillary Clinton was its head. But public corruption prosecutors in Washington expressed disinterest in working with the FBI on a Clinton Foundation-related investigation in 2016, saying they had concerns about the strength of the FBI's evidence.Full story
Trump On Hillary Clinton's Corruption
"Why is that Hillary Clintons family and Dems dealings with Russia are not looked at, but my non-dealings are?" the President tweeted, adding, "Crooked H destroyed phones w/ hammer, 'bleached' emails, & had husband meet w/AG days before she was cleared- & they talk about obstruction?"
Other Articles of Interest 
Investor Anxiety; Rocket Fuel for Unloved Stock Market Bull (Aug 6)
Most Unloved Stock Market Bull Destined To Roar Higher (Aug 5)
Student Debt Crisis Overblown & Due to Stupidity  (Aug 4)
Despite Investor Angst Most hated stock market keeps trending higher (July 30)
False Information, Mass Psychology & this Hated Stock Market Bull (July 29)
Zero Percent Mortgage Debuts setting next stage for Stock Market Bull  (July 27)
Long Term Stock Market Bears Always Lose  (July 27)
Information overkill & trading markets utilising Mass Psychology  (July 27)