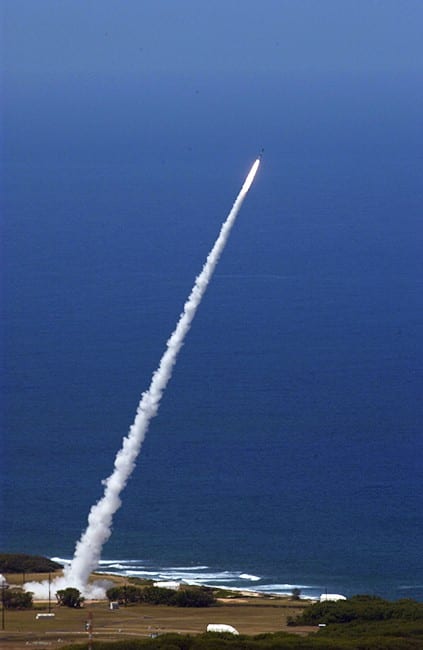 Editor: Vladimir Bajic | Tactical Investor
North Korea Fires ICBM
The Pentagon said it believed the projectile was an ICBM that travelled roughly 1,000 km (620 miles) eastward before plunging into the Sea of Japan. The Japanese Defence Ministry believe the missile remained airborne for 50 minutes and likely landed in the waters of the country's exclusive economic zone.
The latest act of North Korean aggression demonstrated the type of military advances that have been a feature of a number of its launches this year, which have put its neighbours and the US on edge – as well as sparking an escalating war of words with Washington over its expanding nuclear and missile programmes.  Full Story
North Korea Fires a Ballistic Missile
Defense Secretary Jim Mattis expressed greater concern, emphasizing what he said were technical advances on display in the 53-minute flight, which began when the missile was launched northeast of the capital, Pyongyang, and ended nearly 600 miles to the east, when it landed in the Sea of Japan.
"It went higher, frankly, than any previous shot they've taken," Mr. Mattis said in the White House, where he was taking part in a budget meeting with the president and Republican congressional leaders.
"The bottom line is, it's a continued effort to build a threat — a ballistic missile threat that endangers world peace, regional peace, and certainly, the United States," the defense secretary said.
North Korea said Wednesday that it had successfully tested its Hwasong-15, a newly developed ICBM that it said could deliver heavy nuclear warheads anywhere in the continental United States Full Story
Other Stories of Interest
Why do financial services flood subscribers with unnecessary emails ( Feb 10)
Modi's party unfairly targets Bollywood Star Khan for criticising them ( Feb 10)
Brain dead expert states Millennials should prepare for Dow 50K ( Feb 10)
Worldwide IQ scores dropping but Stupidity rising rapidly ( Feb 10)
Radical Pakistani Anjem Choudary locked up in U.K for supporting ISIS ( Feb 10)
China Warns America against Allowing Taiwanese President into country ( Feb 10)
America's 21st Century Energy Story ( Feb 10)
Alt Right movement gaining momentum across Europe & America  ( Feb 9)
Observer Vs regular perspective regarding Russia's alleged hacking of US elections  (Jan 25)