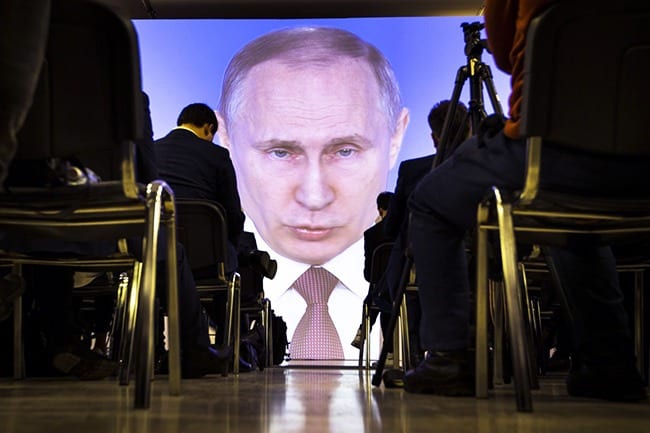 Editor: Vlad Rothstein | Tactical Investor
New Arms Race?
On one level it was the kind of speech an incumbent leader seeking reelection would give, offering material improvements, making economic promises, and pledging to create more jobs and build better houses.
Delivering his annual state of the nation address Thursday, his 14th and the last one he will make before an election on March 18 he's expected to win easily, Russian President Vladimir Putin said his "top priority is to preserve the people of Russia and improve their welfare," adding that it was "unacceptable" that 20 million Russians are living below the official poverty line.
What grabbed international attention, however, wasn't his pledge to spend more on maternity pay, hospitals and childcare as well as urban development and education, but his highlighting in bold language Russia's military buildup under his leadership and his focus, especially on the country's nuclear strength.
Putin's surprise announcement of the development of a new cruise missile that he claims can't be intercepted by the U.S. air-defence shield in Europe and Asia, and of a new, heavy payload intercontinental missile, risks upending strategic stability and triggering a new arms race, according to former Swedish prime minister Carl Bildt. Full Story
MONTENEGRO better watch out. Just days after President Trump warned President Putin that the tiny European nation has ambitions to march on Moscow, the Russians have unveiled a threatening new look at his secret array of superweapons.
"The Russian Federation continues to implement measures to strengthen its military security," a statement from the Russian Ministry of Defence reads. "The creation of new strategic weapons systems is aimed at enhancing the defence capability of Russia, and preventing any aggression against our country and its allies."
RELATED: Britain unveils its own new stealth fighter design
It has just released a fresh new look at six potentially devastating new weapons systems it currently has under development.
It appears to be a thinly veiled response to US President Donald Trump's warning to Russian President Vladimir Putin about Montenegro's ambitions to drag NATO behind it in a war of conquest. Full Story
Other Articles of Interest
Stock Market Insanity Trend is Gathering Momentum   (Jan 10)
Is value investing Dead   (Jan 9)
Irrational markets and Foolish Investor: perfect recipe for disaster   (Jan 5)
Stock market Crash Myths and Realities  (Jan 3)
Bull-Bear Markets & Arrogance   (Jan 1)
Will The Stock Market Crash In 2018  (Dec 11)
Has US Dollar Finally Hit Bottom    (Dec 6)
BitCoin Has Done What Precious Metals Never Could  (Dec 4)
Experts Making Stock Market Crash Forecasts usually know nothing  (Nov 17)
1987 stock market crash anniversary discussions- nothing but rubbish ( Oct 24)
Dow 22K Predicted In July 2017; Next Target Dow 30k? (Oct 15)
Anxiety and Greed Index Don't Support Stock Market Crash  (Oct 14)
Fed States Inflation is not an issue?  (Oct 13)
Is Bitcoin a Bubble or Good Investment?  (Oct 9)