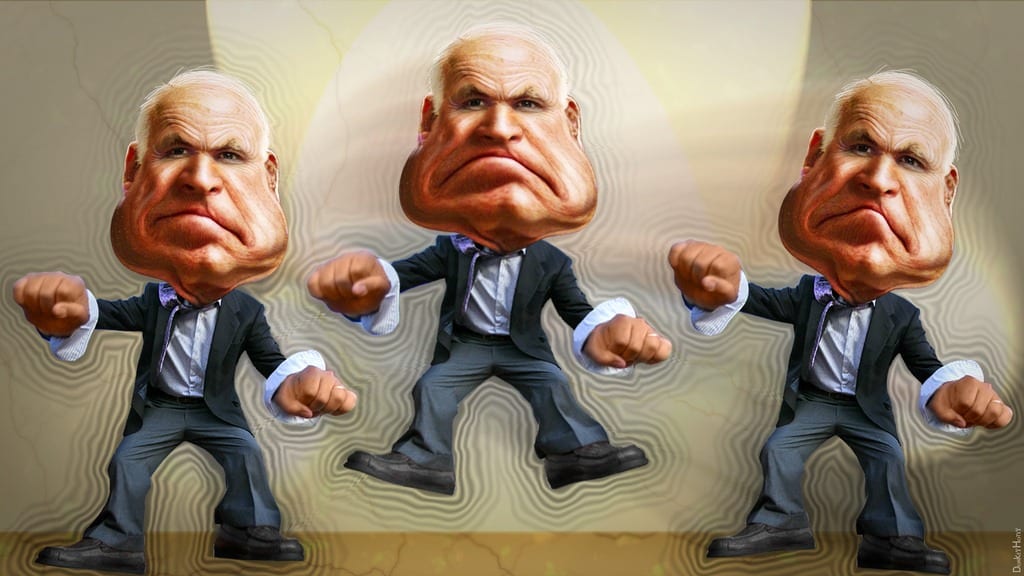 Hungary summons U.S. envoy over McCain's 'neo-fascist' comment
BUDAPEST (Reuters) – Hungary's Foreign Ministry summoned the U.S. envoy on Wednesday after U.S. Senator John McCain called Prime Minister Viktor Orban a "neo-fascist dictator."
The United States has become increasingly critical of Orban's government, accusing him of getting too close to Russia since East-West tensions rose over Ukraine. Hungary's foreign minister called in Chargé d'Affaires André Goodfriend over McCain's comments, made in the U.S. Senate during a political spat over the appointment of Hollywood producer Colleen Bell as U.S. Ambassador in Budapest. McCain, a Republican, told the Senate on Tuesday: "I am not against political appointees … I understand how the game is played, but … (Hungary) … is on the verge of ceding its sovereignty to a neo-fascist dictator, getting in bed with Vladimir Putin, and we're going to send the producer of 'The Bold and The Beautiful' as the ambassador."
Bell has since been approved in the Senate and is expected to take up her position in Hungary.
"The Hungarian government … rejects the words of Senator John McCain regarding the Hungarian Prime Minister and the relationship of Hungary and Russia," Foreign Ministry State Secretary Levente Magyar told national news agency MTI. Noting Orban's Fidesz party has won parliamentary, European, and local elections, Foreign Minister Peter Szijjarto told MTI: "Hungarian citizens … articulated a very clear opinion that everyone ought to respect."
He added that the Hungarian embassy in Washington would contact McCain's office to inquire about the Senator's words and their background. Full Story
McCain should peer into the mirror once in a while if he really wants to see who the Neo-fascist really is.  This guy has lied more times, than a Pinocchio on steroids could.  The world is starting to see that the USA is not the power it once was due to the rise of China and Russia and secondly, the world is sick of the nut cases, otherwise known as Neo-cons that are running the USA agenda.  In most cases, this is not what the average American wants. Despite being boob tube babies (A.K.A watching TV and munching of chips) they would rather have the government use the money that is spent on wars we cannot afford, cannot win and cause, on its own citizens. If you look at how some people are living and have been affected by the Great Recession, it makes you wonder what these nut jobs in Washington are thinking about.  Rule number 1, care for your own people before you try to help others; sadly this rule has been ignored and forgotten.  However, as we stated, change is coming and it's going to be painful for the middle players.  The hunt has begun.
Who loses if Russia implodes?
No one wins if Russia's economy falls apart.
Its trading partners — countries and businesses — are watching with concern as Russia scrambles to tackle a deepening economic crisis, sparked by plunging oil prices and punishing international sanctions.
The ruble has been in free fall and is already hurting earnings at global companies with operations in Russia.
Here are some of the biggest victims of Russia's deteriorating economy:
Germany: Europe's largest economy is most exposed to Russia. Last year, Germany's trade relationship with Russia was worth more than €76 billion ($95.4 billion). Tough Western economic sanctions over the Ukraine crisis have already taken a toll on exports and companies have put the brakes on investment. Full Story
Occasionally this site can publish some stories that have some semblance of credibility and this appears to be one of them.  These sanctions are hurting Germany and other European countries rather badly.  It is rumoured that Italy is looking to move some of its agricultural production to Russia and many German firms are threatening to move operations out of Germany to escape the bite of the sanctions. Grandma Merkel could suddenly find herself in the belly of the big bad wolf.
Rebirth of The Toxic Twins
Subprime Redux: Mel Watt's easy credit crusade is now off and running. Fannie Mae and Freddie Mac's chief regulator has officially lowered lending standards for the entire mortgage industry. Here we go again.
In January, we warned that Watt's swearing-in as head of the Federal Housing Finance Agency would mark the start of the next housing bubble. We pointed out that the Congressional Black Caucus' former head has a soft spot for those who can't afford homes and that as a Democrat lawmaker he pressed Freddie to lend even to "welfare recipients" in his district. "Expect him to reboot the era of easy credit," we warned. "Watch him use his control of Freddie and Fannie to return to the recklessly lax policies that caused the mortgage crisis."
Now comes news that he and the nationalized mortgage giants have drawn up new rules aimed at loosening underwriting standards to make home loans more affordable and easier to get for low-income borrowers with poor credit.
No longer will Fannie and Freddie require down payments of at least 5% for conventional loans. Now it will buy mortgages with a minimum down payment of 3%, mimicking what took place before the mortgage crisis and matching the subprime standard set by the Federal Housing Administration.
FHA had picked up the subprime slack from Fannie and Freddie after they collapsed from the weight of millions of subprime mortgages. Now the Toxic Twins are returning to that market, and will likely dominate it again. Fannie and Freddie already back 60% of all mortgages originated in the private market and guarantee 90% of all new mortgages underwritten. When they set a standard, the entire mortgage industry follows. Full Story
What we stated several times in the past when banks were busy implementing harsh credit procedures and huffing and puffing that things would change is now coming to pass.  The banks must have easy credit in place. This means they must lend to the worst of the worst because this is how they generate massive amounts of money, as the government will always come to their rescue.  There have been so many banking crises and each time the banks promised things would get better and they have not.  The Federal Reserve is not a government institution, it's a private institution run by the banks and so the thieves own the Jail and the keys to set themselves free. Private institutions have begun to offer no income verification loans, so it's just a matter of time before the large banks start marketing the once former notorious liar loans (no income verification loans) again. They will definitely use some other name, but to make a big killing you have to rob millions and the only way to rob millions is to provide a package that is easily accessible to everyone.  Sit back and watch these events unfold; you need easy credit to drive the real estate market higher.
Other stories of Interest
Electric Vehicles set to wreck havoc on Crude oil market (13 April )
Negative Rates are God send for the Greedy, unscrupulous corporate world (13 April)
Oops we are doing it again; Subprime Auto Loan Crisis party has begun (12 April)
Federal Reserve's Game plan; create a new class of slaves (12 April)
China dumping worthless dollars & buying Gold bullion  (9 April)
Wall Street Mafia Utilize Psychological War Fare to Con the masses  (7 April)
Yuan surges past Canadian dollar for Global Payments (6 April)
China's growing wealth makes China very good long term investment (6 April)