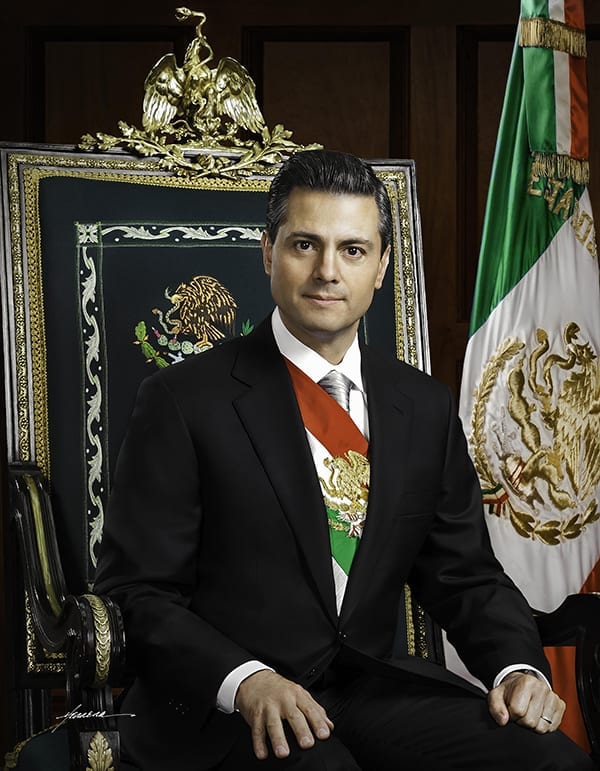 Editor: Vlad Rothstein | Tactical Investor
Mexican president rebukes Trump over border threats
President Enrique Pe?a Nieto delivered his most direct public rebuke of President Donald Trump on Thursday afternoon, in a national address that characterized Mexico as willing to cooperate with the United States but not at the expense of its sovereignty or dignity.
Pe?a Nieto spoke after Trump signed an order to deploy National Guard troops to halt "a drastic surge of illegal activity on the southern border." In the past week, Trump has accused Mexico of doing little to stop illegal migration and expressed alarm about a caravan of hundreds of Central Americans who were crossing this country to highlight the plight of migrants — threatening to retaliate against Mexico if it didn't stop the march.
Pe?a Nieto, speaking Thursday from the presidential palace in Mexico City, noted that the Mexican Senate and all four leading candidates in the July 1 presidential race had condemned Trump's comments, adding: "As president of Mexico, I agree with those remarks."
"President Trump: If you wish to reach agreements with Mexico, we stand ready, as we have proved until now, always willing to engage in a dialogue, acting in earnestness, in good faith and in a constructive spirit," Pe?a Nieto said. "If your recent statements are the result of frustration due to domestic policy issues, (due) to your laws or to your Congress, it is to them that you should turn to, not to Mexicans."
"We will not allow negative rhetoric to define our actions. We will act only in the best interest of Mexicans," he said.
The address to the nation was remarkable because Pe?a Nieto has endured, with diplomatic courtesy and sometimes stony silence, about two years of insults and threats from Trump about Mexican immigrants, the trade relationship, border security, and the fight against drug traffickers. Full Story
Pena Nieto cancels Trump meeting over border wall row
"This morning we informed the White House that I will not attend the work meeting planned for next Tuesday with the POTUS [president of the US]," Pena Nieto said on Twitter. "Mexico reiterates its willingness to work with the United States to reach accords that favour both nations."
The Mexican president's rejection came after Trump said it was "better to cancel" the scheduled visit to Washington if Mexico was unwilling to foot the bill for a border wall.
"Our country's policy is to tax exports and let imports flow freely in, which is ridiculous. But by doing it that way we can do $10bn a year and easily pay for the wall. Just through that mechanism alone," Spicer said."The minister of foreign affairs and the minister of commerce were in Washington from Mexico on Wednesday and Thursday to determine the details for the upcoming meeting of the presidents on Tuesday. And Trump comes out and announces that the wall will be built and Mexico will have to pay for it," said Suarez-Mier.
"I regret and condemn the decision of the United States to continue construction of a wall that, for years, has divided us instead of uniting us," Pena Nieto said in a brief televised message on Wednesday. Full Story
The United States will the Trade War Game
If this is a war, it's one the United States will win. The thing to keep in mind when reading about retaliation is that the US has trade deficits with all of these countries—as well as, of course, with China, which is not one of America's leading sources of steel but whose state-subsidised steel industry is responsible for depressing prices globally. Because the US buys far more goods from these countries than they buy from us, they stand to lose much more in a tit-for-tat over tariffs. How can China or Canada put tariffs on American goods that they don't actually buy? They can't, and what they do buy, while not insignificant, pales before what Americans buy from them.
Trump's move is certainly smart politics. He is president by virtue of having won the Electoral College votes of "Rust Belt" states like Pennsylvania, Ohio, and Michigan. Those are all battleground states, where Republicans often do quite well in gubernatorial and legislative races but fall short in presidential elections. Yet the GOP can win them in presidential contests, too, as Trump has proved, if only the party speaks to their interests. If Trump can keep them in his column in two years' time, he will be a shoo-in for re-election. 
Critics insist that the tariffs are not so good for the American economy as a whole, however. After all, what becomes of the American businesses that depend on steel? Now their costs will rise, and those costs will either be passed on to consumers or, should the rise be more than consumer demand can bear, they will cause businesses to contract, even to close. It sounds like a dire scenario, but when prices rise in other circumstances, economists have no problem explaining that substitute goods will be found or, at most, "creative destruction" will take place. Firms and prices, the market as a whole, will adjust.
That will happen in the case of any disruptions caused by tariffs, too. And there is this to keep in mind as well: if the complaint is that tariffs somehow distort the delicate mechanism of the market, unleashing an evil categorically different from other kinds of ebbs and flow in costs, then what must one say about the mutilations of the market that come from China's industrial subsidies? In concrete terms, companies that are dependent on an artificially low price for steel are in for a world of hurt in the long run—for what happens when China fulfils its goals and stops subsidising the price? Then the businesses that depend on the cheap steel market will be in the same position as they are with Trump's tariffs, only worse. Full Story
Other stories of Interest
The end of Factory Jobs-China building Fully Automated Factories  (Dec 20)
Chinas UnionPay surpasses Visa-become world's biggest credit card firm (Dec 18)
Central Bankers Weapon-Inflation Kills Middle Class-Here's the solution (Dec 2)
Serendipity-Fortune favours the Informed (Nov 23)
Pension Crisis intensifies-35K New York Teamsters Face pension cuts (Nov 15)
Timeline of How America Provoked Russia & More  (Sept 23)
Alternative View Points- Stories Mass Media Hides From You  (Sept 23)
Compelling news-Stories Mass Media will never let you hear (Sept 23)
Donald Trump would return compliment to Putin (Sept 18)
Insanity prevails-Auto Loan Defaults Spike & Ford offers longer Financing (Sept 18)
It's not time to sell the DAX; in fact it's time to buy  (Sept 17)
A step back in time; Stock Market Corrections-Nothing but Buying Opportunities (Sept 17)
John Oliver on the Dangers of Sub-Prime Auto Loans (August 21)