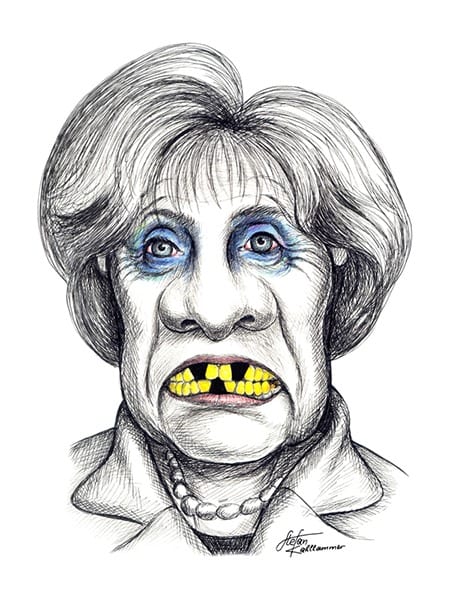 Berlin Christmas Market Carnage
"According to what we know, we have to assume this was a terrorist attack," Merkel, visibly moved and dressed in black, told reporters.

"I know it will be especially hard for us to take if it is confirmed that the person who committed this attack sought protection and asylum in Germany.
Berlin Christmas Market Carnage: Time wasted on False Lead
In a stunning reversal, police chiefs have admitted an innocent 23-year-old Pakistani refugee was wrongly detained in the minutes following the attack.
They believe the real terrorist is now at large – and say there is a "significant" threat of being hit by another deadly atrocity.
It means authorities are now locked in a terrifying race against time after almost 24 hours of their initial investigation was blown on a false lead.
The journalist who first reported doubts regarding the culpability of the refugee arrested claims cops have "no idea who they're looking for", it was reported.
Michael Behrendt said: "They have no weapon, no DNA traces. Until they have any concrete information, it's still completely unclear what they're dealing with."
Berlin police chief Klaus Kandt said: "There are just so many possibilities to kill people with a heavy goods vehicle."
"It would not be possible to turn all Christmas markets into fortresses," he added.
It comes as the man originally arrested – a 23-year-old Pakistani man named only as Navid B – was tonight released from police custody as it was believed he is entirely innocent.
Doubts were raised over his supposed role in the attack when he was found with no blood or gun residue on his clothes and denied any knowledge of the attack. Full Story
Other Articles of Interest
Trump Moment gathering momentum-Far right Party leading in Dutch Polls (Dec 20)
German Defense minister Insults Saudia Arabia-Refuses to wear Hijab  (Dec 20)
Muslim group outraged over meme posted on Allen West's FB page-Nobody cares   (Dec 20)
Wilders found Guilty of speaking out against Islam WTF Happened to freedom of speech  (Dec 20)
1400 shocking years of Islam in five minutes-Radical Muslims hate this video  (Dec 18)
Where is Islam Illegal-Growing list of nations banning Islam?  (Dec 18)
Slovakia Toughens Church Registration Rules to Bar Islam (Dec 18)
Double Crossing Merkel states she will deport 100K migrants-get rid of her (Dec 18)
Saudi Author Turki Al Hamad Our Youth Are Brainwashed- Must stop ISIS Ideology at the roots (Dec 18)
High-income individuals will embrace Robot Sex states Expert (Dec 17)
Sextortion- hackers new game plan to fleece silly men using hot women as bait (Dec 17)
Two Stocks Set to Soar in 2017-Trump Administration (Dec 10)
Mainstream Media Totally Corrupt-evidence is overwhelming  (Nov 19)
The Myth Of The Jewish Genome as Biblical as Dracula (Nov 19)
Dollar Destruction-Liberal Agenda & Marxifcation of America (Nov 19)
Alternative Opinions-Information Mainstream media dares not discuss (Nov 18)