Trump Couldn't Visit A Different Cemetery Due To Bad Weather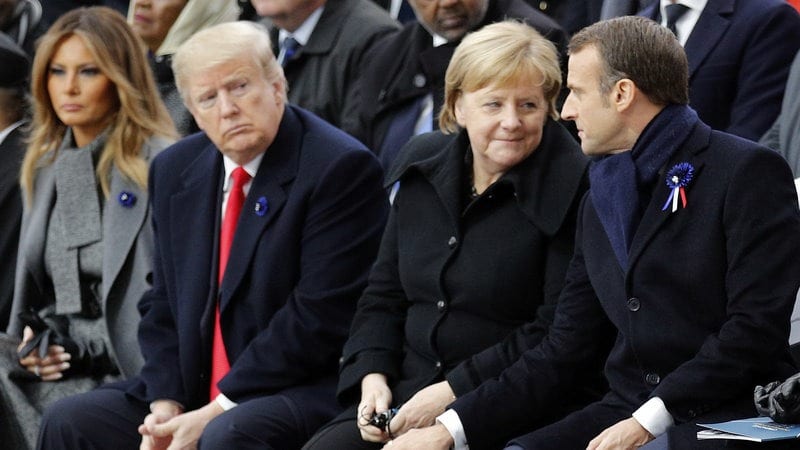 One hundred years after their countries fought one another on the battlefields of World War I, French President Emmanuel Macron and German Chancellor Angela Merkel embraced Saturday, laying a wreath and unveiling a commemorative plaque at the site of the war's end.
The ceremony was held near Compiègne, France, where WWI ended with the signing of the armistice 100 years ago after a conflict that killed around 17 million people.
A German leader had not visited the site since WWII, according to Agence France-Presse.
"On the centenary of the November 11, 1918 armistice, Mr Emmanuel Macron, president of the French Republic, and Mrs Angela Merkel, Chancellor of the federal Republic of Germany, here reaffirmed the value of Franco-German reconciliation in the service of Europe and peace," the plaque reads.
Guess which President didn't let a little weather stop him from honoring the troops https://t.co/k7uXnZaSB7 pic.twitter.com/cf6hNggpyJ

— Cody Keenan (@codykeenan) November 10, 2018
Trump was supposed to travel by helicopter, which became impossible because helicopters can't fly in such inclement weather, an AP reporter tweeted.
This explanation was insufficient for a few former staffers of President Obama's White House.
Ben Rhodes, a former Obama deputy national security adviser, said he had helped plan these kinds of trips.
"There is always a rain option," said Rhodes. "Always."
And former Obama speechwriter Cody Keenan tweeted a photo of Obama giving a Memorial Day speech at a veterans cemetery in the pouring rain in 2010.
Other stories of interest