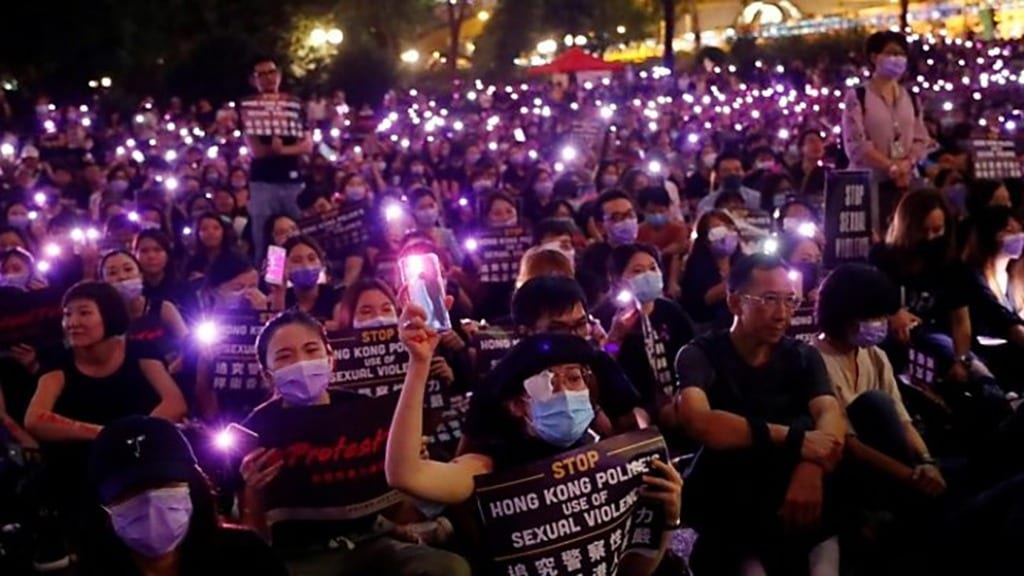 Happy Wednesday,
Another round of packed news, we list the 5 top stories and highlight the one we think you will
find the most interesting. Whenever there is an option, we provided videos related to the subject
for those that prefer videos over text.
Enjoy!
The Hong Kong protests explained in 100 and 500 words
Hong Kong's protests started in June against proposals to allow extradition to mainland China.
Critics feared this could undermine the city's judicial independence and endanger dissidents.
A former British colony, Hong Kong has some autonomy and more rights than the mainland under a "one country, two systems" deal.
City leader Carrie Lam agreed to suspend the bill, but demonstrations continued and developed to include demands for full democracy and an inquiry into police actions. The bill was finally withdrawn in September.
Clashes between police and activists have been becoming increasingly violent, with police using tear gas and activists storming parliament.
What do the protesters want?
The protesters' demands have changed over the weeks. They also include:
Withdrawal of the "riot" description used about the protests
Amnesty for all arrested protesters
An independent inquiry into alleged police brutality
Universal suffrage for the elections of the chief executive and Legislative Council, Hong Kong's parliament.
Some also want the resignation of Carrie Lam, whom they view as Beijing's puppet. It's not clear if scrapping the bill will end the protests – some opponents see the move as too little, too late.
After initially staying quiet on the unrest, China has condemned the Hong Kong protests as "behaviour that is close to terrorism" – a sign its approach is hardening. Full Story
Dow rises more than 150 points as Hong Kong tensions ease
Stocks rose on Wednesday as tensions in Hong Kong between the government and protesters eased after the withdrawal of a controversial bill.
The Dow Jones Industrial Average traded 157 points higher, or 0.6%. The S&P 500 gained 0.6% while the Nasdaq Composite advanced 0.8%.
Caterpillar shares gained 1.6% while Micron Technology advanced nearly 5%. Intel was the best-performing stock in the Dow, rising nearly 3%. Full Story
'We need help': Rescuers in the Bahamas face a blasted landscape
FREEPORT, Bahamas (AP) — Rescue crews in the Bahamas fanned out across a blasted landscape of smashed and flooded homes Wednesday, trying to reach drenched and stunned victims of Hurricane Dorian and take the full measure of the disaster. The official death toll stood at seven but was certain to rise. Full Story
Russia plans to set up more than 20 nuclear power units in India in the next 20 years
New Delhi: Russia on Wednesday said that it is planning to set up more than 20 nuclear power units in India in the next 20 years.
Prime Minister Narendra Modi, who arrived in Russia's Far Eastern city of Vladivostok today, gave a joint statement at the 20th Annual Summit between the two countries, along with Russian President Vladimir Putin by side. Full Story
Facebook to direct anti-vaccine searches to public health pages
Facebook is to take a stand against vaccine denial by directing people searching for information or using vaccine hashtags to web pages set up by public health bodies. Full Story
Other Stories Of Interest
Stock Market Crash Date: If Only The Experts Knew When (Aug 26)
Nickel Has Put In A long Term Bottom; What's Next?  (July 31)
AMD vs Intel: Who Will Dominate the Landscape going forward (June 28)
Fiat Currency: Instruments of Mass Destruction     (June 18)
The Retirement Lie The Masses Have Been Conned Into Accepting (June 15)
Stock Market Bull 2019 & Forever QE  (June 13)
Forever QE; the Program that never stops giving    (May 31)
Trending Now News Equates To Garbage; It's All Talk & No Action  (April 24)
Americans Are Scared Of Investing And The Answer Might Surprise You  (March 9)