Main Stream media is stating that Hillary won the debate, but snap polls and interviews with common folk seem to illustrate otherwise. Again we get to see how mainstream media has the ability to twist the data. This is particularly true when it comes to financial data and this is why we also examine geopolitical situations because all these events are tied up.  In our opinion, Hillary appeared more polished and smooth, however,  Trump resonated more with the people as his speech did not sound scripted.  It almost appeared Hillary was reading a script as she looked down several times at what appeared to have been a set of notes.
Ken Reed sat down at the main bar of the Tin Lizzy tavern with two things in mind: to dig into the tavern's oversize cheese steak, and watch the presidential debate. Donald "Trump had the upper hand this evening," she said, citing his command of the back-and-forth between him and Hillary Clinton. Reed, 35, is a registered Democrat and small businessman. "By the end of the debate, Clinton never said a thing to persuade me that she had anything to offer me or my family or my community," he said, sitting at the same bar that has boasted local icons as regulars, such as the late Fred Rogers, and Arnold Palmer, who had his own stash of PM Whiskey hidden behind newer bottles of whiskey for his regular visits. .
"He was just a regular guy, just a working-class guy at heart like everyone else around here," said Jim Sciabica, the unofficial bar manager and small businessman who kept "Mr. Palmer's" PM Whiskey tucked in a corner away from patrons and workers.
"I've been a Democrat all of my life, but when Clinton mentions her husband and the jobs he brought to the country in the '90s, it's not a fair assessment. She is no moderate Democrat the way he was, her policies would not bring back jobs," said Nathan Nemick. Full Story
 Michael Moore states Trump won the Debate; now that's telling as he supports Hillary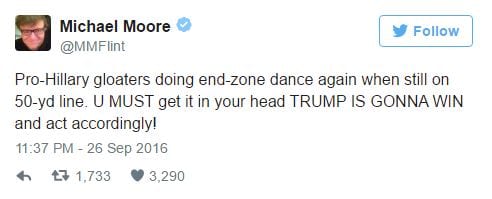 "Pro-Hillary gloaters doing end-zone dance again when still on 50-yd line," Moore tweeted. "You must get it in your head Trump is gonna win and act accordingly!"
"If you just turn off the TV right now and do nothing, you've just elected Donald Trump," he added. "Do something! Plan what you're going to do tomorrow."
"It's over. Trump, the egoist, the racist, the narcissist, the liar, 'won,'" he continued. "We all lost. His numbers will go up. " "She told the truth. So what."
Hillary Plugs her book in the Middle of the Debate WTF;  this tells us what kind of president she will be

All Major online Snap Polls have Trump winning the 1st debate
Time: Trump 55 Clinton 45
Fortune: Trump 53, Clinton 47
N.J.com (New Jersey): Trump 57.5, Clinton 37.78
CNBC: Trump 68, Clinton 32
WCPO Cincinnati: Trump 57, Clinton 37
Variety: Trump 58.12, Clinton 41.88
Slate: Trump 55.18, Clinton 44.82
WKRN Nashville: Trump 64.58, Clinton 35.42
Las Vegas Sun: Trump 82, Clinton 18
Fox5 San Diego: Trump 61.45, Clinton 33.69
San Diego Tribune: Trump 65, Clinton 35
Donald Trump Hits 95% Confidence Interval in Daybreak Poll
"Whenever news outlets ask readers their opinions online, and open it to everyone who visits their webpage, it's not a valid poll, no matter how many people participate," Newhouse, co-founder of Public Opinion Strategies, a political survey and polling firm, told The Post.
"That's akin to a Major League Baseball team putting the All-Star ballot on their website. It's not a random sampling of respondents."

New Gingrich States Trump won the Debate
Trump wins strategically because in a blunt, clear style, he is saying things most Americans believe. Trump's opponents, including Holt and Clinton, felt good after the debate because their side was glib, articulate, and said things they and their friends believe to be true.
Your options if you are looking for change
Many might ask why we cover political and health issues when our main focus in the stock markets and the financial arena.  The short and simple answer is that all these fields are connected; we don't have free market forces anymore. Everything is manipulated; from the food you eat to data you are provided.  If you are aware of this you can plan accordingly. Identifying the problem is over 80% of the solution and this is why most people don't know what to do because they don't really understand the problem. Now you know why we are the only financial website that covers such a wide array of topics that on the surface appear to be unrelated but are in fact, deeply interwoven.  Mass psychology is a very powerful tool and if employed correctly can help you spot the grotesque levels of manipulation the masses are subjected to. We strongly suggest that you view or read or view Plato's allegory of the cave
If you seek freedom, the 1st task is to attain financial freedom so that you can break free the clutches of the top players who seek to enslave you. They want you to run in a circle like a hamster that runs on a spinning wheel; the hamster thinks the faster it runs the further it will go, but sadly it is going nowhere.
We teach how to use Mass psychology to your advantage, how to view disasters as opportunities and how not to let the media manipulate you and direct you towards actions that could be detrimental to your overall well-being.  Visit the investing for dummies section of our website; it contains a plethora of free resources and covers the most important aspects of mass psychology.
Secondly, subscribe to our free newsletter to keep abreast of the latest developments. Change begins now and not tomorrow, for tomorrow never comes. Understand that nothing will change if you don't alter your perspective and change your mindset. If you cling to the mass mindset, the top players will continue to fleece you; the choice is yours; resist and break free or sit down and do nothing.
Other stories of interest
Timeline of How America Provoked Russia & More  (Sept 23)
Alternative View Points- Stories Mass Media Hides From You  (Sept 23)
Compelling news-Stories Mass Media will never let you hear (Sept 23)
Donald Trump would return compliment to Putin (Sept 18)
Insanity prevails-Auto Loan Defaults Spike & Ford offers longer Financing (Sept 18)
It's not time to sell the DAX; in fact it's time to buy  (Sept 17)
A step back in time; Stock Market Corrections-Nothing but Buying Opportunities (Sept 17)
John Oliver on the Dangers of Sub-Prime Auto Loans (August 21)
On Fraud, Lies & Corruption Hillary Destroys Trump (August 9)
Currency devaluation wars & officers getting shot for nothing (August 9)
Fed's War on Cash; Germany Joins negative Interest Rate Club  (August 8)