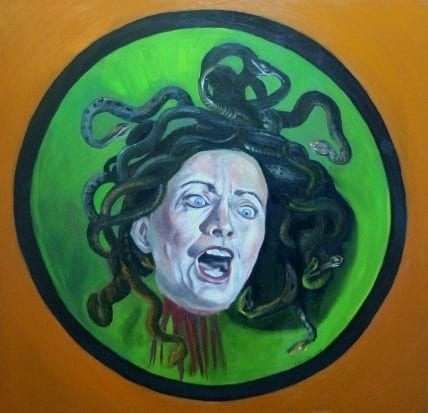 Editor: Vladimir Bajic | Tactical Investor
Hillary's History Of Lies
The USA Today/Gallup survey clearly explains why Sen. Hillary Rodham Clinton (D-N.Y.) is losing. Asked whether the candidates were "honest and trustworthy," Sen. John McCain (R-Ariz.) won with 67 per cent, with Sen. Barack Obama (D-Ill.) right behind him at 63. Hillary scored only 44 per cent, the lowest rating for any candidate for any attribute in the poll.
Hillary simply cannot tell the truth. Here's her scorecard:
Admitted Lies
• Chelsea was jogging around the Trade Center on Sept. 11, 2001. (She was in bed watching it on TV.)
• Hillary was named after Sir Edmund Hillary. (She admitted she was wrong. He climbed Mt. Everest five years after her birth.)
• She was under sniper fire in Bosnia. (A girl presented her with flowers at the foot of the ramp.)
• She learned in The Wall Street Journal how to make a killing in the futures market. (It didn't cover the market back then.)
Whoppers She Won't Confess To
• She didn't know about the FALN pardons.
• She didn't know that her brothers were being paid to get pardons that Clinton granted.
• Taking the White House gifts was a clerical error.
• She didn't know that her staff would fire the travel office staff after she told them to do so.
• She didn't know that the Peter Paul fundraiser in Hollywood in 2000 cost $700,000 more than she reported it had.
• She opposed NAFTA at the time.
• She was instrumental in the Irish peace process.
• She urged Bill to intervene in Rwanda.
• She played a role in the '90s economic recovery.
• The billing records showed up on their own.
• She thought Bill was innocent when the Monica scandal broke.
• She was always a Yankees fan.
• She had nothing to do with the New Square Hasidic pardons (after they voted for her 1,400-12 and she attended a meeting at the White House about the pardons).
• She negotiated for the release of refugees in Macedonia (who were released the day before she got there).
With a record like that, is it any wonder that we suspect her of being less than honest and straightforward? Rasmussenreports
Other articles of interest:
Gold Bugs: Use worthless Paper to buy Gold for next to free (Sept 13)
Forget Main Stream Media Unless You Love Losing (Sept 6)
Stock Markets & Economy rarely trend in Unison; master this pattern & profit (Sept 3)
Masses hoarding cash & ignoring the Stock Market (Aug 30)
Maestro Greenspan Thinks Rates will Rise Rapidly; dream on (Aug 30)
Crowd Psychology states Uranium Bear Market over (Aug 29)
Economic & psychological warfare Big Money's favourite Weapon (Aug 24)
What's making this stock Market bull So resilient? (Aug 22)
Violence Stupidity & religious intolerance will continue to soar (Aug 22)
Mass Media Turns Bullish: Stock Market Correction likely (Aug 19)
Crowd Control market Manipulation & Pensioners forced to Speculate (Aug 18)
China Following America's lead: Exports Bad Debt Globally (Aug 13)
Crude oil bottom likely to Propel Dow Industrials higher (Aug 12)
Wall Street Journal States that Russia Bombed US-Syrian Base  (Aug 9)
Why won't this cursed Stock market bull market crash (Aug 8)
Investor Anxiety; Rocket Fuel for Unloved Stock Market Bull (Aug 6)
Most Unloved Stock Market Bull Destined To Roar Higher (Aug 5)
Student Debt Crisis Overblown & Due to Stupidity  (Aug 4)