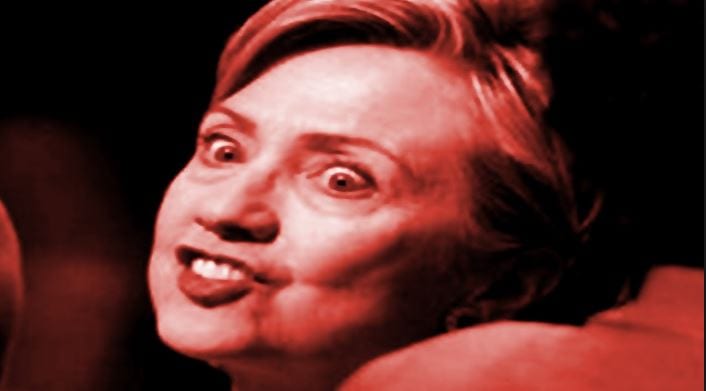 This video illustrates how the Clintons will do whatever it takes to gain power, including lying, cheating and perhaps killing to get their way.  She was put in charge of a health care plan when Clinton was president. A person unqualified for the Job. The plan was kept in such secrecy that a Federal Judge ordered that she open up or face charges. In the end, her health plan was a disaster after spending over 36 million was deemed a disaster. For her nonsense, she was only fined $450,000, but the cost to taxpayers almost $800,000.
15 of Clintons associates were convicted over white water, however, despite a lot of evidence directly implicating the Clintons nothing ever happened to them. And now this witch from Hell will get a chance to be your next president. Be very careful what you wish for, as it might come true and you will try to pinch yourself to awaken from the nightmare, only to find out that is your reality
If you want a better future, it's up to you to study the facts and elect the one, you think will do the best job for your country. It's your country so stand up and resist, resistance is not futile, it's the backbone of everything a normal person stands for.  Change starts today, examine the information and then choose the one you believe will make a difference. Don't vote based on the handouts you might receive, for that is a form of bribery. If someone has to pay you to get your vote, that tells you right off the bat, that they don't deserve your vote. Stand up or forever be crushed by powers you deem to be too strong for you to resist.
Other articles of interest:
Stock Bull Market over; Mob Psychology disagrees  (March 2)
Beliefs Dangerous to long term financial success  (March 1)
Can China attract Foreign Talent via Issuing extra Green Cards  (Feb 29)
Lemmings: Herd Mentality & Stock Market losses (Feb 27)
Currency wars & Negative rates will destroy fixed income individuals (Feb 25)
Financial Markets Gripped by Panic & masses stampeding  (Feb 23)