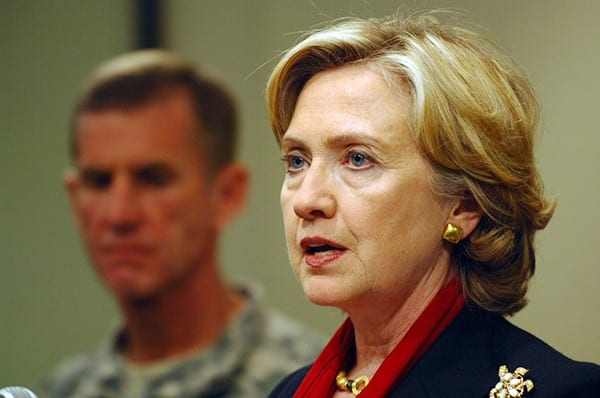 Hillary Clinton blames gender for election loss
Wha-, wha-, what happened???"
It's up to readers to decide for themselves, but in Mrs Clinton's recent interviews and in her book, which was formally released on Tuesday, she offers plenty of explanations from which to choose.
Here's a list of just some of the factors to blame for the fact that she's hitting book stores across the country, while Donald Trump is redecorating the Oval Office.
"If not for the dramatic intervention of the FBI director in the final days we would have won the White House."
This isn't the first time Mrs Clinton has said the former FBI director – who wrote a letter informing Congress that he had reopened the investigation into the handling of classified material on Mrs Clinton's personal email server as secretary of state – is the main culprit behind her defeat.
In her book, Mrs Clinton calls the use of that server a "dumb mistake", but the resulting scandal was "even dumber". And in Mrs Clinton's eyes, Mr Comey's blame for the matter extends to his public announcement that he would not bring charges against Mrs Clinton, despite the fact that she had been "extremely careless" in her handling of classified material. Full Story
Hillary Clinton blames gender for election loss
"This has to be called out for what it is: a cultural, political, economic game that's being played to keep women in their place," Clinton said.
"The idea that women have to fit certain stereotypes; that's a weight around the ankle of every ambitious woman I've ever met," she added. "We get constant messaging our whole lives: You're not thin enough, talented enough, smart enough. Your voice isn't what we want to hear."
Gender is a dominant theme in Clinton's book, What Happened, a 469-page autopsy of her campaign that takes readers behind-the-scenes through pivotal moments throughout the race. Although she achieved many firsts, from being the first woman elected to the US Senate from New York to her nomination for president, Clinton confesses in several chapters to struggling with how to tell her story.
"It's difficult for me to see my story as one of revolution," Clinton told the Times. "But I was part of the women's movement that led to a revolution not just in-laws, but in attitudes and doors that had been closed to young women opening."
"I'm also conscious of the continuing double standard," she added. "I have to be better than everyone; I have to work harder." Full Story
Other Articles of interest
Fanaticism-Stock Market Crash 2017 or Continuation of Bull Market (March 15)
Could Trump's economic Policies Propel Hated Stock Market Bull Higher (Feb 27)
Stock Market Crashes-Is Panic Warranted (Feb 25)
Stock Market Crash 2017 Video -reality or All Hype (Feb 19)
Stock Market Crash 2017-reality or all Hype  (Feb 16)
Gold Market Finally ready to breakout video-Very Interesting Pattern (Feb 2)
Gold Market Finally ready to breakout? Possibly it's putting in a very interesting pattern  (Jan 30)
Will the Stock Market Bull Continue to Trend higher or crash video  (Jan 18)
Stock Market Bull destined to charge higher or is it time to bail out  (Jan 13)