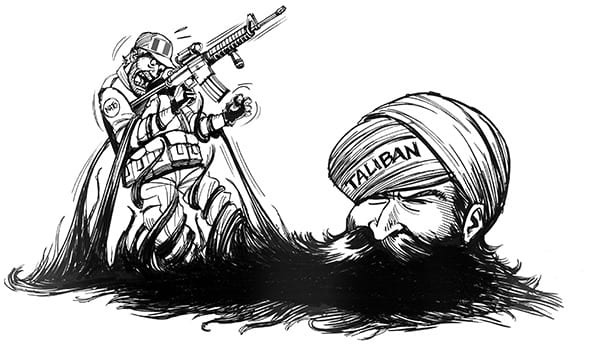 Editor: Vladimir Bajic | Tactical Investor
Before we get to the article at hand many might ask why we cover political and health issues when our main focus in the stock markets and the financial arena.  The short and simple answer is that all these fields are connected; we don't have free market forces anymore. Everything is manipulated; from the food, you eat to data you are provided.
 If you are aware of this you can plan accordingly. Identifying the problem is over 80% of the solution and this is why most people don't know what to do because they don't really understand the problem. Now you know why we are the only financial website that covers such a wide array of topics that on the surface appear to be unrelated but are in fact, deeply interwoven.  Mass psychology is a very powerful tool and if employed correctly can help you spot the grotesque levels of manipulation the masses are subjected to. We strongly suggest that you view or read or view Plato's allegory of the cave.  You might also find the following article to be of interest:
Nearly ten years after the housing crisis:
And banks are getting ready to offer what they call fewer doc loans, which is just a stepping stone to the no doc loan.  As we stated before banks need to put money into the hands of the masses so they can fuel the next bubble. A bubble needs mass participation and banks thrive of bubbles. Every bubble and bust cycle is created and masterminded by banks.  Banks never lose, they just pretend to, because they know they will be bailed out. The Fed is a private institute run and owned by the banks, so they have nothing to worry about.
"Lite Doc." That is what Quontic Bank, an FDIC-insured community lender in New York City is calling its product. It requires only verification of employment and two months worth of bank statements. For self-employed borrowers, it requires documentation of one year of profit and losses. The Lite Doc loans are five-year adjustable-rate mortgages with interest rates in the low- to mid-5 percent range, according to the bank. Thirty-year fixed-rate loans, which when fully documented can offer rates in the high-3 percent range, are not part of the offering. Housing déjà vu-Banks ready to drain the Masses again
A French jihadist who spent 18 months with the Islamic State (IS) armed group in Iraq and Syria was jailed for 10 years on Monday. Nicolas Moreau refused to appear in court to hear the verdict and had earlier warned that he would "take up arms again" if he received a stiff sentence.
The court in Paris gave 32-year-old Moreau, a former fishermen and repeat offender, the maximum sentence after finding him guilty of association with a terrorist enterprise, ordering that he must serve at least two-thirds of it.
He had refused to attend court to hear the sentence.
Although he criticised IS for "brainwashing" and practising torture during his trial in December, the prosecutor warned that he was "extremely dangerous" and would probably revert to his "jihadist commitment" when released.
And Moreau told the court "If you give me a stiff sentence it will be more difficult to reintegrate me; I will take up arms again."
He went to join IS in January 2014 and remained in the region until June 2016, even opening a restaurant in its stronghold, Raqa, with his "war booty".
Brother of first French jihadist sentenced
His brother, Flavien Moreau, was the first jihadist to be convicted in France in November 2014 but received a lighter sentence having only spent a few weeks in IS-held territory.
Nicolas Moreau was born in South Korea and adopted by a French couple at the age of four.  Full Story
A French woman who travelled three times to Syria in support of her jihadist son was sentenced to 10 years in prison on Friday for being part of a terrorist conspiracy.
Christine Riviere, 51, was sentenced for her "unfailing commitment" to jihad and for helping a number of young women travel to Syria to marry jihadists including her son, Tyler Vilus.
It was the maximum sentence possible and included a stipulation that Riviere, a Muslim convert nicknamed "Mama Jihad" in the French press, will be ineligible for parole for seven years.
Vilus, 27, travelled to Syria to fight alongside the Islamic State group in 2012 or 2013.
Riviere, who visited her son three times in 2013 and 2014, denied fighting with the Islamic State group, though she posted pictures on Facebook of decapitations and of herself holding a Kalashnikov.
"I didn't want to push him to die a martyr, but that could happen," she said of her son. "Then he would be in heaven, near Allah."
Friday's verdict came barely a week after the conviction and sentencing of another French mother of a jihadist.
Nathalie Haddadi, 43, whose son fought and is thought to have died in Syria, was given a two-year jail sentence for financing terrorism because she wired funds to him. Full Story
Other Articles of Interest
Feds Interest Rate stance equates to Rubbish-Economic recovery is illusory  (Dec 24)
Stock Market Bulls, Stock Market fools-Market Crash next or is this just an Illusion  (Dec 21)
Trump Effect Rally-Useless Dow Theory and Stock Market Crash  (Dec 17)
Gold fools-dollar bulls and the long-term outlook for both Markets (Dec 9)
Inflation the Silent Killer Tax that's destroying Middle-Class America (Dec 5)
Dominant Stock Market Trends under President Trump (Nov 22)
Bears State Crude Oil Destined to Crash-Utter Rubbish (Nov 18)
50 Trillion in Cash illustrates Mass Anxiety-Dow Industrials will soar not Crash  (Nov 16)
Trump's victory Does not Sink Global Markets Proving Experts are Jackasses (Nov 10)