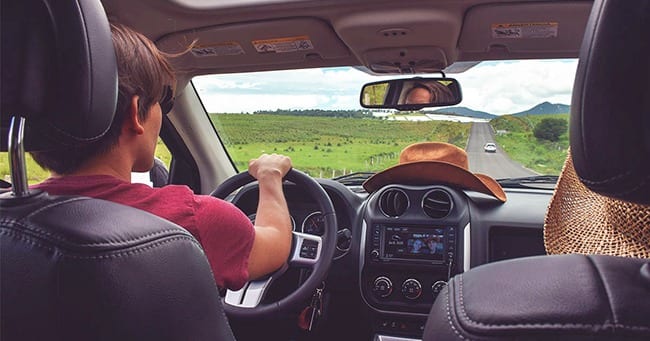 Editor: Philip Ragner | Tactical Investor
Dangers of having sex while driving
We cover multiple arrays of topics for one simple reason. The world is interconnected, and it is not only financial factors that drive the markets. Geopolitics is another major driving force behind the markets. Crowd Psychology dictates that if you focus on the tree, you will forget that the tree is part of a forest and in doing so you will miss the bigger picture.   Having the ability to cross analyse multiple factors with an open mind provides you with a much clearer picture of what to expect from the financial markets. On that note, we think you might find the following story of interest:
Despite the heavy beating Bitcoin has taken, the sentiment has not turned bearish, and there are still have too many articles being published on a weekly basis claiming that Bitcoin is going to surge to 100K and beyond. Do these experts ever bother to look at the charts before issuing such targets or do they do so after ingesting some toxic substance? We will never know the answer to that question, but what we do know is that in most cases they have no idea of how high or low the market is going to go.  Is the Bitcoin Bull Market dead or just taking a breather?
Sex While Driving is not the Smartest Thing to do
Listen, we're not here to judge anyone partaking in the great American pastime of copulating in a car. We may be a nation of prudes, but that hasn't stopped an estimated 84 per cent of us from getting down in the driver's seat—or passenger's seat, or back seat, or trunk. (As we said, we don't judge.) But if you're keen on joining that club, consider stopping the car first instead of going at it while cruising at 70 miles per hour down the highway.
The video, filmed by a passenger in a passing car, shows a small grey hatchback flying down the highway at 70 mph in the right lane with its hazard lights on. It's immediately apparent there are two bodies occupying the driver's seat, with the woman sitting on the man and…well, you know the rest. The driver's view seems to be totally obstructed for most of the clip, but he doesn't seem to mind, idly raising a middle finger to the camera as he realizes he's being filmed and accelerating out of the frame. Read more
Is it legal to have Sex while Driving?
Although there is no established nationwide sex-while-driving (SWD) standard offence, engaging in sexual activity while behind the wheel violates reckless driving laws as well as state indecent exposure laws.  Although often discussed as a humorous subject, SWD can be deadly.
Two jurisdictions have specifically designated it as a crime: the city of Detroit has banned it, and the State of Washington categorizes such as "embraces" as a specific reckless driving offence. (see Section 46.61.665of the Washington Code). Full Story
Having Sex while Driving Recklessly; now that's Stupid
Almost 33% of male and 9.3% of female respondent admitted to having sex while driving according to a recent study. More importantly, the couples were driving at 61-80mph while engaging in this activity.
While it's not illegal to have sex while driving, a person can be arrested for indecent exposure and the driver could be charged with reckless driving too.
The mystery man had the woman bouncing up and down on his lap appeared to be just about managing to keep his eye on the road. He appeared to be peaking out from over his lover's shoulder as he left one hand on the steering wheel to avoid crashing and ran his other hand through her hair.

Instead of slowing down or pulling over when he realised he was being filmed, he reacted by sticking the middle finger up on his left hand as the other driver passed. The uninhibited pair even appeared to have turned their hazard lights on by accident as they made love partly-dressed, making their show impossible to be missed. Local reports said the car was doing around 70mph. Read more
The uninhibited pair even appeared to have turned their hazard lights on by accident as they appear to make love partly-dressed.
Local reports said the car was doing around 70mph.
The shocking incident happened near Yala in the province of Jujuy in north-west Argentina on National Route 9, a major road which links the capital Buenos Aires to the country's border with Bolivia and crosses seven provinces.
"A reader filmed this foolish behaviour by a driver who was on National Route 9 near Yala this weekend.
"Roads in Jujuy have a high accident rate and this type of behaviour definitely doesn't help."
Police are understood to have been sent the footage so they can investigate, although the driver's numberplate doesn't appear. Read more
Other Articles of Interest
Stock Market Insanity Trend is Gathering Momentum   (Jan 10)
Is value investing Dead   (Jan 9)
Irrational markets and Foolish Investor: perfect recipe for disaster   (Jan 5)
Stock market Crash Myths and Realities  (Jan 3)
Bull-Bear Markets & Arrogance   (Jan 1)
Will The Stock Market Crash In 2018  (Dec 11)
Has US Dollar Finally Hit Bottom    (Dec 6)
BitCoin Has Done What Precious Metals Never Could  (Dec 4)
Experts Making Stock Market Crash Forecasts usually know nothing  (Nov 17)
1987 stock market crash anniversary discussions- nothing but rubbish ( Oct 24)
Dow 22K Predicted In July 2017; Next Target Dow 30k? (Oct 15)
Anxiety and Greed Index Don't Support Stock Market Crash  (Oct 14)
Fed States Inflation is not an issue?  (Oct 13)