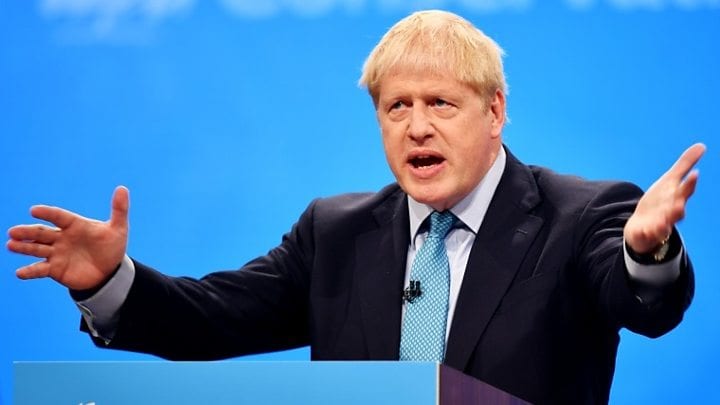 Happy Wednesday,
Another round of packed news, we list the 5 top stories and highlight the one we think you will
find the most interesting. Whenever there is an option, we provided videos related to the subject
for those that prefer videos over text.
Enjoy!
Boris Johnson: No-deal only alternative to Brexit plan
Boris Johnson says there should be "no doubt" the only alternative to the Brexit proposals he will put to Brussels later is no-deal.
Addressing his party conference in Manchester, the PM said his plan would be a "compromise by the UK", but he hoped the EU would "understand that and compromise in their turn".
The European Commission said they will "examine [the proposals] objectively".
The Irish PM said he had not seen the plans but was "not encouraged".
Leo Varadker told the Irish Parliament: "What we are hearing is not encouraging and would not be the basis for agreement."
The UK is set to leave the EU on 31 October.
The government has insisted it will not negotiate a further delay beyond the Halloween deadline, saying this would be unnecessary and costly for the UK.
However, under the terms of a law passed by Parliament last month, the PM faces having to request another extension unless MPs back the terms of withdrawal by 19 October – two days after a summit of European leaders.
The European Commission's President Jean-Claude Juncker and Mr Johnson will speak on the phone later, and the two sides' negotiating teams will also meet.
In his speech, Mr Johnson said no-deal was not an outcome the government was seeking, but "it is an outcome for which we are ready".
On the eve of his speech, Mr Johnson told a conference fringe meeting, hosted by the DUP, that he hoped to reach a deal with the EU over the course of "the next few days". Full Story
Hong Kong protests: Rubber bullet blinds journalist in one eye
An Indonesian journalist has been left permanently blinded in her right eye by a rubber bullet said to have been fired by police during unrest in Hong Kong.
Veby Mega Indah was covering protests in the Chinese territory on Sunday when the bullet hit protective glasses she was wearing, her lawyer says.
Months of anti-government unrest took a more violent turn on Tuesday when a police bullet injured a protester. Full Story
Meghan and Harry's tour ends as Mail on Sunday vows to defend itself in court
The Duke and Duchess of Sussex have begun the final day of their overseas tour as the Mail on Sunday says it will "vigorously" defend itself in a court case launched by the couple.
Prince Harry's wife is suing the paper over a claim it unlawfully published a private letter Meghan sent to her father, Thomas Markle.
The duke said the legal action was in response to "relentless propaganda". Full Story
Other Stories Of Interest
BTC Update: Will Bitcoin Continue Trending Higher (Sep 17)
Stock Market Forecast For Next 3 months: Up Or Down? (Sep 17)
Bull Market Example: This Market Is The Best Example Of A Bull Market (Aug 31)
Stock Market Crash Date: If Only The Experts Knew When (Aug 26)
Nickel Has Put In A long Term Bottom; What's Next?  (July 31)
AMD vs Intel: Who Will Dominate the Landscape going forward (June 28)
Fiat Currency: Instruments of Mass Destruction     (June 18)
The Retirement Lie The Masses Have Been Conned Into Accepting (June 15)
Stock Market Bull 2019 & Forever QE  (June 13)
Forever QE; the Program that never stops giving    (May 31)
Trending Now News Equates To Garbage; It's All Talk & No Action  (April 24)
Americans Are Scared Of Investing And The Answer Might Surprise You  (March 9)